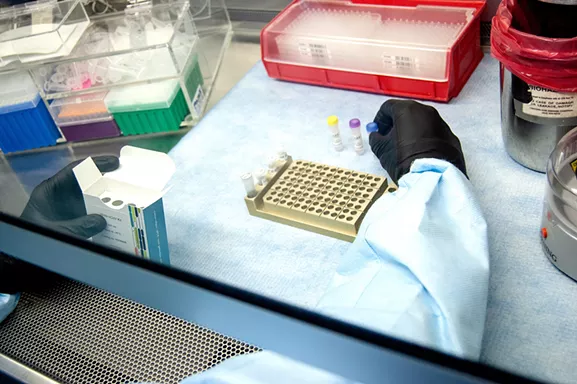 Courtesy of the Humboldt County Department of Health and Human Services
COVID-19 testing in the Humboldt County Public Health Laboratory.
The Humboldt County Department of Public Health announced that its lab has tested samples from 38 additional people for COVID-19 since yesterday's report and all came back negative.
Yesterday Humboldt County
confirmed
its second positive COVID-19 test in someone who had recently traveled to a "high-risk" country, with officials saying there is no evidence of community spread in the case. The first positive case was recorded in the county last month in someone who had recently traveled to China and has since recovered. To date, the results of only 109 local tests have been
made public
by the Humboldt County Public Health Lab, with 106 negative results, one that came back inconclusive and the two positive tests. An unknown number of samples have also been sent to out-of-area corporate labs for testing as well, but the results of those have not yet been released.
After receiving additional supplies, The Humboldt County Public Health Lab has 400 tests on hand, though Public Health Officer Teresa Frankovich told the
Journal
last week those tests, which have a faster turnaround time than those processed at the corporate labs, are being prioritized for patients who are at risk of becoming gravely ill or who have a high likelihood of increasing spread of the virus, like healthcare workers are people living in skilled nursing facilities.
Humboldt County remains under a
shelter in place order
announced Thursday. Find specifics on what that order does and doesn't allow
here
.
For more information on the virus, its symptoms and local resources, click
here
.
See the full report from Public Health copied below:
March 21 Results:
38 people tested
0 positive
38 negative
People tested before the Public Health Laboratory came online March 7:
• 6 tested by the Centers for Disease Control and Prevention or California Department of Public Health
People whose tests were run by the Public Health Laboratory:
• 103
Results Summary to date:
• 109 total patients tested
o 1 positive
o 1 positive, cleared
o 1 inconclusive, cleared
o 106 negative
Current test capacity: After receiving additional supplies, the Public Health Laboratory has a total capacity of 400 tests and can process approximately 20 samples a day with an approximate turnaround time of 48 hours.