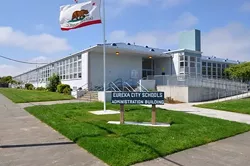 File
Eureka City Schools to offer meal service amid COVID-19 shutdown.
<!——StartFragment——>
Eureka City Schools will change its meal distribution schedule on March 30 to Mondays, Wednesdays and Fridays from 11 a.m. to 1 p.m.
When Humboldt County schools began shutting down due to growing concerns of COVID-19, schools started distributing meals to children under 18 years old.
Eureka City Schools announced in a press release that it will be providing two days' worth of food on Mondays and Wednesdays for breakfast and lunch, with Friday's distributions just including meals for that day. Parents and caregivers can pick up meals at Alice Birney, Lafayette, Grant and Washington Elementary school.
The bus meal delivery service will also change to a Monday, Wednesday and Friday schedule but bus routes will begin an hour later than the current schedule. For example, the first stop of the day will be at approximately 8 a.m.
Please visit the Eureka City Schools website or Facebook page for more information on meal distribution.

See the full press release in English, Spanish and Hmong below:


Beginning Monday, March 30th, we will change our schedule for picking up meals at school sites, as well as the routes and times when we will be delivering meals via buses.

We will continue to distribute breakfast and lunch meals at Alice Birney, Lafayette, Grant, and Washington Elementary schools, as well as at Eureka High School. Rather than providing this service each weekday, we will begin providing on-site meal pick-up on Monday, Wednesday, and Friday. Two days' worth of meals will be provided on Mondays and Wednesdays. Pick-up times will remain 11:00 a.m. to 1:00 p.m.

The bus meal delivery service will also move to a Monday, Wednesday, and Friday schedule. We will be providing two days' worth of meals on Mondays and Wednesdays. However, the bus routes will begin an hour later than the current schedule, with the first stop of the day occurring at approximately 8:00 a.m. Please refer to the Eureka City Schools website for specific times. We will also provide copies of the modified bus meal delivery routes and site pick-up times along with meals that are provided tomorrow (Friday).

As a reminder, all children ages 18 years and under are eligible to receive breakfast and lunch meals. Please note children need not be present at the bus stop or school site for us to provide them meals.

As a final reminder, please be aware of unknown calls as it may be your student's teacher attempting to reach you or your student. This message will be posted to Facebook and our website.




Saludos a las familias de las Escuelas de la Ciudad de Eureka,

A partir de este lunes 30 de marzo, cambiaremos nuestro horario para recoger las comidas en las escuelas, así como las rutas y horarios en los que entregaremos las comidas en los autobuses.

Continuaremos distribuyendo desayunos y almuerzos en nuestras cuatro escuelas primarias, Alice Birney, Lafayette, Grant y Washington, así como en Eureka High School. Sin embargo, en lugar de brindar este servicio todos los días de la semana, comenzaremos a proporcionar comida en el lugar los lunes, miércoles y viernes. Se proporcionarán dos días de comidas los lunes y miércoles. Los horarios de recogida serán de 11:00 a.m. a 1:00 p.m.

El servicio de entrega de comidas en autobús también cambiará a un horario de lunes, miércoles y viernes. Proporcionaremos dos días de comidas los lunes y miércoles. Sin embargo, las rutas de los autobuses comenzarán una hora más tarde que el horario actual, con la primera parada del día aproximadamente a las 8:00 a.m.

Consulte el sitio web de Eureka City Schools para horarios específicos. También proporcionaremos copias de las rutas modificadas de entrega de comidas en el autobús y los horarios de recogida del sitio junto con las comidas que se proporcionan mañana, el viernes.

Como recordatorio, todos los niños de 18 años y menores son elegibles para recibir desayunos y almuerzos. Tenga en cuenta que los niños ya no necesitan estar presentes en la parada del autobús o en el sitio escolar para que podamos proporcionarles comidas.

Como recordatorio final, tenga en cuenta las llamadas desconocidas, ya que es posible que el maestro de su estudiante intente comunicarse con usted o su estudiante. Este mensaje se publicará en Facebook y en nuestro sitio web.



Nyob zoo txhua tus, Nov yog xov xwm los ntawm Eureka City Schools. Hnub Monday lub peb hlis ntuj 30th, peb yuv hloov peb cov sij hawm faib khoom noj, rau cov menyuam kawm ntawv.




Tag nrho Eureka City Schools cov tsev kawm ntawv qib K-5th thaib qib 9-12th, faib khoom noj hnub Monday, Wednesday thaib Friday thaum lub sijhawm 11sawv ntxov-1. Txhua tus menyuam tuaj nqa tau khoom noj.




Lub npav thauj tshais, hloov mus rau thaum 8 teev sawv ntxov, hnub Monday , Wednesday thiab Friday. Lub npav mus tib txoj kev, zoo li thaum cov me nyuam caij npav mus kawm ntawv.Yog koj tsis paub txoj kev thiab sij hawm, mus saib ntawm EurekaCitySchools.org.



Txuas ntxiv mus, koj tus menyuam tus xib fwb qhia ntawv, yuav hu rau koj, tham txog kev kawm ntawv hauv tsev. Ua tsaug.




Fred Van Vleck, Ed.D. Superintendent Eureka City Schools