The race to increase Humboldt County's capacity to care for the wave of critically ill COVID-19 cases officials fear is coming got a major boost this week, thanks to a ripple effect of generosity.
It began with nearly 100 local women coming together to donate $105,000 to St. Joseph Hospital to cover the purchase of three ventilators, which inspired Humboldt State University to donate four more and two businesses and two local families to make large contributions. All told, St. Joseph Hospital has ordered 12 new ventilators, enough to double its current capacity of the bedside machines that are necessary to treat the viral pneumonia in critical COVID-19 cases in order to keep patients alive until they can fight off the virus.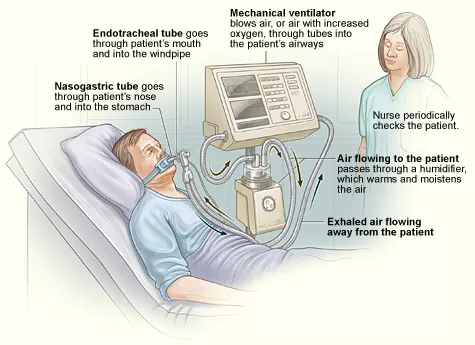 "We couldn't think of a more imperative initiative to fulfill our group's vision," said Ginger Weber, who chairs the steering committee of Women for Wellness, the group of local women that made the initial donation. "It is our hope that this investment in the ventilators provides peace of mind for our community and our local healthcare providers."
The same day the donations were announced, Public Health Officer Teresa Frankovich
described
increasing local hospital capacity as a "critical part" of the local response to the pandemic, which as of the morning of April 4 had been
confirmed
to infect 277,205 people in the United States, killing 6,593 of them.
Frankvoich said Public Health is working with local hospitals and nursing homes to figure how all can increase bed capacity. At hospitals, she said officials are changing how rooms are organized and beds are distributed, as well as making plans to "cohort patients," all in an effort to increase general capacity and more specifically intensive care unit capacity.
"We're also looking at what alternate care sites we might develop in order to provide care outside the hospital walls and outside traditional settings," Frankovich said.
Additionally, Frankovich said Public Health is working toward expanding the local healthcare workforce to provide more in-patient care when it's needed. This means transitioning nurses and physicians from out-patient settings to in-patient settings where possible, as well as trying to get anyone not currently practicing medicine in line to help with the effort.
According to a press release from St. Joseph Health, the 12 additional ventilators aren't scheduled to arrive in Humboldt County until early or mid-May. But when they do, they'll provide a roughly 50 percent increase to countywide ventilator capacity. And while local officials hope more may somehow be on the way, there's no guarantee that will happen. After all, Gov. Gavin Newsom
said
earlier this week that the state has only received 170 total from the federal government's national stockpile, and none of those worked.
A
Journal
survey last month found that prior to efforts to maximize space and increase capacity, Humboldt County had 22 intensive care unit beds and about 25 ventilators.
On Friday, Humboldt County
confirmed
its 40th COVID-19 case after seeing its caseload nearly double this week. If that trajectory holds, we could see 80 cases by April 10, 160 by April 17, 320 by April 24 and 640 by May 1. With one
study
of 44,000 patients in China showing that about 5 percent of positive cases result in critical illness, Humboldt County's capacity math gets scary very quickly. After all, 5 percent of 640 would mean 32 critically ill patients. And while there may be some hope this week's spike doesn't reflect the full impact of social-distancing measures taken over the past two weeks, there's also reason to fear the peak is still further off and things could get much worse.
And that's why officials are hoping the
shelter-in-place order
, the long-term
closure
of schools and even the
urgings
for people to wear face coverings while out in public will help, flatten the curve or slow the rate of transmission. The more serious people talk preventative measures — from hand washing and disinfecting to isolating and staying home except for essential outings (and staying home no matter what when feeling symptomatic) — the better chance Humboldt County has to slow the spread, giving the local healthcare system a better chance to increase capacity, lessening the chances it will become overwhelmed.
After all, those dozen ventilators won't be here for a month, at the earliest.
In a press release, St. Joseph Health-Humboldt CEO Roberta Luskin-Hawk said her hospital has an obligation to be prepared for "a surge of patients who develop critical illness due to COVID-19."
"While we hope for the best, we are preparing for our hospitals to face unprecedented demand for critical care services," she said.
See the full press release announcing the donations copied below:
PRESS ADVISORY
For immediate release

"Women for Wellness" Leads the Way as Local Donors Help Hospital Purchase Additional Ventilators

(Eureka, CA. – April 3, 2020) – A group of nearly 100 local women dedicated to supporting the quality and availability of healthcare for all in Humboldt County, is stepping up to join the fight against COVID-19.

Women for Wellness (W4W) is a philanthropic group promoting education, advocacy, and volunteerism in support of St. Joseph Health-Humboldt. W4W members are collectively donating $105,000 to purchase three ventilators to help boost the local supply for COVID-19 readiness efforts.

"We couldn't think of a more imperative initiative to fulfill our group's vision," said Ginger Weber, W4W Steering Committee Chair. "It is our hope that this investment in the ventilators provides peace of mind for our community and our local healthcare providers. It is also a privilege to do this in honor of the Sisters of Orange, who started our local healthcare system to care for our community 100 years ago, following the 1918 flu epidemic."

This example of community members coming together to respond in a crisis inspired several additional donors of St. Joseph and Redwood Memorial Hospital Foundations to contribute enough funds that St. Joseph Health – Humboldt was able to order a total of 12 additional ventilators, at a cost of approx. $40,000 each. Humboldt State University officials were so inspired to help, that when requested to fund one ventilator, HSU donated enough to purchase four. In addition, the following supporters made generous contributions:
Wayne & Donna Caldwell on behalf of Premier Financial Group
The Schmidbauer Family
Lorin & Irene Flyer
Owsley Electric

The newly purchased ventilators are expected to arrive in the next 4-6 weeks. For the most severely affected COVID-19 patients, these machines are a critical part of the effort to provide lifesaving treatment. Hospital officials want to have an ample supply on hand to be ready for an increase in local cases.

"As the administrator of the only hospital in Humboldt County and surrounding areas with advanced critical care capabilities, including specialists in pulmonary critical care, anesthesia critical care and infectious diseases, we have an obligation to be prepared to care for a surge of patients who develop critical illness due to COVID-19," said Roberta Luskin-Hawk, M.D., Chief Executive, St. Joseph Health-Humboldt. "While we hope for the best, we are preparing for our hospitals to face unprecedented demand for critical care services."

If Humboldt is impacted to the same extent as many communities around the world, or if there is an outbreak among the most vulnerable populations, the need for care would quickly consume local resources. For this reason, SJH-HC is attempting to dramatically increase the reserve inventory of ventilators, not based on the number of cases here today, but in order to meet the potential needs projected by Humboldt County Public Health.

For those seeking to help caregivers, SJH-HC has launched an online giving effort for COVID-19 Readiness, including the purchase of PPE (Personal Protective Equipment for healthcare workers), additional supplies, and to fund local clinical trials for promising drugs to fight the novel Coronavirus.

Contributions may be made at https://www.stjoehumboldt.org/foundation, click donate online.

Local women wishing to join Women for Wellness can find more information by emailing Rebekah.Harmon@stjoe.org. Members contribute $1,000 each in annual dues, which the group then votes to donate collectively in support of initiatives addressing healthcare needs in Humboldt County.

About St. Joseph Health, Humboldt County
St. Joseph Health, Humboldt County (SJHS-HC) is committed to meeting the highest standards in health care delivery while ministering to the needs of the whole person – body, mind and spirit. This commitment to the people of the North Coast is expressed in the St. Joseph Health System's five core values – Compassion, Dignity, Excellence, Justice and Integrity. St. Joseph Health, Humboldt County offers a comprehensive network of specialty care and services including a Level III Trauma Center, Level II Neonatal Intensive Care Unit, and a Cancer Center Accredited by the Commission on Cancer. The health care ministry of the Sisters of St. Joseph of Orange began in Humboldt County during the flu epidemic of 1918. The Sisters opened the first St. Joseph Hospital in Eureka in 1920 and committed to continually improving the health and quality of life of the people served. This commitment continues today and has been further defined by the vision of St. Joseph Health –Health for a Better World.