Screenshot
The Humboldt County Board of Supervisors.
The Humboldt County Board of Supervisors met in special session this morning to ratify Sheriff William Honsal's declaration of a local emergency in the face of the COVID-19 pandemic. It also heard a variety of staff reports on the county's response.
North Coast Rep. Jared Huffman updated supervisors via teleconference on federal support available and sought input on Congress' next steps to address the pandemic and the resulting economic fallout. The board also voted to have staff research and put together a proposed eviction moratorium ordinance, and to give Tax Collector John Bartholomew wide discretion in granting waivers for late-payment penalties for local property taxes, which remain due Friday.
The meeting itself, to some extent, reflected the new normal under the county's shelter-in-place order, which indefinitely requires North Coast residents to stay home unless heading out to perform or receive essential services. Supervisors Virginia Bass and Mike Wilson, Huffman and some county staff members teleconferenced in from their homes and public comment was taken virtually from folks watching at home. Members of the board and staff in physical attendance practiced social distancing, sitting at least 6 feet apart.
The three supervisors who did physically attend the meeting — Rex Bohn, Estelle Fennell and Steve Madrone — are all over the age of 65, a demographic widely considered at elevated risk of the COVID-19 disease, so much so that the county's shelter-in-place order specifically orders them to "stay in their residence to the extent possible except as necessary to seek medical care." The three supervisors all wore facial coverings, though Fennell kept hers under her chin with her mouth and nose exposed for much of the meeting. An inquiry to county spokesperson Sean Quincey asking why the three supervisors attended the meeting in person had not been returned when the
Journal
posted this story, but we'll update it if we hear back from him.
The
Journal
asked Frankovich about this in her media availability today (watch her full response beginning at the 3:00 mark of
this video
) and she noted that they are essential employees, adding that they should be asked directly about their personal decisions "on this front." But she stressed that the county has asked seniors to remain home.
Screenshot
North Coast Rep. Jared Huffman updates the board of what he's doing in Congress via teleconference.
Huffman
Huffman began his brief report to the board by urging residents to follow public health guidelines do what they can to flatten the curve, or slow the rate of COVID-19 infection in an effort to keep health systems from becoming overwhelmed. He specifically applauded supervisors' use of facial coverings.
"Even if we're asymptomatic, by wearing those masks we can prevent inadvertently spreading the virus to others," Huffman said.
Huffman trumpeted Congress' passage of the CARES Act, a $2 trillion stimulus bill, as the first step of several to address the economic fallout from the social distancing orders cities, counties and states throughout the nation have taken to slow the spread of the virus. The bill adds $600 to unemployment benefits, he said, and provides vital financial lifelines for local governments, small businesses and tribes.
He conceded California's Economic Development Department is overwhelmed currently with unemployment claims but urged residents to be persistent in filing claims and getting into the system, saying they should call state Sen. Mike McGuire or Assemblymember Jim Wood's offices if the have trouble.
Moving forward, he said he expects two more "waves of legislation" from Congress. The first will essentially be a CARES Act Two, he said, intoning that the first didn't go far enough to meet the incredible need. Financial assistance for individuals, health centers, hospitals, tribes, small business and nonprofits is being immediately "snatched up," he said.
"The demand for this kind of help is beyond anything we could have anticipated," he said, adding that second wave will bring additional resources and look for anything the first act missed.
The third wave, Huffman said, will likely shift from attempts to mitigate the damage of the pandemic to stoking economic recovery. He said he envisions a big piece of the third wave will be funding for large infrastructure projects that can put people to work, including transportation, broadband internet and green energy projects.
Asked about additional local funding to help protect the area's homeless population from the pandemic, Huffman said the county can spend funds as it sees fit and apply for federal reimbursement through the state.
"Anything you hadn't budgeted for but you have stepped up and done as a response to this crisis should be covered by CARES," he said.
Staff Reports

Public Health Officer Teresa Frankovich updated the board on the confirmed local caseload as of Saturday, saying the county had
recorded
44 cases with three hospitalizations to that point. The local Public Health lab is running 50 tests per day, with a goal of getting to 60. Commercial testing laboratories — Quest and LabCorp — are also a great resource, she said, but added they have slower turnaround times for test results so Public Health is is constantly triaging to make sure it has capacity to do "critically important testing," such as for people who are hospitalized or live in congregate settings.
Frankovich said the best case scenario for Humboldt County is that measures taken to restrict the virus' spread — like the shelter-in-place
order
and asking residents to wear
facial coverings
when out in public — are successful, delaying intense local caseloads, leaving the area with a longer-period of COVID but keeping it from hitting the "high velocity" of cases that would overwhelm the system. That would also leave hope, she said, for the possibility that by the time Humboldt County sees peak infection rates, other areas of the state and country would be emerging from the virus' worst, allowing them to help Humboldt with additional resources, from equipment and healthcare workers to expertise.
She and Public Health Director Michele Stevens both expressed some concern that people are recreating outdoors at local parks and beaches in ways that compromise social distancing. While it's important for folks to get outside to exercise and relieve stress, Frankovich said they should refrain from getting in the car to do so, if possible, and always maintain 6 feet of distance. Stevens referenced reports that parking lots at College Cove and Moonstone Beach were full over the weekend.
"When you pull into a parking lot and see that it's starting to get full, that's probably a sign you should not be there," Stevens said, adding that folks should also not make plans to go on runs or bicycle rides with people they do not live with.
Asked about senior housing locally, Frankovich said they have been "diligent" about implementing protocols and changing visiting policies to minimize exposure.
There was a lot of discussion about the best ways to protect the local homeless population. Stevens said local programs — like free meals at St. Vincent de Paul and Arcata House Partnership — have implemented screening processes. Additionally, she said the county has leased the Humboldt Inn and begun quarantining homeless people there who are either in an at-risk group or awaiting testing results. From March 30 to April 6, she said the county put up eight people there for a total of 41 nights.
While applauding those efforts, Madrone asked if the county should be looking to do more — whether a designated camping area or a sanctuary parking area — to provide stability, a sanitary environment and some services. Staff questioned whether that would be successful, saying that the homeless population is pretty decentralized at this point and bringing it together into larger groups could hasten COVID-19 spread.
As the conversation continued, Sheriff William Honsal stepped in and said he's in constant communication with Department of Health and Human Services Director Connie Beck on the subject. The immediate plan, he said, is to address the most vulnerable and those who might be sick, which requires plans for transportation and monitoring.
"Right now, we need to do this in small steps to make sure we don't get overwhelmed he said," adding that Office of Emergency Services is constantly forward planning and looking at next steps.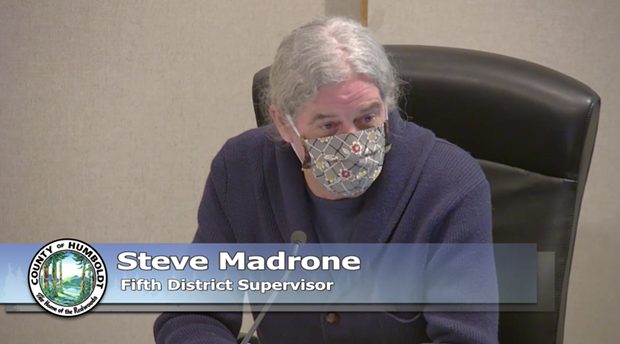 Screenshot
Fifth District Supervisor Steve Madrone.
Eviction Moratorium

Madrone asked the board to consider adopting an eviction moratorium ordinance to better protect local tenants who may fall behind on rent due to COVID-19 related job losses and economic hardship.
Wilson said this is a very "high-stress time" and this could provide people some reassurance but Bohn pushed back, suggesting landlords would work with their tenants and questioning whether the ordinance was really necessary.
Again, Honsal stepped to the microphone, saying he appreciated the "spirit" of the proposed ordinance, as well as ones passed in Arcata and Eureka.
"But is it necessary?" he asked, adding that his office is responsible for enforcing eviction notices countywide and that he has halted the practice indefinitely. "Right now, if someone wanted to evict someone, they can't do it in the county of Humboldt."
During public comment, a local attorney said that while he appreciated Honsal's stance, it really only protects local residents from the very last step in the eviction process: being forcibly removed from their homes. The intent of the ordinance, he said, would be to keep people in their housing, not just postpone eviction until the pandemic has passed.
After much discussion, the board voted unanimously to have county counsel bring back some options and a draft ordinance in three weeks.
Property Taxes

Bartholomew, the local tax collector, addressed the board seeking some guidance as the April 10 property tax payment deadline approaches.
"I would be loath to make any changes to that deadline just because so many agencies need that revenue, depend on that revenue and have budgeted for it," he said.
But he also recognized that people are facing extreme economic hardship. The current standard requires residents applying for a waiver of late-payment penalty to show some proof of the circumstances beyond their control that caused the late payment. Bartholomew asked whether that should be changed.
Ultimately, the board agreed to leave things as they currently are, giving Bartholomew wide leeway to grant waivers on a case-by-case basis.
"I will do anything and everything within my authority to do the right thing," he told the board after urging residents who are able to pay their property taxes on time.