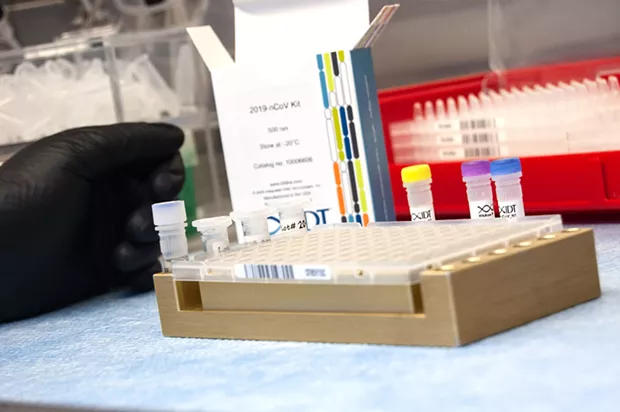 Humboldt County Department of Health and Human Services
For the
third day
in a row — and just the third time since March 23 — Public Health announced that there have been no new positive COVID-19 test results today.
The county has reported 50 COVID-19 cases to date, with the majority —
28
— coming in a six day period from March 30 to April 6. But the rate of positive tests has tapered sharply in recent days, with a combined five announced for Sunday and Monday, one on Tuesday and none Wednesday, yesterday and today.
Frankovich and Humboldt County Sheriff William Honsal have repeatedly stressed the importance of local residents respecting the letter and spirit of the county's
shelter-in-place order
, staying in their homes and limiting essential outings, practicing social distancing measures and wearing
facial coverings
when they do have to leave home. The hope, Frankovich explains, is that these measures will slow Humboldt County's infection rate to the point that the number of active cases at any time — and the number of critically ill patients — does not overrun the local healthcare system, which has
very limited capacity
.
Basics of COVID-19
The California Department of Public Health and the Centers for Disease Control, state that symptoms of novel coronavirus include fever, cough, runny nose and shortness of breath.
Emergency warning signs
needing immediate medical attention include difficulty breathing or shortness of breath, persistent pain or pressure in the chest, new confusion or inability to awaken, and bluish lips or face.
In an emergency situation:
Call ahead to the emergency room or inform the 911 operator of the possibility of a COVID-19 infection and, if possible, put on a face mask. St. Joseph and Redwood Memorial hospitals have opened tents on their campuses to begin screening patients who have "significant" symptoms consistent with the COVID-19 virus. The general hours of operation for the tents is 8 a.m. to 6 p.m. but that is subject to change.
Symptoms or possible exposure:
In the case of a possible exposure with symptoms — fever and cough or shortness of breath — contact your doctor's office or the county Department of Health and Human Services, which has a hotline that can be reached during business hours at covidinfo@co.humboldt.ca.us or at (707) 441-5000. Residents seeking medical advice or questions about testing are asked to contact Public Health at hhsphb@co.humbldt.ca.us or at (707) 445-6200.
St. Joseph Health has also set up a virtual assessment tool as an aid to assess risk factors for contracting the illness, which can be found at
www.providence.org/patients-and-visitors/coronavirus-advisory
.
The Federal Emergency Management Agency has started a rumor-control webpage that can be
found here
.
For the
Journal
's latest COVID stories, updates and information resources,
click here
.
See the full the testing report copied below:
April 10, 2020

707-441-5000 ; covidinfo@co.humboldt.ca.us ; Monday-Friday 8am to 7pm ; Saturday 10am to 5pm
Total new positive cases confirmed on April 10: 0

Daily COVID-19 case report for April 10

Total number of positive cases: 50
Total number of hospitalizations: 3
Total number of people tested by Public Health Laboratory: 785

Total number of people tested by all other sources: 564
(Centers for Disease Control and Prevention, California Department of Public Health and commercial labs)

The Public Health Laboratory currently has a capacity of approximately 500 tests and can process about 55 samples a day with an approximate turnaround time of 48 to 72 hours.