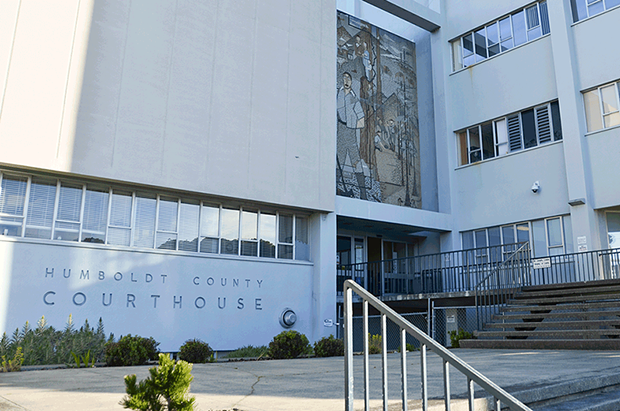 file
Humboldt County Courthouse
The Humboldt County Superior Court just announced sweeping changes that will effectively reschedule the bulk of local cases to future dates, while live-streaming essential proceedings open to the public, in effort to keep everyone safe through the COVID-19 pandemic.
Specifically, the court is rescheduling all small claims and traffic cases, as well as all civil and family law cases that don't have emergency temporary orders in effect. On the criminal side, the court will still call daily misdemeanor and felony calendars, and parties are urged to contact their attorneys for more information. But all domestic violence review and drug court calendars will be rescheduled.
"Jury trials will be called on their scheduled date, and the court will address each case individually," the press release states. "Jurors will not be summoned."
See the full press release form the court copied below.
SUPERIOR COURT OF CALIFORNIA
COUNTY OF HUMBOLDT
Kim M. Bartleson, CCE
Court Executive Officer/
Jury Commissioner
Joyce D. Hinrichs
Presiding Judge
April 16, 2020
*****IMMEDIATE PRESS RELEASE*****
The Humboldt Superior Court would like to provide the public with the following announcements
regarding the current status and future calendars for the following Court Departments:
Criminal Court:
 8:30 calendars for Courts 1, 2, 3 and 5 are called daily in Court 5.
 Effective April 20th, the 9:15 misdemeanor calendar and the 10:15 felony calendar will be called
daily in Court 5. Parties should contact their attorney for information regarding their case.
 Court proceedings that are open to the public may be accessed on the Court's website at www.humboldt.courts.ca.gov.
 All matters scheduled for pre-trial conference in the misdemeanor settlement court will be renoticed for mid-June.
 A plea calendar for misdemeanor settlement court will be scheduled for April 24th and May 1st. Please contact your attorney for further information.
 Preliminary hearing calendars are being called in the normal course and will proceed or be rescheduled as needed.
 All matters scheduled for arraignment will be rescheduled by mailed notice.
 All Domestic Violence review calendars have been/will be rescheduled by mailed notice.
 All Drug Court calendars will be vacated and rescheduled for a future date. Please contact the Probation Department for further information.
 All matters scheduled for intervention have been/will be vacated (canceled).
 All jury trials will be called on their scheduled date, and the Court will address each case individually. Jurors will not be summoned.
 For further information regarding payment on misdemeanor cases, please visit our website at www.humboldt.courts.gov and go to the Criminal Division dropdown from the home page.
Civil Court:
 Effective April 20th, the Court will call matters in which emergency temporary orders are in effect.
These will be called in Court 6 as outlined on the Court's schedule available on our website. Parties who are not represented by an attorney will need to appear remotely by videoconference or telephone. Please visit the Court's website for information about appearing remotely.
 All other civil matters will be rescheduled by written notice.
Family Court:
 Effective April 20th, the Court will call matters in which emergency temporary orders are in effect.
These will be called in Court 6 as outlined on the Court's schedule available on our website. Parties who are not represented by an attorney will need to appear remotely by videoconference or telephone. Please visit the Court's website for information about appearing remotely.
 All other family law matters will be rescheduled by written notice.
Traffic Court:
 All traffic cases scheduled for arraignment, court trial, or Trial de Novo will be rescheduled by written notice.
 For further information regarding payments and pending traffic tickets, please visit our website at www.humboldt.courts.gov and go to the Traffic Division dropdown from the home page.
Small Claims:
 All Small Claims matters will be rescheduled by written notice.
Hoopa Court:
 All cases set for May will be rescheduled by written notice.
825 Fifth Street ~ Room 231 ~ Eureka, California 95501 ~ (707) 269-1200