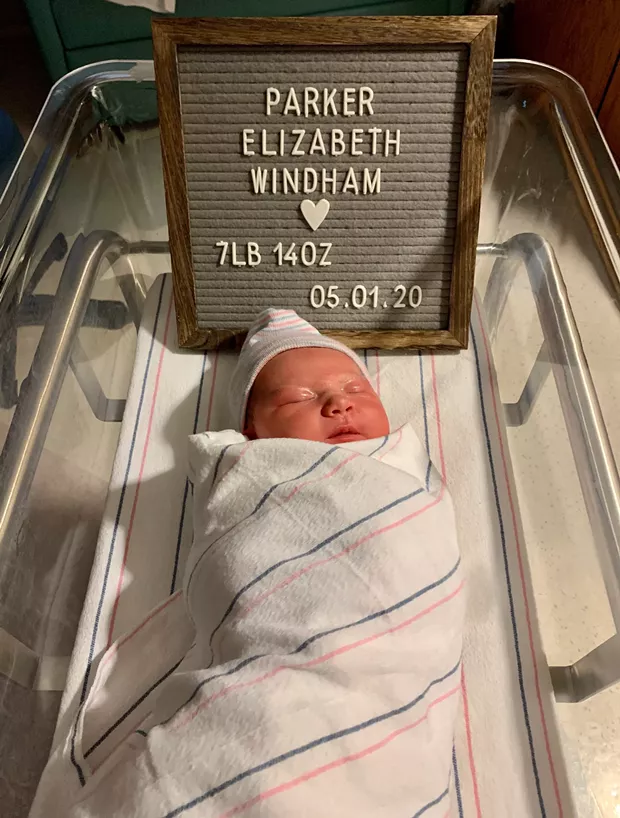 submitted
Parker Elizabeth Windham
Just in case any of you needed proof that miracles still happen every day, even amid a pandemic, we are wonderfully happy to announce the newest addition to our
Journal
family, Parker Elizabeth Windham. Little Parker was born May 1 at St. Joseph Hospital, the daughter of
Journal
advertising manager Kyle Windham and St. Bernard' Academy English teacher Jessi Merrill. Both Parker and the new mom are happy and healthy.
There's still so much to be grateful for in this world, and we at the
Journal
remain incredibly grateful for the support you — our readers — continue to show. For nearly 30 years, the
North Coast Journal
has been covering the stories and people you care about in Humboldt County. We're proud to share our coverage in
print
and
online
for free so everyone — with or without internet access or the means to subscribe to a paper — can stay informed, especially during the current COVID-19 crisis.
This week, our ongoing COVID-19 reporting included
daily case updates
, a
detailed look
at why testing still remains limited, the
push and pull
over whether to close beaches statewide, a
letter
from the local medical society president urging people to listen to public health experts, the latest on Humboldt County's
rising unemployment numbers
,
modifications
to the shelter-in-place order and what they mean, a
look
at why Gov. Gavin Newsom's ambitious program to get hot meals delivered to seniors' homes hasn't panned out and a
column
from the Humboldt County Office of Education's Peter Stoll on how to talk to children about grief and loss. It's been a lot.
For the first time in our history, the
Journal
has created a way for readers to pitch in to help keep our mission going and the newsroom humming through these unprecedented times. (Click
here
for more information.)
We'd like to take this opportunity to publicly thank our newest supporters:
Keith Bacon
Sarina Benavides-Garb
Maia Cheli
Wesley Chesbro
Mindie Dolson
Deborah Dukes
Mary Durkee
George Gordon
Kirk Gothier
Melinda Groom
Kym Kemp
Ellen Seaarle Lebel
Helen Love
Barbara K Madaras
John Matrau
Margaret Metzger
Stephanie Nelson
Jill Nichols
Dale Preston
Joan Rainwater-Gish
Michael Robnett
Margaret Shaffer
Dorothy Simmons
Patricia Sundgren Smith
Karen Suiker
Patricia Thomas
Richard Thompson
David Turner
Michael Wallace
Bruce Will
You can pitch in to keep the mission going and the newsroom humming.
Become a member today
.