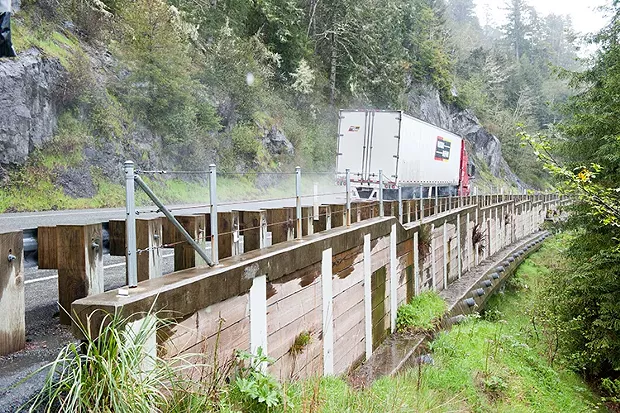 File
A tractor trailer passes one of the retaining walls on the grade.
UPDATE:
Due to impending weather, Caltrans has decided to move the start date of the full closure of U.S. Highway 101 at Last Chance Grade in Del Norte County back a day, and it will now start Tuesday and stretch through May 15.
PREVIOUSLY:
Just a friendly reminder for those looking to travel north or south on U.S. Highway 101 in Del Norte County: There will be five nighttime closures this month at Last Chance Grade beginning May 11.
Caltrans will be shutting down the
notorious
3-mile stretch south of Crescent City on May 11, 12 and 13 from 8 p.m. to 6 a.m. On May 14 and May 15, the shutdowns are planned for 9 p.m. to 1 a.m. and from 1:30 a.m. to 6 a.m.
According to the state agency, the work is needed to correct a low section of roadway and instituting the nighttime closures will significantly speed up the completion timeline.
Read more about the closures
here
.