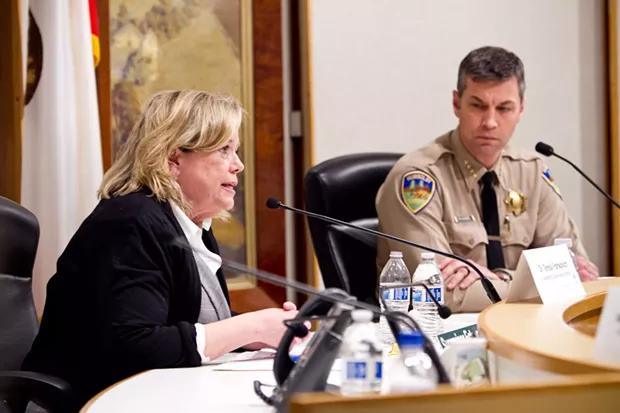 Courtesy of DHHS
Humboldt County Public Health Officer Teresa Frankovich and Sheriff William Honsal talk COVID-19 at a recent virtual town hall meeting.
The Humboldt County Board of Supervisors voted unanimously this afternoon, with Third District Supervisor Mike Wilson absent, to send
a letter of support
to the state backing Public Health Officer Teresa Frankovich's
certification
that the county meets state criteria to allow some local control over how it moves forward through stage two of the governor's shelter-in-place order.
While Frankovich made clear she is hoping to see the county's certification approved, giving it some control over what businesses can open when moving forward, officials will need to take a wait-and-see approach as to how fast things move, especially in light of
a recent spike
in new confirmed COVID-19 cases.
"If we'd had the seven or 10 days of negative (test results), I'd feel quite different about what our approach is going to be over the next 48 hours than I do now," she said, adding that the county will monitor test results closely in the coming days before determining how to move forward.
As of May 5, the county had seen just two new confirmed cases in a 17-day span but it has seen nine new cases confirmed since Saturday, putting it perilously close to falling on the wrong side of state limits on infection rates for counties looking to exercise local control. The state mandates that counties certifying readiness must affirm they have not seen more than one new confirmed case per 10,000 residents over the last 14 days and, as of today, Humboldt County has seen 0.81 cases confirmed over that span.
But Frankovich stressed that part of the idea of local control is empowering Public Health to monitor the situation on the ground and react, whether that means loosening restrictions, leaving them in place or tightening them.
At one point in the meeting, First District Supervisor Rex Bohn asked if the county confirms 10 new cases tomorrow, would that just shut everything down.
"If we are going to get 10 cases in the next day, I would say, 'Yes,' we are probably going to be holding for a moment," she said.
Humboldt County Sheriff William Honsal said the county is in the process of posting guidelines for how businesses in 20 different sectors
can begin planning
to re-open safely when allowed. He urged all local businesses to review the guidelines and begin implementing safety measures and plans so they are prepared when given the green light to re-open. He urged anyone confused about the process to call the county's joint information center at 441-5000.
"There's going to plenty of support for people to try to get through this process as painlessly as possible," he said. "The more prepared you are, the easier it's going to be."
For more information on the state certification process and how Humboldt County stacks up, see our previous story
here
and keep an eye out for this week's
Journal
, which is on newsstands now.