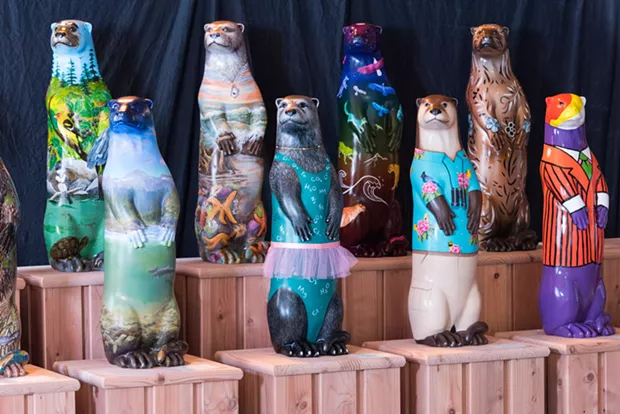 Kellie Brown
The otter sculptures are ready to be placed in shops, restaurants and other venues when it's safe to do so.
On World Otter Day, May 27, the North Coast Otters Public Arts Initiative will preview the more than 100 otter sculptures that were set to make an appearance this summer in a massive scavenger hunt throughout Humboldt County and beyond.
The public art initiative is inviting people to a "virtual sneak peek" of the otters on its website
https://otterart.humboldt.edu/
or through its social media accounts (@northcoastottersart) on May 27.
"This is not what we had originally imagined for our otters' big unveiling but, like the wild otters, we are resilient," reads a press release from the art initiative. "We remain committed to the placement of the otter art sculptures at shops, restaurants and other public spaces where our community will fall in love with the otters. However, we do not yet know when this will happen. Thank you for your patience and continued support."
The North Coast Otters Public Arts Initiative is set to bring awareness to Humboldt State University's River Otter Citizen Science Project and raise funds for monitoring and restoration efforts.
HSU wildlife professor Jeff Black who created the otter Art initiative and oversees the River Otter Citizen Science project with graduate students told the
Journal
that they will be announcing the website through a Facebook Live event on May 27.
Read past coverage from the
Journal
about the North Coast Otters Art Initiative
here
and enjoy a preview slide show of some of the completed otters below. Photos by Kellie Brown.