A staff member at Pelican Bay State Prison has tested positive for COVID-19, according to the California Department of Corrections and Rehabilitation website.
The prison located north of Crescent City is one of the most notorious in the state system, opening in 1989 to house California's most serious offenders.
To date, 18 Pelican Bay inmates have been given tests for the deadly respiratory disease, but none have come back positive.
Across the state, there have been more than 900 COVID-19 cases among prisoners, including six deaths, and 214 employees infected. The CDCR website notes that "staff cases are self-reported and verified with the employee's respective county department of public health."
As of this morning, Del Norte County has had a total of 15 confirmed cases, including four recoveries and no deaths. A total of 674 tests have been administered, with the results of 22 pending.
In March, Gov. Gavin Newsom directed CDCR to temporarily halt the transfer of inmates into or out of all of state's 35 prisons and four youth correctional facilities.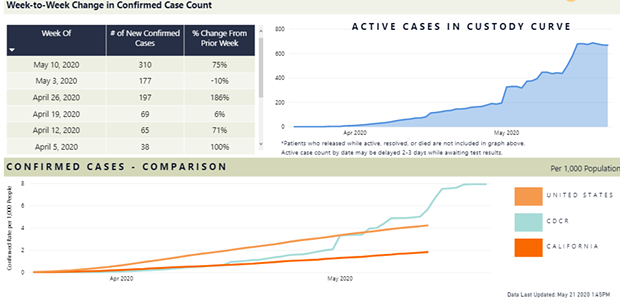 Beginning next week, that will slowly resume, starting at North Kern State Prison and Wasco State Prison, with the CDCR only accepting inmates from Los Angeles, San Bernardino, San Diego and Fresno counties.
It's unclear when transfers out of the Humboldt County jail will start. "The rate of intake and from which counties will continuously be monitored and evaluated as we move toward safely resuming normal operations," an update on the CDCR states.
For a glimpse into what's like behind the walls of Pelican Bay during the pandemic, read
T.William Wallin's story
in the
Lumberjack
. Find more information about COVID-19 at the prison and others across the state
here
.