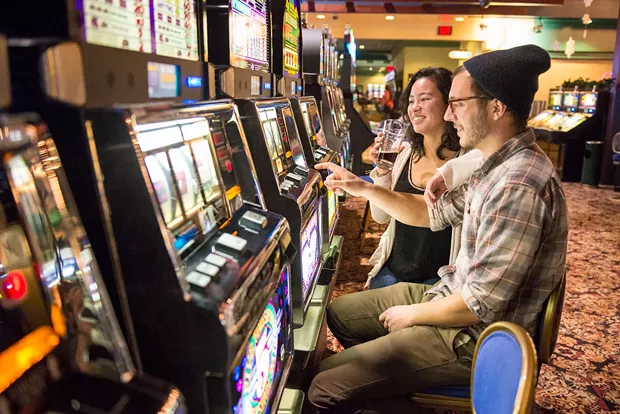 Over the past week, Humboldt County Public Health Officer Teresa Frankovich has repeatedly expressed the concern that some local residents are ignoring current prohibitions on gatherings. And whether social functions or church services, the
Journal
has fielded a growing body of tips and reports to support that her concerns are well founded.
In the midst of all this, two
local
casinos
— operated by sovereign tribes and tribal lands, and thus not subject to state or local health orders — have announced they will be re-opening in the coming days over Frankovich's objections.
"The gathering of people is a significant risk," she said, noting that one need only look at case clusters linked to large gatherings in other areas of the country for proof. "As careful as [the casinos] might be … you cannot get away from the fact that we're putting large numbers of people into a space indoors for extended periods of time."
As Frankovich suggested, looking at outbreak clusters from across the country can offer some insight into why health officials are so concerned about the prospect of large groups of people from different households getting together, no matter the setting.
The Centers for Disease Control has studied and reported on two separate clusters, both of which began in mid-March.
The
first cluster
is believed to have originated amid a two-and-a-half-hour choir practice on March 10 in Skagit County, Washington, that was attended by 61 people, including one who'd experienced mild cold-like symptoms for a few days prior. The group sang together, sitting 6 to 10 inches apart, split into smaller groups, munched on cookies and orange slices during a break, and then reconvened to sing all together for the final 40 minutes. In the weeks after the practice, 32 of the choir members who'd participated were confirmed to have COVID-19, with 20 more experiencing symptoms and suspected to have the disease. Three of the choir members were hospitalized and two died. The CDC's report does not cover how many other people these choir members may have infected after contracting the virus.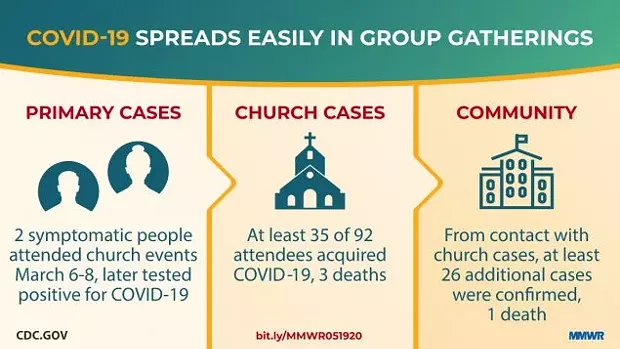 The
second cluster
studied by the CDC occurred around the same time in rural Arkansas after a pastor and his wife on March 16 became the first confirmed COVID cases in a county of about 25,000 people, prompting the Arkansas Department of Public Health to investigate. According to the CDC's report, the couple had attended a three-day children's event from March 6 through March 8 and a bible study group on March 11. The CDC determined that a total of 92 people attended the events. Thirty-five were later confirmed to have COVID-19, including three who died. Contract tracing by county health officials also linked 26 other cases to the church cluster, including one who died.
"Despite canceling in-person church activities and closing the church as soon as it was recognized that several members of the congregation had become ill, widespread transmission within (the church) and within the surrounding community occurred," the report states.
Media accounts have also traced a host of outbreak clusters to events that saw large numbers of people co-mingle. There was the Feb. 29 funeral for a retired janitor in Albany, Georgia, attended by more than 200 people. Among them was a man from Atlanta who would later be identified as the state's first COVID-19 death. What followed was an outbreak that "hit like a bomb," according to a
New York Times
report, with the funeral believed to have been a flashpoint in the outbreak that killed at least 24 people and overwhelmed the healthcare system in a county of 90,000.
The Washington Post
, meanwhile,
detailed
an outbreak in Detroit, Michigan, which was traced back to a gathering of active and retired sheriff's deputies at a popular jazz club in early March.
From the
Post
's account:
"Donafay Collins, a popular 63-year-old commander in the Wayne County Sheriff's Office who moonlighted as a Motown DJ and taught colleagues how to ballroom dance, made his way through the crowd, resplendent in a black-on-black tie and shirt.

"He was happy at work, he told friends. His family was healthy. Life was good.

"'What a night!' he wrote on Facebook the next day.

"Less than three weeks later, at least seven partygoers were sick, down with COVID-19. Dozens more were ill at the sheriff's office. And Collins, a father of four, was dead."
Across the nation, there are many, many similar stories.
Scientists are still scrambling to understand the new virus and exactly how it spreads, but there's a growing consensus that clusters play a huge part. Without social distancing or other mitigations measures, studies show the average COVID-19 patient spreads the virus to three other people but the reality is that many spread the virus to no one, while a few spread it widely.

"Probably about 10 percent of cases lead to 80 percent of the spread," Adam Kucharski, an infectious disease analyst at the London School of Hygiene and Tropical Medicine, told
Science Magazine
.
One factor appears to be that while COVID-19 is believed to spread mostly through droplets — small bits of saliva emitted through a cough, sneeze or even speaking — it can also spread through aerosols.
Droplets fall through the air and land on a surface — a counter, someone's hand, a glass — and then can spread to another person who unwitting touches them and then their face or mouth. This is why health officials recommend people maintain 6 feet of physical distancing at all times (so the droplets emitted by someone's sneeze fall to the ground instead of onto someone else) and frequent hand washing (so those droplets someone picks up from a surface are washed away before infecting whoever happened to touch them).
But researchers also believe aerosols play a role in the virus' spread, and potentially are the primary source of mass exposures. While saliva and mucous droplets are heavier than air, meaning they fall to the ground, aerosols form when tiny droplets evaporate before falling to the ground, leaving virus particles floating through the air for up to a half an hour,
according to one study
.
There are a lot of factors in the amount of aerosols someone pumps into the air, researchers believe. One study found that the volume at which people speak is a contributing factor, and there's also reason to believe certain activities — like singing (which could help explain the severity of the choir and church clusters) or heavy exercise — cause people to emit more aerosols.
It's this prospect of aerosol spread coupled with confining large numbers of people in an indoor space that terrifies public health officials.
Consider this from
Science Magazine
:
"Some situations may be particularly risky. Meatpacking plants are likely vulnerable because many people work closely together in spaces where low temperature helps the virus survive. But it may also be relevant that they tend to be loud places, [London School of Hygiene and Tropical Medicine research Gwenan Knight, who has created a database of 'superspreading events] says. The report about the choir in Washington made her realize that one thing links numerous clusters: They happen to be in places where people shout or sing. And although Zumba classes have been connected to outbreaks, Pilates classes, which are not as intense, have not, Knight notes. 'Maybe slow, gentle breathing is not a risk factor, but heavy, deep, or rapid breathing and shouting is.'"
Studies have also shown that, for reasons that are still unknown, some people — including asymptomatic carriers — simply shed the virus at higher rates for longer periods than other people.
And all this brings us back to casinos, large social gatherings and Frankovich's concerns. Casinos and their accompanying bars are generally loud places, with music blaring and slot machines chiming, forcing patrons to speak loudly to one another to be heard over the din. A patron shedding large amounts of the virus while socializing at a casino could potentially expose hundreds of people at a once. It's a scenario that alarms health officials, from hospital administrators overseeing a limited number of beds and staff to care for patients to those in public health, who know the capacity to conduct contact tracing investigations would be stretched in a scenario where dozens of new cases appear at once.
Frankovich was blunt in her assessment when asked about the prospect of casinos reopening on the North Coast this weekend.
"What I can say is this is not the time," she said. "We are far too early in this and ultimately there is no way to get around the fact that these are mass gatherings. It's an entertainment venue and people are not only together in large numbers but they're together for large periods of time, which extends risk … I don't think it's the time. I would clearly oppose the opening of casinos right now in our community."