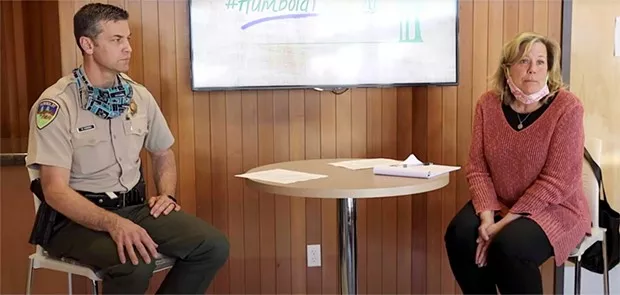 File
Sheriff William Honsal and Public Health Officer Teresa Frankovich during one of their briefings.
The Associated Press
turned the spotlight on Humboldt County in a story sent out to papers across the nation that focused on the region's reopening in the wake of a spike in COVID-19 cases after a period of relative calm.
Humboldt County Public Health announced
two new cases today involving Alder Bay Assisted Living Facility personnel
, which brings the county's total to 93.
The
first confirmed COVID-19 death
in Humboldt County occurred May 17, when a 97-year-old woman living at Alder Bay died at a local hospital. Another
Alder Bay resident died Tuesday
at St. Joseph Hospital. To date, Alder Bay has seen a total of seven residents and seven staff members test positive.
In the
AP
article, Supervisor Virginia Bass and Eureka Councilman Austin Allison discuss how the recent ramp up in positive test results was necessitating a more measured approach. Public Health Officer Teresa Frankovich and Sheriff William Honsal were quoted from their daily updates.
Also included were interviews with Six Rivers Brewery co-owner Meredith Maier and Alder Bay Assisted Living Facility Administrator Mark Stephenson, as well as Ryan Rice, one of the Facebook group's Open Humboldt organizers, who expressed that he believes the timeline for reopening is "severely skewed."
Marijuana, of course, made a brief cameo.
Read the full story
here
.