For the fifth time since April 24, protesters urging state and county leaders reopen the economy gathered at the Humboldt County Courthouse in Eureka at noon on Friday.
Over the weeks, the crowd has varied between 30 at the beginning and 60 participants at the height, according to various estimates. Yesterday, the roughly 40 people there carried flags and signs urging "Save Small Local Business" and "I want my church…dentist…audiologist…barber," etc.
Tensions between those that want to reopen the economy and those that want to maximize social distancing measures to prevent illness have continued – often, though certainly not always, divided along political party lines since almost before Gov. Gavin Newsom issued shelter-in-place orders on March 19 – one of the first governors to do so.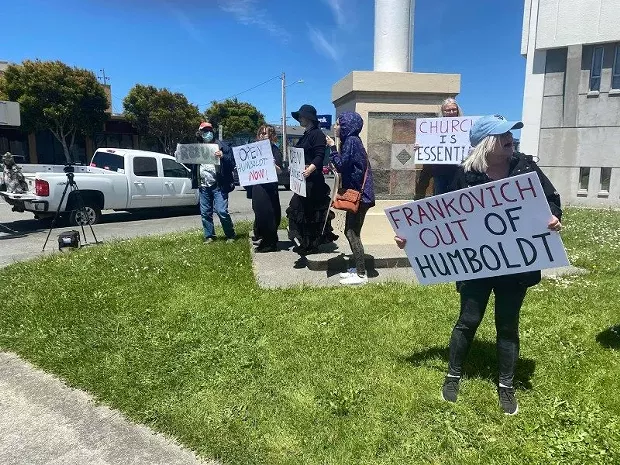 Photo by Mark McKenna
Protesters on Friday.
The tensions exacerbated already existing differences.
A photo of a sign at last week's protest comparing a slave forced to wear a painful muzzle with public health orders to wear a cloth mask in public to protect others from the spread of the novel coronavirus caught by
Redheaded Blackbelt
photographer Mark McKenna went viral.
"Muzzles are for dogs and slaves. I am a free human being," it stated. Just one post sharing
the image on Twitter
garnered over 130,000 reactions and thousands of mainly hostile comments accusing the women holding the sign of racism.
Other posts of McKenna's image on a variety of social media sites garnered enough attention that the fact-checking site,
Snopes
, issued a post noting that the wording was not photoshopped. And,
Newsweek
also covered the story.
The brief flurry of attention has subsided though and the signs of this week's protesters urged that the economy be reopened "responsibly" and not to trust vaccines. The protesters, both masked and unmasked, chatted as a number of passing drivers honked their horns.