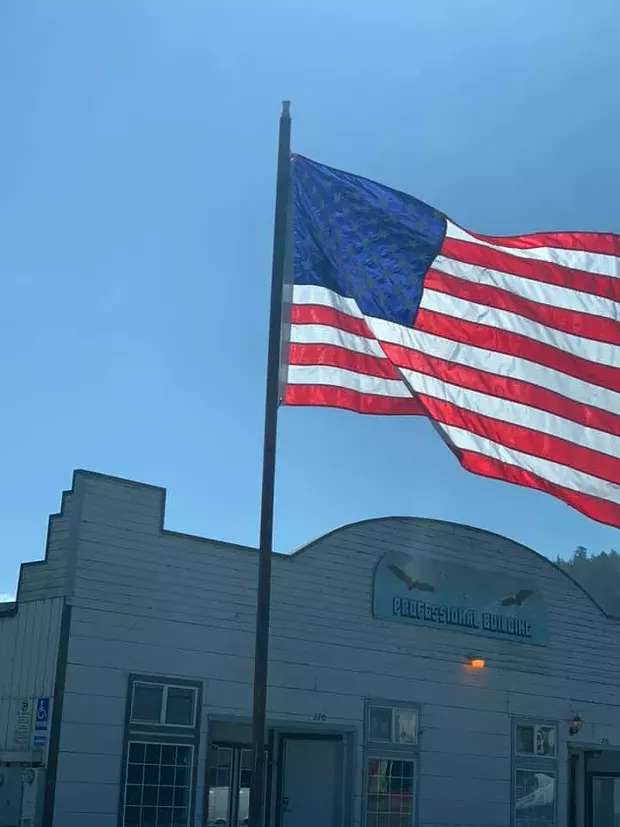 Rio Dell Neighborhood Watch Facebook Group
On Memorial Day volunteers with the Rio Dell-Scotia Chamber of Commerce rose before dawn to install 57 American flags along Rio Dell's Wildwood Avenue median, starting at the north side of town and going all the way to the Eagle Prairie Bridge.
"Everyone in town loved it," said Chamber President Nick Angeloff. "It went off without a hitch."
The event was capped off by a performance of "Taps" by Scotia Band bugler Mike McClimon. Second District Supervisor Estelle Fennell, Rio Dell Mayor Debra Garnes and Chamber Vice-President Jim Brickley stood 12 feet apart behind McClimon wearing masks and holding flags in honor of the nation's fallen veterans. Due to social distancing, there was no parade or assembly, but this Memorial Day celebration was significant in another way — it was the first in the hamlet for more than 30 years.
"Part of the joy of this, particularly for the seniors who remembered seeing flags up, it was good for them to see it again," said Angeloff. "Anybody under 40 has never seen it before."
The Chamber hit upon the idea after brainstorming ways to raise spirits while adhering to shelter in place. Local businesses donated more than $10,000 to purchase supplies, such as cement to make the permanent flag holders, which will be used during future holidays. Angeloff said the flags were a big hit on the Rio Dell and Scotia Neighborhood Watch Facebook pages, which is where he and others are doing much of their socializing these days.
Rio Dell, population 3,390, has seen economic ups and downs over the last decade, most recently weathering a drought in tourist traffic due to
temporary closure
of the Eagle Prairie Bridge in 2018. But Angeloff reports that most businesses are holding strong during shelter in place and adapting to new regulations. The Pizza Factory is doing its best business in years; the drive-through coffee house, Shotz, is going gangbusters, he said. For those businesses that can't yet reopen – the local massage parlor, the thrift store – the impact remains to be seen. The cost of doing business has gone up, Angeloff said, whether it's from buying protective gear or hiring extra staff to sanitize surfaces.
In the meanwhile, the little town is still moving forward with plans for its 50th annual Wildwood Days, typically held the first weekend of July. While it remains to be seen whether or not restrictions will ease to accommodate events such as the Penny Scramble, Spaghetti Feed or softball tourney, Angeloff promises there will be "something big" in the offing to mark the occasion, although he's mum on specifics.
"We're trying to figure out how to pull that off," he said. "But there will be a big event and it will be COVID-compliant."