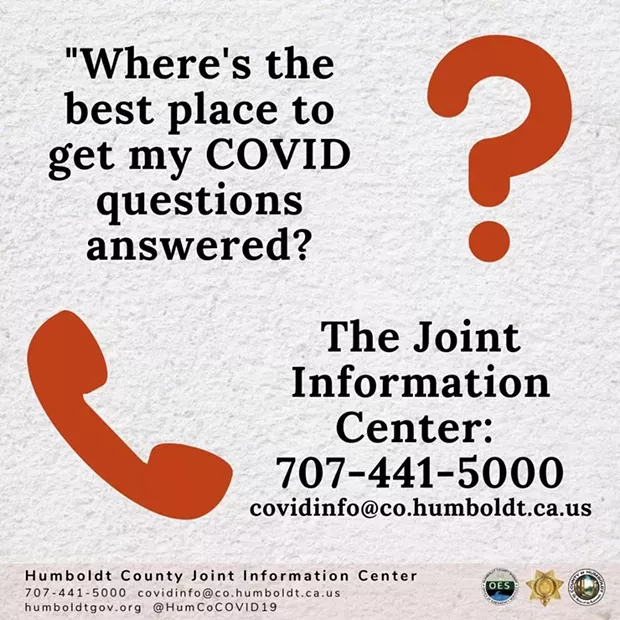 Humboldt County's Joint Information Center put out a Facebook post today to answer some of the most common questions to come their way as Humboldt navigates its reopening amid the COVID-19 outbreak.

Here's a list of 14 questions and answers on everything from whether the mall has the green light to open (spoiler alert: it does not yet) to how come information was released about potential exposure at the Aztec Grill in McKinleyville but not at other places.

Read the responses below:

𝟏. 𝐀𝐫𝐞 𝐫𝐞𝐬𝐭𝐚𝐮𝐫𝐚𝐧𝐭𝐬 𝐠𝐨𝐢𝐧𝐠 𝐭𝐨 𝐜𝐨𝐧𝐭𝐢𝐧𝐮𝐞 𝐭𝐨 𝐨𝐟𝐟𝐞𝐫 𝐜𝐮𝐫𝐛𝐬𝐢𝐝𝐞, 𝐭𝐚𝐤𝐞𝐨𝐮𝐭, 𝐚𝐧𝐝 𝐝𝐞𝐥𝐢𝐯𝐞𝐫𝐲 𝐧𝐨𝐰 𝐭𝐡𝐚𝐭 𝐭𝐡𝐞𝐲 𝐚𝐫𝐞 𝐚𝐮𝐭𝐡𝐨𝐫𝐢𝐳𝐞𝐝 𝐟𝐨𝐫 𝐝𝐢𝐧𝐞-𝐢𝐧 𝐟𝐨𝐫 𝐭𝐡𝐨𝐬𝐞 𝐨𝐟 𝐮𝐬 𝐰𝐡𝐨 𝐰𝐨𝐮𝐥𝐝 𝐬𝐭𝐢𝐥𝐥 𝐩𝐫𝐞𝐟𝐞𝐫 𝐭𝐨 𝐝𝐢𝐬𝐭𝐚𝐧𝐜𝐞? a. That is up to the individual restaurant.

𝟐. 𝐒𝐨 𝐨𝐧𝐥𝐲 𝐡𝐚𝐥𝐟 𝐨𝐟 𝐚 𝐬𝐚𝐥𝐨𝐧 𝐜𝐚𝐧 𝐨𝐩𝐞𝐧? 𝐎𝐫 𝐜𝐚𝐧 𝐧𝐚𝐢𝐥𝐬 𝐨𝐩𝐞𝐧 𝐢𝐟 𝐢𝐭 𝐢𝐬 𝐚 𝐟𝐮𝐥𝐥-𝐬𝐞𝐫𝐯𝐢𝐜𝐞 𝐬𝐚𝐥𝐨𝐧 𝐚𝐧𝐝 𝐧𝐨𝐭 𝐣𝐮𝐬𝐭 𝐚 𝐧𝐚𝐢𝐥 𝐬𝐚𝐥𝐨𝐧? a. Neither hair nor nail salons are currently cleared to open in Humboldt County. The governor has left the timing of that to counties, and in Humboldt County we're focusing on restaurants first.

𝟑. 𝐒𝐨 𝐰𝐢𝐥𝐥 𝐭𝐡𝐞 𝐦𝐚𝐬𝐤 𝐥𝐚𝐰 𝐧𝐨𝐭 𝐛𝐞 𝐚𝐩𝐩𝐥𝐢𝐞𝐝 𝐭𝐨 𝐝𝐢𝐧𝐞 𝐢𝐧 𝐫𝐞𝐬𝐭𝐚𝐮𝐫𝐚𝐧𝐭𝐬? 𝐈𝐟 𝐩𝐞𝐨𝐩𝐥𝐞 𝐝𝐨𝐧'𝐭 𝐰𝐞𝐚𝐫 𝐭𝐡𝐞𝐦 𝐢𝐧𝐭𝐨 𝐫𝐞𝐬𝐭𝐚𝐮𝐫𝐚𝐧𝐭 𝐰𝐡𝐚𝐭'𝐬 𝐭𝐡𝐞 𝐩𝐨𝐢𝐧𝐭 𝐨𝐟 𝐰𝐞𝐚𝐫𝐢𝐧𝐠 𝐭𝐡𝐞𝐦 𝐢𝐧𝐬𝐢𝐝𝐞 𝐨𝐭𝐡𝐞𝐫 𝐩𝐥𝐚𝐜𝐞𝐬? a. It's hard to eat with a mask on. Servers and other employees are required to wear them, and per the Health Officer's Order, facial coverings are mandatory among all people over the age of 12 who are able to wear them. Masking for children age 2 to 12 is strongly recommended. Mask-wearing is among the most available and most effective protective factors available to us.

𝟒. 𝐈𝐬 𝐭𝐡𝐞𝐫𝐞 𝐚 𝐥𝐢𝐬𝐭 𝐨𝐟 𝐫𝐞𝐬𝐭𝐚𝐮𝐫𝐚𝐧𝐭𝐬 𝐭𝐡𝐚𝐭 𝐡𝐚𝐯𝐞 𝐛𝐞𝐞𝐧 𝐜𝐞𝐫𝐭𝐢𝐟𝐢𝐞𝐝 𝐟𝐨𝐫 𝐝𝐢𝐧𝐞 𝐢𝐧 𝐚𝐧𝐝 𝐛𝐮𝐬𝐢𝐧𝐞𝐬𝐬𝐞𝐬 𝐭𝐡𝐚𝐭 𝐚𝐫𝐞 𝐜𝐞𝐫𝐭𝐢𝐟𝐢𝐞𝐝 𝐭𝐨 𝐨𝐩𝐞𝐧? a. We're working on one and hope to have it on our website by end of business today (May 27).

𝟓. 𝐇𝐨𝐰 𝐦𝐚𝐧𝐲 𝐩𝐞𝐨𝐩𝐥𝐞 𝐚𝐫𝐞 𝐜𝐮𝐫𝐫𝐞𝐧𝐭𝐥𝐲 𝐡𝐨𝐬𝐩𝐢𝐭𝐚𝐥𝐢𝐳𝐞𝐝 𝐚𝐧𝐝 𝐚𝐭 𝐰𝐡𝐚𝐭 𝐡𝐨𝐬𝐩𝐢𝐭𝐚𝐥𝐬? a. Total hospitalizations from the beginning of the event are twelve. We do not release information about people currently hospitalized.

𝟔. 𝐖𝐡𝐲 𝐚𝐫𝐞 𝐰𝐞 𝐨𝐩𝐞𝐧𝐢𝐧𝐠 𝐮𝐩 𝐰𝐡𝐞𝐧 𝐭𝐡𝐞 𝐠𝐫𝐚𝐩𝐡 𝐢𝐬 𝐠𝐨𝐢𝐧𝐠 𝐮𝐩, 𝐧𝐨𝐭 𝐝𝐨𝐰𝐧? a. There are some who think we are opening too slowly, and others who think we are opening too fast. The Health Officer and Sheriff are working together to move forward safely, while acknowledging the extraordinary costs of keeping businesses shuttered. While opening restaurants does represent an increase in risk, the Health Officer has the authority to slow or even stop the certification process if needed. In extreme situations, she could even reverse the opening process. We're all hoping that does not become necessary.

𝟕. 𝐈𝐬 𝐭𝐡𝐞 𝐎𝐩𝐭𝐮𝐦𝐒𝐞𝐫𝐯𝐞 𝐟𝐚𝐜𝐢𝐥𝐢𝐭𝐲 𝐚𝐭 𝐭𝐡𝐞 𝐑𝐞𝐝𝐰𝐨𝐨𝐝 𝐀𝐜𝐫𝐞𝐬 𝐅𝐚𝐢𝐫𝐠𝐫𝐨𝐮𝐧𝐝𝐬 𝐛𝐞𝐢𝐧𝐠 𝐮𝐭𝐢𝐥𝐢𝐳𝐞𝐝 & 𝐭𝐡𝐞 𝐛𝐞𝐝𝐬 𝐨𝐜𝐜𝐮𝐩𝐢𝐞𝐝 𝐛𝐲 𝐩𝐚𝐭𝐢𝐞𝐧𝐭𝐬? 𝐎𝐫 𝐢𝐬 𝐢𝐭 𝐬𝐭𝐫𝐢𝐜𝐭𝐥𝐲 𝐟𝐨𝐫 𝐭𝐞𝐬𝐭𝐢𝐧𝐠? a. OptumServe is the private brand of the state testing facility at Redwood Acres. An Alternative Care Site or ACS is also located at Redwood Acres in preparation for a possible medical surge beyond what hospitals can manage. There currently is no surge hospitals can't manage, and the ACS is currently vacant.

𝟖. 𝐂𝐚𝐧 𝐚𝐩𝐩𝐫𝐨𝐯𝐞𝐝 𝐜𝐡𝐢𝐥𝐝 𝐜𝐚𝐫𝐞 𝐛𝐞 𝐚𝐝𝐝𝐞𝐝 𝐭𝐨 𝐭𝐡𝐞 𝐜𝐞𝐫𝐭𝐢𝐟𝐢𝐞𝐝 𝐛𝐮𝐬𝐢𝐧𝐞𝐬𝐬𝐞𝐬 𝐥𝐢𝐬𝐭? a. Certified retail businesses are listed as of now, and we're working to create lists of additional certified businesses by sector. If you have a question about a specific business reopening application, please call 441-5000.

𝟗. 𝐖𝐡𝐞𝐧 𝐝𝐨 𝐜𝐞𝐫𝐭𝐢𝐟𝐢𝐞𝐝 𝐛𝐮𝐬𝐢𝐧𝐞𝐬𝐬𝐞𝐬 𝐠𝐞𝐭 𝐭𝐨 𝐨𝐩𝐞𝐧? a. When their sector is open and they have received their certificate.

𝟏𝟎. 𝐀𝐬 𝐚 𝐛𝐮𝐬𝐢𝐧𝐞𝐬𝐬 𝐨𝐰𝐧𝐞𝐫 𝐨𝐧 𝐭𝐡𝐢𝐬 𝐥𝐢𝐬𝐭, 𝐜𝐚𝐧 𝐈 𝐩𝐥𝐞𝐚𝐬𝐞 𝐬𝐮𝐠𝐠𝐞𝐬𝐭 𝐭𝐡𝐚𝐭 𝐲𝐨𝐮 𝐚𝐝𝐝 𝐭𝐨 𝐲𝐨𝐮𝐫 𝐩𝐨𝐬𝐭𝐬 𝐬𝐨𝐦𝐞𝐭𝐡𝐢𝐧𝐠 𝐥𝐢𝐤𝐞: "𝐩𝐥𝐞𝐚𝐬𝐞 𝐛𝐞 𝐬𝐮𝐫𝐞 𝐭𝐨 𝐜𝐡𝐞𝐜𝐤 𝐰𝐢𝐭𝐡 𝐞𝐚𝐜𝐡 𝐛𝐮𝐬𝐢𝐧𝐞𝐬𝐬 𝐛𝐞𝐟𝐨𝐫𝐞 𝐬𝐡𝐨𝐩𝐩𝐢𝐧𝐠, 𝐚𝐬 𝐬𝐨𝐦𝐞 𝐩𝐥𝐚𝐜𝐞𝐬 𝐚𝐫𝐞 𝐜𝐞𝐫𝐭𝐢𝐟𝐲𝐢𝐧𝐠 𝐣𝐮𝐬𝐭 𝐭𝐨 𝐛𝐞 𝐫𝐞𝐚𝐝𝐲 𝐚𝐧𝐝 𝐚𝐫𝐞𝐧'𝐭 𝐚𝐜𝐭𝐮𝐚𝐥𝐥𝐲 𝐨𝐩𝐞𝐧 𝐲𝐞𝐭." 𝐖𝐞 𝐚𝐫𝐞 𝐠𝐞𝐭𝐭𝐢𝐧𝐠 𝐪𝐮𝐢𝐭𝐞 𝐚 𝐛𝐢𝐭 𝐨𝐟 𝐡𝐚𝐭𝐞 𝐟𝐨𝐫 𝐛𝐞𝐢𝐧𝐠 𝐨𝐧 𝐭𝐡𝐢𝐬 𝐥𝐢𝐬𝐭, 𝐞𝐯𝐞𝐧 𝐭𝐡𝐨𝐮𝐠𝐡 𝐈 𝐝𝐨𝐧'𝐭 𝐩𝐥𝐚𝐧 𝐨𝐧 𝐚𝐜𝐭𝐮𝐚𝐥𝐥𝐲 𝐨𝐩𝐞𝐧𝐢𝐧𝐠 𝐮𝐧𝐭𝐢𝐥 𝐭𝐡𝐢𝐧𝐠𝐬 𝐚𝐫𝐞 𝐦𝐮𝐜𝐡 𝐬𝐚𝐟𝐞𝐫. 𝐓𝐡𝐚𝐧𝐤 𝐲𝐨𝐮 𝐟𝐨𝐫 𝐲𝐨𝐮𝐫 𝐜𝐨𝐧𝐬𝐢𝐝𝐞𝐫𝐚𝐭𝐢𝐨𝐧. a. Yes. We will do that. Good suggestion.

𝟏𝟏. [𝐈𝐧 𝐫𝐞𝐠𝐚𝐫𝐝𝐬 𝐭𝐨 𝐀𝐳𝐭𝐞𝐜 𝐆𝐫𝐢𝐥𝐥] 𝐁𝐮𝐭 𝐰𝐡𝐲 𝐧𝐨𝐭 𝐭𝐞𝐥𝐥 𝐨𝐟 𝐚𝐥𝐥 𝐭𝐡𝐞 𝐨𝐭𝐡𝐞𝐫 𝐩𝐥𝐚𝐜𝐞𝐬 𝐨𝐟 𝐞𝐱𝐩𝐨𝐬𝐮𝐫𝐞? 𝐖𝐡𝐲 𝐭𝐡𝐢𝐬 𝐧𝐨𝐰? a. This is the second time the Joint Information Center has reached out publicly about possible exposures. Both instances were prompted by our need to identify and notify people who did not know they had been exposed to the virus. In all other cases, Public Health was able to trace exposures, and a broad public announcement was unnecessary.

𝟏𝟐. 𝐈 𝐰𝐨𝐮𝐥𝐝 𝐥𝐢𝐤𝐞 𝐭𝐨 𝐤𝐧𝐨𝐰 𝐢𝐟 𝐚𝐧𝐲 𝐨𝐟 𝐭𝐡𝐞 𝐛𝐮𝐬𝐢𝐧𝐞𝐬𝐬 𝐭𝐡𝐚𝐭 𝐨𝐩𝐞𝐧𝐬 𝐚𝐫𝐞 𝐫𝐞𝐪𝐮𝐢𝐫𝐞𝐝 𝐭𝐨 𝐜𝐚𝐫𝐫𝐲 𝐢𝐧𝐬𝐮𝐫𝐚𝐧𝐜𝐞𝐬 𝐟𝐨𝐫 𝐰𝐫𝐨𝐧𝐠𝐟𝐮𝐥 𝐝𝐞𝐚𝐭𝐡 𝐬𝐮𝐢𝐭𝐬? a. Restaurant insurance is beyond the purview of the Joint Information Center.

𝟏𝟑. 𝐈𝐬 𝐭𝐡𝐞 𝐌𝐚𝐥𝐥 𝐚𝐥𝐥𝐨𝐰𝐞𝐝 𝐭𝐨 𝐨𝐩𝐞𝐧? a. Malls have not yet been cleared to open by the state, but Bayshore Mall has submitted a reopening application and will likely be ready to go when the sector is open.

𝟏𝟒. 𝐖𝐡𝐞𝐧 𝐰𝐢𝐥𝐥 𝐈𝐇𝐒𝐒 𝐰𝐨𝐫𝐤𝐞𝐫𝐬 𝐫𝐞𝐜𝐞𝐢𝐯𝐞 𝐭𝐡𝐞𝐬𝐞 𝐞𝐬𝐬𝐞𝐧𝐭𝐢𝐚𝐥 𝐢𝐭𝐞𝐦𝐬? [𝐏𝐏𝐄] a. The IHSS Public Authority is working with care providers, recipients and the union to set up a distribution system to care providers. Sounds like there should be a process in place within the next week. If you are asking about a specific need, please call 707-476-2100.

𝐏𝐞𝐨𝐩𝐥𝐞 𝐢𝐧 𝐭𝐡𝐞 𝐉𝐨𝐢𝐧𝐭 𝐈𝐧𝐟𝐨𝐫𝐦𝐚𝐭𝐢𝐨𝐧 𝐂𝐞𝐧𝐭𝐞𝐫 𝐡𝐚𝐯𝐞 𝐦𝐨𝐫𝐞 𝐫𝐞𝐥𝐢𝐚𝐛𝐥𝐞 𝐚𝐧𝐝 𝐮𝐩-𝐭𝐨-𝐝𝐚𝐭𝐞 𝐢𝐧𝐟𝐨𝐫𝐦𝐚𝐭𝐢𝐨𝐧 𝐚𝐛𝐨𝐮𝐭 𝐂𝐎𝐕𝐈𝐃 𝐭𝐡𝐚𝐧 𝐭𝐡𝐞 𝐅𝐚𝐜𝐞𝐛𝐨𝐨𝐤 𝐟𝐫𝐢𝐞𝐧𝐝 𝐨𝐟 𝐲𝐨𝐮𝐫 𝐞𝐱-𝐛𝐫𝐨𝐭𝐡𝐞𝐫-𝐢𝐧-𝐥𝐚𝐰'𝐬 𝐬𝐢𝐬𝐭𝐞𝐫'𝐬 𝐜𝐨𝐮𝐬𝐢𝐧 𝐭𝐰𝐢𝐜𝐞 𝐫𝐞𝐦𝐨𝐯𝐞𝐝. 𝐈𝐟 𝐲𝐨𝐮 𝐡𝐚𝐯𝐞 𝐪𝐮𝐞𝐬𝐭𝐢𝐨𝐧𝐬, 𝐬𝐤𝐢𝐩 𝐬𝐨𝐜𝐢𝐚𝐥 𝐦𝐞𝐝𝐢𝐚 𝐚𝐧𝐝 𝐠𝐨 𝐭𝐨 𝐭𝐡𝐞 𝐬𝐨𝐮𝐫𝐜𝐞! 𝐆𝐞𝐭 𝐝𝐢𝐫𝐞𝐜𝐭, 𝐢𝐦𝐦𝐞𝐝𝐢𝐚𝐭𝐞 𝐚𝐧𝐬𝐰𝐞𝐫𝐬 𝐛𝐲 𝐜𝐚𝐥𝐥𝐢𝐧𝐠 𝟕𝟎𝟕-𝟒𝟒𝟏-𝟓𝟎𝟎𝟎, 𝐨𝐫 𝐛𝐲 𝐞𝐦𝐚𝐢𝐥𝐢𝐧𝐠 𝐜𝐨𝐯𝐢𝐝𝐢𝐧𝐟𝐨@𝐜𝐨.𝐡𝐮𝐦𝐛𝐨𝐥𝐝𝐭.𝐜𝐚.𝐮𝐬.