Tuesday the county cleared restaurants with safety plans approved by the Humboldt County Emergency Operations Center to
open for dine-in service
as soon as Friday. A list of those restaurants is below and being updated daily on the county's website
here
, much like the list of retailers approved for walk-in business on the same page. However, not every restaurant on the list is making the jump just yet.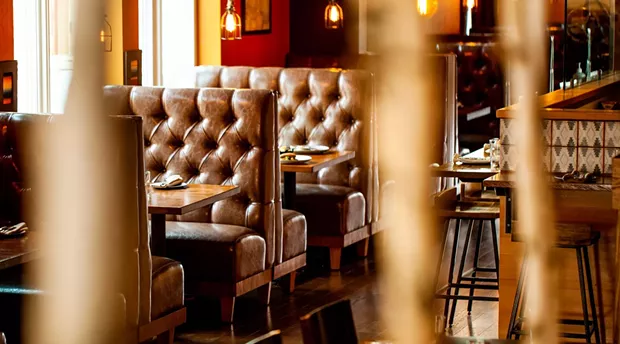 Photo by Amy Kumler
The booths at Campground, where diners will be seated starting Friday, May 29.
Meredith Maier of Six Rivers Brewery put together a plan for her restaurant to follow not only state and OSHA guidelines, like masks for staff and tables 6 feet apart, but a set of house rules, including only admitting those 21 and over, seating at only five tables and offering counter service as opposed to full dining service. But Six Rivers won't be seating diners on Friday. And it won't until the staff unanimously agrees it should.
"We've been having lots of staff meetings from the beginning," she says. "What's everyone's level of comfort? ... I don't want people coming to work and feeling scared. I want them to feel we're doing what's right for us and right for them and keeping their friends and family and our customers safe and healthy."
For now, the brew pub will stick to takeout, though it isn't enough to make ends meet.
"You know there [were] four new cases today," says Maier, who's currently self-quarantined after her boyfriend's coworker tested positive for COVID-19. "We're just taking every precaution we can. ... It's hitting a little close to home," she added, noting that the McKinleyville Aztec Grill, where customers and staff may have been exposed to an infected person, is just down the road. The high-volume, fast-casual model, she feels, creates more exposure than, say a fine dining establishment like Campground, which announced on Facebook that it has opted to open on Friday.
Lucien Smith, general manager at Campground and its Arcata Plaza sibling Salt, says reservations — strongly recommended so the socially distant seating can be planned out — have been coming in steadily since the announcement. "We are in a very closed environment and we're serving you food and drink, so we need to maintain the strictest practices," says Smith. "We're trying to provide the services the community wants back but doing so in responsible way."
For Campground, that means serving at only 10 to 12 tables and following all the required guidelines, including masks and single-use gloves for staff, who'll maintain 6 feet of distance. Unless eating or drinking at a table, patrons will be required to wear masks as well. Don't have a mask for making your way to the restroom? Staff will provide one.
"We're still fine-tuning things," says Smith. "It's pretty much like the soft opening of a fine dining restaurant." Along with halting curbside service for a couple of days to prepare for Friday's opening, he says that requires the motto "Semper gumby, always be flexible and ready to adapt," especially to any new guidelines that come out from the state or county.
Owner Joe Filgas says his wife Lorrena, who runs the day to day operations at Cafe Nooner and Cafe Nooner Too, plotted out their plans for dine-in service at the Henderson Center location, from the sanitizing stations already in use for takeout service to the elaborate system of PPE they'd need for the dishwasher to avoid spray off plates. Despite approval from the OES, they're not opening their dining room and will stick with takeout.
"Basically we feel that our safety, our employees' safety, our customers' safety is paramount. We have a customer base in Henderson Center that includes an older demographic," says Joe Filgas, who adds that seeing younger folks traveling in and out of the county and not maintaining social distance raises doubts. He himself has asthma and knows, despite working mostly from home, his wife could potentially become infected without knowing it. "We just feel it's increasing our risk that we don't want to get into at this point."
That risk might not be worth the reward. Social distancing would necessitate serving at only a quarter of the restaurants' tables. "With the margins as small as they are in the industry, it becomes pretty darn hard," he says. And the feedback he's gotten to his social media post about deciding not to open has shown him "overwhelmingly" that his customers aren't ready to eat in restaurants yet.
"You're going to see a major shift in the business model and how these businesses are run as long as COVID is around," says Filgas, who expects those changes locally and nationally. He says he wishes all the restaurants opening on Friday well and he's eager to learn from how it goes for them.
"Dine in has died," he says. "Whether or not it will recover remains to be seen."
See related PDF