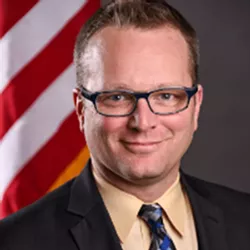 newbrightonmn.gov
Dean Lotter
A separation agreement between the city of Eureka and former City Manager Dean Lotter sees him receiving just more than $129,000 to part ways, including a lump sum severance, accrued vacation time and the equivalent of his salary for three pay periods.
The agreement, which serves as Lotter's resignation, states that both parties have determined that "they are not effective as a team as they mutually had expected, hoped and demanded of themselves to serve the city's residents."
It also states that "Lotter has decided that he would like to pursue other professional opportunities."
The Midwest native was selected for the post after a months-long nationwide search that saw the Lotter compete with 40 other candidates. His resignation after a scant four months on the job shook up the city's leadership structure just as Eureka is preparing to tackle difficult budget decisions amid the COVID-19-related economic downturn.
City Attorney Robert Black told councilmembers when they a
ccepted Lotter's resignation on May 19
that "the separation is a clean one in that both sides are allowed to go their own way and put this situation behind us."
The council is scheduled to discuss the city manager position on June 2.
Editor's note: This story has been updated to correct that Lotter will receive the equivalent of three pay periods, or $21,250, as part of the $129,000 separation agreement.
Lotter separation agreement