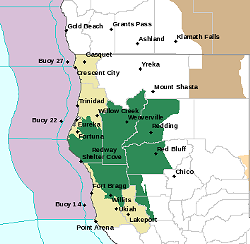 NWS
Areas in green are under a flash flood watch.
A wallop of wild weather is expected to hit the North Coast overnight, with some areas under a flash flood watch from 1 a.m. to 4 p.m. Saturday as thunderstorms, heavy rainfall and the potential of some severe hail and gusty winds bear down on the region.
According to the Eureka office of the National Weather Service, "unseasonably heavy rain" is forecast for much of Humboldt and neighboring counties starting tonight and lasting into Saturday.
"Storms may become numerous and train across the same locations for several hours resulting in heavy rainfall rates," a NWS post states. "Hail will be possible with the strongest storms. In addition, flashy creeks and streams may flow across roadways. Motorists are urged to drive cautiously in areas of heavy rain, and avoid driving across roadways covered by fast flowing water."
The National Weather Service in Eureka has issued a flash flood watch for the northeastern and northwestern interior of Mendocino, interior areas of Southern Humboldt and southwestern Humboldt.
According to NWS, local rainfall rates of a half inch per hour are possible.
For more information, visit the Eureka office's website
here
.