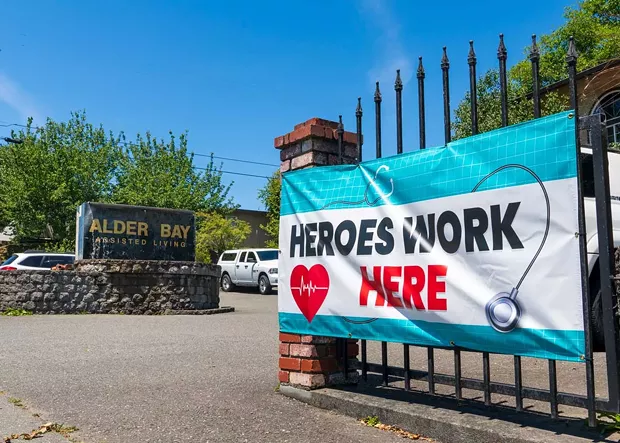 Photo by Zach Lathouris
Alder Bay.
Humboldt County has lost another resident to COVID-19, Public Health has announced.
The person was another resident of Alder Bay Assisted Living, which has now seen all of Humboldt County's four deaths amid an outbreak that has seen seven residents and seven staff members test positive for the disease.
Humboldt County Public Health Officer Teresa Frankovich offered condolences to the person's family, friends and caregivers in a press release before noting that the 700 or so locals who live in skilled nursing or assisted living facilities are especially vulnerable to the virus.
"These people, who are our friends, neighbors and loved ones, are among the most vulnerable to serious COVID-19 infections, and it is critically important that we protect them with all of the tools at our disposal," she said, adding all community members should help protect the vulnerable by doing what the can to limit spread of the virus. "All of us can also help by doing our best to prevent rapid spread of infection across the community as it increases the likelihood of asymptomatic workers bringing virus into a facility. Facial coverings, social distancing and other efforts can truly make a difference."
The county also reported another positive case today, bringing the countywide total to 103.
Basics of COVID-19
The California Department of Public Health and the Centers for Disease Control, state that symptoms of novel coronavirus include cough and shortness of breath or difficulty breathing, or at least two of the following: fever, chills, repeated shaking with chills, muscle pain, headache, sore throat or a new loss of taste or smell.
Emergency warning signs needing immediate medical attention include difficulty breathing or shortness of breath, persistent pain or pressure in the chest, new confusion or inability to awaken, and bluish lips or face.
In an emergency situation:

Call ahead to the emergency room or inform the 911 operator of the possibility of a COVID-19 infection and, if possible, put on a face mask.
Symptoms or possible exposure:

In the case of a possible exposure with symptoms — fever and cough or shortness of breath — contact your doctor's office or the county Department of Health and Human Services, which has a hotline that can be reached during business hours at covidinfo@co.humboldt.ca.us or at (707) 441-5000.
Residents seeking medical advice or questions about testing are asked to contact Public Health at hhsphb@co.humbldt.ca.us or at (707) 445-6200.
St. Joseph Health has also set up a virtual assessment tool as an aid to assess risk factors for contracting the illness, which can be found at
www.providence.org/patients-and-visitors/coronavirus-advisory
.
The Federal Emergency Management Agency has started a rumor-control webpage that can be found
here
. For the
Journal
's latest COVID stories, updates and information resources, click
here
.
Read the Public Health report below:
June 2, 2020
707-441-5000 ; covidinfo@co.humboldt.ca.us ; Monday-Friday 8am to 7pm ; Saturday 10am to 5pm
New confirmed COVID-19 cases: 1

Total confirmed cases: 103
Total recovered cases: 82
Total deaths: 4
Total hospitalizations: 13
Transmission information for all known cases

Contact to a Known Case: 59
Travel-Acquired: 24
Community Transmission: 17
Under Investigation: 3
Number of tests run since last report

Public Health Laboratory: 124
OptumServe public testing site: 115
Total tests run to date

Public Health Laboratory: 3,163
OptumServe public testing site: 2,608
Public Health Laboratory testing Information

Supply capacity: Approximately 1,900 tests
Testing capacity: 65 samples per day
Turnaround time: 48 to 72 hours

June 2, 2020 - Fourth COVID-Related Death, One New Case Reported Today
707-441-5000 ; covidinfo@co.humboldt.ca.us ; Monday-Friday 8am to 7pm ; Saturday 10am to 5pm Opens in new window
A fourth Humboldt County resident has died after being diagnosed with COVID-19. One additional case was confirmed today, bringing to 103 the total number of county residents who have tested positive for the virus.

The individual who died was an elderly resident of Alder Bay Assisted Living and was diagnosed with COVID-19 early in the facility's outbreak. Humboldt County Health Officer Dr. Teresa Frankovich said, "We send our condolences for this loss to family, friends and caregivers."

Another round of testing was completed today at the facility, and there are no new positive cases in staff or residents. Ten days have passed since the last new positive case at Alder Bay.

More than 700 individuals in our county reside in licensed skilled nursing or assisted living facilities. "These people, who are our friends, neighbors and loved ones, are among the most vulnerable to serious COVID-19 infections, and it is critically important that we protect them with all of the tools at our disposal," Dr. Frankovich said. "Public Health and the Congregate Living Facilities Task Force in the Emergency Operations Center have been working to assist these facilities in preparedness and surveillance efforts and continue to do so."

Dr. Frankovich went on to urge everyone in the community to do their part to limit spread of this virus. "All of us can also help by doing our best to prevent rapid spread of infection across the community as it increases the likelihood of asymptomatic workers bringing virus into a facility," she said. "Facial coverings, social distancing and other efforts can truly make a difference."

For the most recent COVID-19 information, visit cdc.gov or cdph.ca.gov. Local information is available at humboldtgov.org or during business hours by contacting covidinfo@co.humboldt.ca.us or calling 707-441-5000.


Follow us on Facebook: @HumCoCOVID19,
Instagram: @HumCoCOVID19,
Twitter: @HumCoCOVID19, and
Humboldt Health Alert: humboldtgov.org/HumboldtHealthAlert