For residents of the Bridgeville-Blocksburg area, the BridgeFest and Flying Saucer Competition, held annually in August, is more than just a key annual fundraiser for the Bridgeville Community Center — it's a chance to see their neighbors and socialize. Even Humboldt residents who live in the remotest parts of the county by choice like the chance to get out in a crowd every once in a while.
"Our community is historically isolated," says Chantal Campbell, the center's director. "People want to hang out. We're having these conversations now: How will we 'community center' in the future? How do you do it and keep people safe?"
The decision to cancel Bridgefest, which provides roughly a third of the community center's fundraising income, didn't come easily. Some board members wanted to try for a "safer" event, with people spaced out (no pun intended), but Campbell and others didn't see it happening.
The decision was met with mixed reactions.
"A lot of people asked why we didn't wait longer," she says. "It's really far out right now."
"It was really based on our volunteers," she said, explaining that the event relies on community members volunteering their time, many of which are in a high-risk age group for contracting COVID-19 and said they wouldn't feel safe attending.
Also, Campbell says, what if they did put on the event and community members didn't feel safe attending? Would it be worth it? What if somebody did get sick?
Bridgeville is 21 miles from the nearest grocery store and the community center serves as a central gathering point for many communities off the narrow and winding State Route 36, serving people from Alderpoint, Blocksburg and Dinsmore. It houses a food bank, computer lab, laundry, hospice, adult education, senior and children's services. The income from Bridgefest will be missed but Campbell says the nonprofit is trying to make it up in other ways, including holding "drive through" dinners (pulled pork will be available as a curbside pick up option on June 19), remote raffles and T-shirt sales. A new shirt design, available for purchase soon, features a Bridgefest alien who proudly flashes the peace sign and says he is "Sheltering in Space."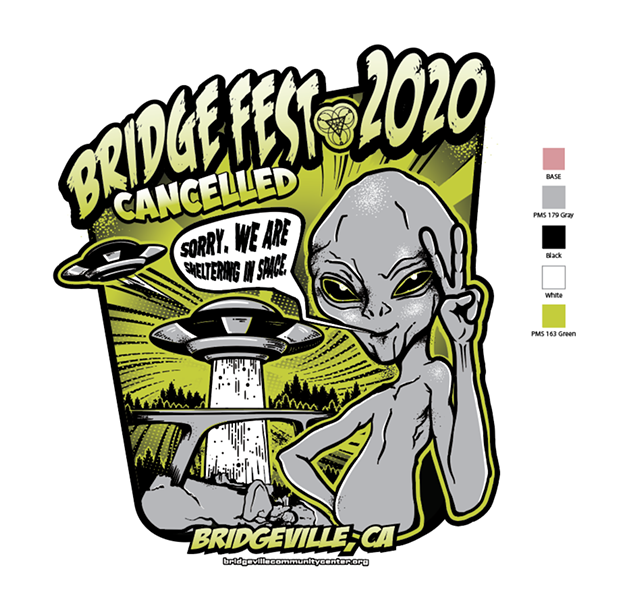 The drive-through dinners have been a nice change for residents, she says, who don't usually have opportunities enjoy hot food that they haven't prepared themselves without driving to Fortuna, 28 miles away. The center's boosters have also begun selling pies with dinner, which has become very popular.
"Our pie game is hot," Campbell says with a laugh. Still, the mandates have taken their toll. The center's computer lab is not yet open and many community members are struggling with missing out on the social component of the community center, as well as other annual events that offer a break from a lifestyle that's already isolated.
"What really broke my heart is when my daughter said, 'I can't wait to go to the [Humboldt County] fair,'" says Campbell. "It's heartbreaking. It's heartbreaking for the community but especially for the kids."