After being closed due to the pandemic since March, Humboldt County's public disc golf courses began reopening last week. And according to the sport's local organizers and advocates, it's been an unexpectedly circuitous route back to these baskets.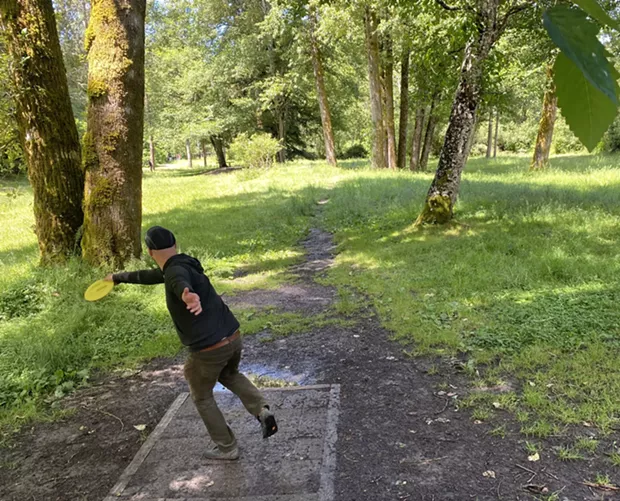 Ashley Harrell
A man tees off on the newly reopened Mad River Pump Station 4 disc golf course.

"I was a bit frustrated," said Par Infinity Disc Golf Club President Caleb Gribi, who for weeks has been working with county officials to safely reopen the courses. "It was a matter of making sure everybody was covered, legally speaking."


When the initial shelter-in-place order came down from Governor Gavin Newsom on March 22, Gribi and other volunteers removed the baskets from eight courses the club partners with. The shuttered courses went unmaintained for more than two months but disc golf diehards continued showing up, in some cases jamming sticks into the metal sleeves that normally support the baskets, Gribi said. (He's grateful to Chris Kieselhorstat Ironside Metal Works for donating metal caps to prevent people from destroying the sleeves.)

And while the pent-up demand for disc golf was clear, the process for reopening was anything but. At the end of April, California updated its list of approved activities to include the following items: "Throw and catch an American mini football, Frisbee or Frisbee golf (not in groups)." Although Gribi takes issue with his sport being referred to as "Frisbee golf," he immediately began contacting various agencies about reopening the courses.

Two days later, before Gribi could even speak with any of the involved agencies, some mysterious edits were made to the state's approved activities list. Without any explanation, the words "Frisbee" and "Frisbee golf" disappeared.

Meanwhile, Humboldt County updated its allowable services list to include golf courses on May 8, with a stipulation of "singles only." Gridi clarified with county officials that disc golf did fall under this category but because the list didn't make that plain, there have been as many different approaches to reopening as there are owners of disc golf courses.
Amid the uncertainty, Humboldt State University has opted to keep its Redwood Curtain course closed. At the other end of the spectrum, privately owned Beau Pre Golf Club began accepting tee times at 15-minute intervals between 4 p.m. and 7 p.m. in mid May. Masks are required in the pro shop and café, but not on the 18-hole course, and admission is $5 per person. Guests must reserve at least a day ahead, said pro shop attendant Clayton Pickersgill, as "it's very difficult to fit people in."

Courses owned by public entities have faced more red tape, though. To open its popular, nine-hole Mad River Pump Station 4 course, owner Humboldt Bay Municipal Water District required county approval in the form of a business reopening plan. Which was confusing, Gridi said, because the course is not a business.

"Figuring out how to get that application done was a little bit of a challenge," he said. "But ultimately the county was very helpful and the process was pretty smooth."

Though fairly overgrown — and therefore likely to eat your discs — the course opened up last weekend with a few new rules: Stay 6 feet away from other people; singles only (groups from the same household are an exception); don't touch other players, their discs or any equipment; facial coverings are required.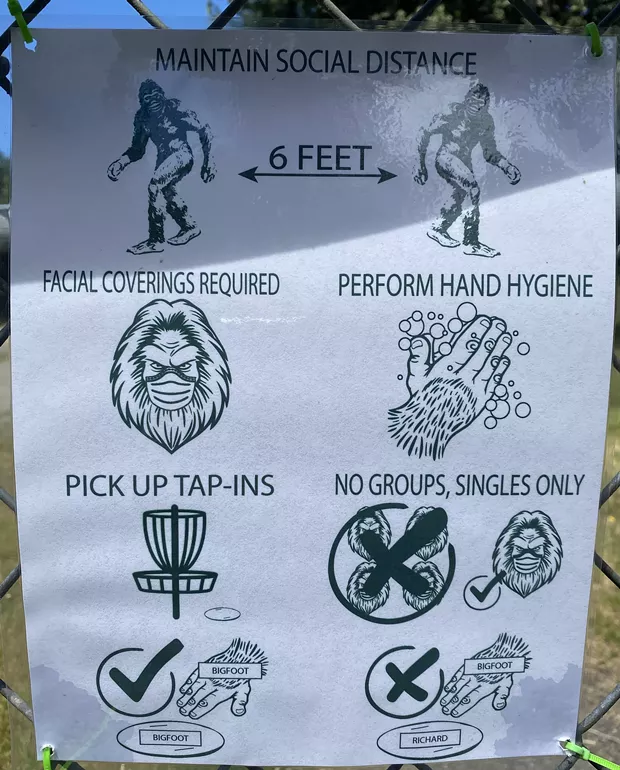 Ashley Harrell
Bigfoot helps explain disc golf's new rules in the time of COVID.
Cooper's Gulch, a course owned by the City of Eureka, also opened over the weekend, and the Manila Bay Disc Golf Course (owned by the municipality) is set to open on Wednesday. The courses will all feature similar rules to the Pump Station, though enforcement may prove difficult on their sprawling grounds.

Should you need some fresh discs, Arcata's Flyin' Lynx Disc Golf is open from noon to 4 p.m. Monday through Saturday. Owner Jeremy Bursich was surprised that a laid-back, outdoor endeavor like disc golf was so challenging to resurrect in Humboldt County, but said it feels "amazing" to get back out there.

"I missed being able to play so much," Bursich said.