Arcata writer Ishan Vernallis and his friend Robin Brown were cruising on Vernallis' fishing boat Tuesday at around 4 p.m., hoping to get into a few halibut. They had traveled about 4 miles northwest of the harbor entrance when their eyes caught something much bigger — a killer whale.
It appeared to be a juvenile, and the orca was feeding on a sea lion or seal, Vernallis observed. He kept his boat at a distance to avoid creating a disturbance and moments later a pod of three more orcas surfaced on the starboard side of the boat. Vernallis called experience "exhilarating."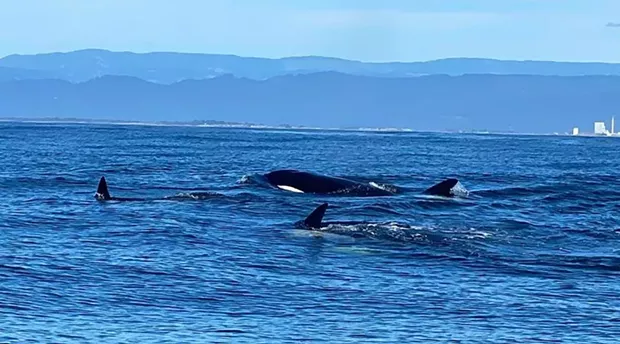 Ishan Vernallis
Orcas chillin' off Eureka.
"I've been fishing rather regularly for 12 years and this was the first time I've seen an orca," he said.


Others saw killer whales, too. Full Throttle Sport Fishing owner and captain Gary Blasi encountered a pod earlier that day, at around 2:30 p.m. and captured the stunning video below. After Blasi's video and Vernallis' photo appeared on Facebook, marine biologists began to chime in about the significance of the sightings, though they couldn't later confirm whether the men had seen the same pod or different ones.


"SO very cool, extremely rare Bigg's killer whale sighting!" wrote whale researcher Alisa Schulman-Janiger of the California Killer Whale Project, who's been studying orcas for 40 years and recognized one of the whales in the video by its large white birthmark and small nick on its fin.

Bigg's killer whales are transient members of the orca species that hunt mammals. Although these whales are commonly sighted in the inshore coastal waters of the Pacific Northwest, they are rarely seen off California, according to Josh McInnes, lead biologist at the Transient Killer Whale Research Project and Juan de Fuca Marine Research. McInnes also commented on the Facebook post, identifying two of the whales as "T038C" and "T038D."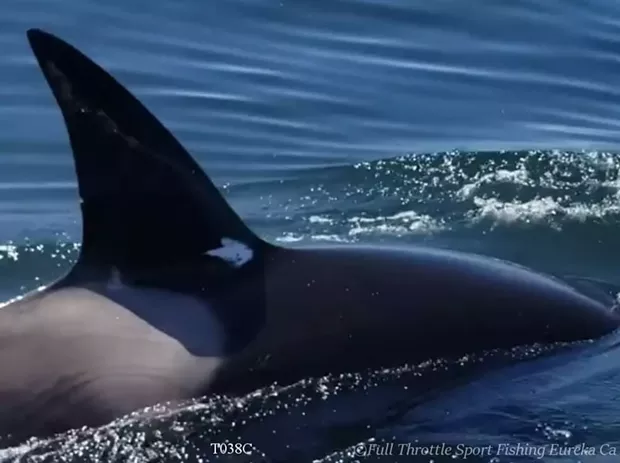 Alisa Schulman-Janiger
The nick in the fin and white spot were how Alisa Schulman-Janiger instantly recognized T038C.
"The video from Eureka, California, involved a matriline family of coastal West Coast transient killer whales known as the T038s," McInnes told the NCJ.


Unlike their resident kin who hunt mainly for salmon, the transients roam vast distances in search of prey, McInnes said, and this sub-population can be found anywhere from Southeastern Alaska to Southern California. Killer whale researcher Emma Luck added (in a comment on Facebook) that this particular group was most frequently spotted off Juneau, Alaska.


For a chance at seeing a killer whale, try to make a friend with a boat. If that doesn't work, grab a kayak from Kayak Trinidad, which reopened on May 15. The company's owner Jason Self said that the orca pods have been hanging out around Trinidad Head and Patrick's Point recently. And while it's possible to see them, he said, be sure not to blink. They tend to swim fast, particularly when following food.

If you are lucky enough to spot a killer whale, take a photo and email it to McInnes at transientproject@gmail.com and to Schulman-Janiger at asjaniger@gmail.com, as it's helpful for the study of these sea mammals.