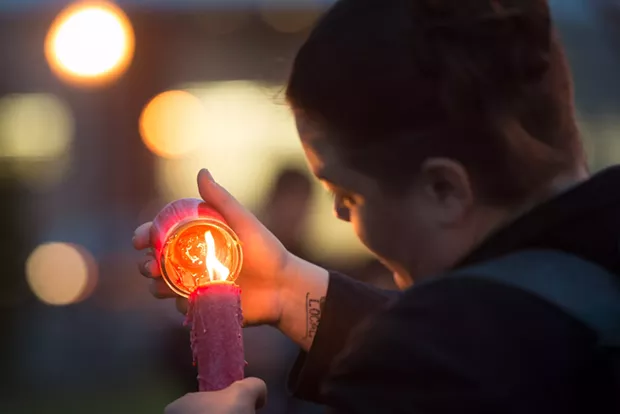 Mark McKenna
Molly Conso lights a candle at the end of the vigil.
The Justice for Josiah Committee will hold a vigil for David Josiah Lawson on Monday, June 15 from 4:30 to 6:30 p.m. in front of the Humboldt County Courthouse.
The committee has asked people to abide by social distancing guidelines and wear facial coverings to the vigil.
The vigil will be held on the 38 month anniversary since Lawson was stabbed to death during the early morning hours of April 15, 2017. Lawson, who was attending a house party on Spear and Alliance was fatally stabbed after an alleged altercation with Kyle Zoellner, who was later arrested as a suspect, however, the charges were dropped when a judge found insufficient evidence for a trial.
Since his homicide, Lawson's mother, Charmaine Lawson, has continued to travel to Humboldt County to attend vigils and demand justice for her son.
Lawson's case was recently featured on an episode of
Still A Mystery,
an Investigation Discovery television show that looks into different unsolved crimes.
The Justice for Josiah Committee and Charmaine Lawson are also fundraising to help with Charmaine Lawson's legal fees for her lawsuit against the city of Arcata. According to the GoFundMe page, Charmaine Lawson has exhausted all of her financial resources and is currently in the discovery process of the case with the city.
As of June 13, Charmaine Lawson has raised about 41 percent of her fundraising goal. To read more about the GoFundMe fundraiser, click
here
.
"This fight is not only for my son but for all people of color in Humboldt County who have been marginalized and who have fallen victim of a broken system, a system of systemic racism, marginalization, and unfairness, which has been historic within the 74 percent white community for too long," Charmaine Lawson wrote on the GoFundMe page. "Donations will go into a trust that will only be used to continue the legal pursuit of holding the city of Arcata accountable for the wrongful and senseless murder of my son."
See related PDF