On a clear-skied Sunday morning, more than 150 people gathered in the tranquil, sandy cove south of the Samoa Peninsula's Coast Guard station for the Paddle Out for Peace. Although many masked surfers, kayakers and standup paddle boarders arrived with signs to support racial justice, this was more than a protest. (See the slideshow below for more photos of the event.)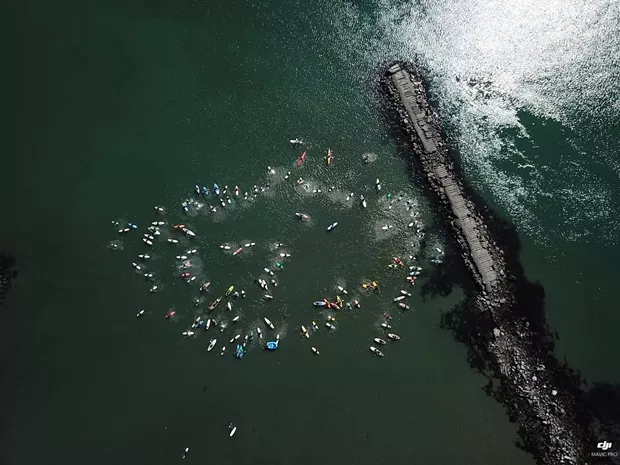 Rowdy Kelley
Humboldt surfers, paddle boarders and kayakers perform a ceremonial paddle out for black and brown people killed by police.
In the grand tradition of paddle outs, which began a century ago in Hawaii and were later adopted by surfing communities around the world, the occasion doubled as floating ceremony at sea. This one would be a celebration of black and brown lives taken by police.


"Paddle outs are our way of showing respect to those who have passed," explained local surfer Delia Bense-Kang, one of several speakers who addressed the crowd. "Unlike other paddle outs, this one is part of a larger movement. More surfers have now paddled out for this cause than perhaps any other in the history of the paddle out ritual."


Other speakers included Leo Canez, a member of the Yurok Tribe, who led a resonant call and response of "Aiy-yu-kwee," the word his people use for hello and showing support. It's also the word a mother calls out over a river if her child has died, Canez said.


Artist Alex Escudero Ochoa addressed the audience holding an abalone shell in which he burned sage to clean the air. He also wielded a flint knife to "cut through the sickness." During his impassioned speech, he read the names of people the paddle out would honor: George Floyd, Ahmaud Arbery, Breonna Taylor, Kenny Watkins, Nina Pop, Tony McDade, Eric Garner, Josiah Lawson, Martin Luther King and Malcolm X.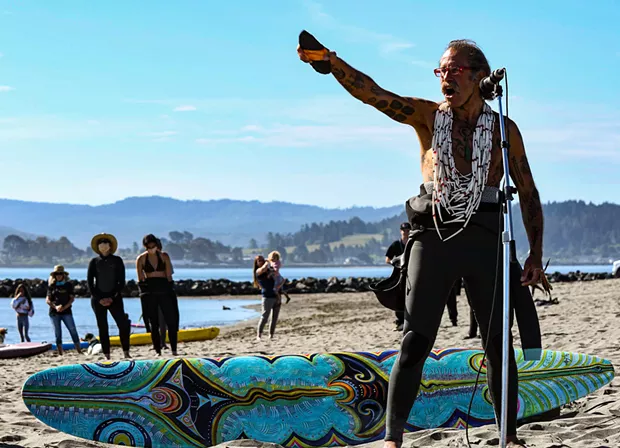 Dave Feral
Alex Escudero Ochoa "cuts the sickness" with his flint knife.
"And way too many count back to 1619 and beyond to 1492, when the first terrorists arrived onto a beautiful sovereign nation to begin genocide," he continued. "Black, brown, yellow lives matter, not just rich white ones. Rainbow warriors rise up. Fix the earth. Love wins! Ye-how!"


Ochoa designed a special surfboard for those who died at the hands of police. It included two manta rays because the word for the creatures in Hawaiian, "hāhālua," also means double breath. "Double breath because that is what was stolen from you," Ochoa said. "Breath, breath, beautiful departed souls … you have not died in vain."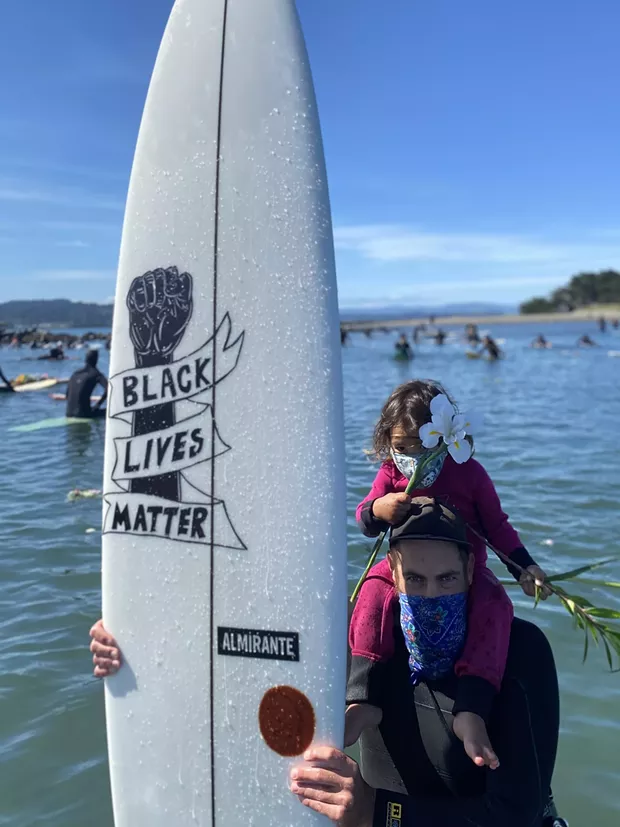 Ashley Harrell
Arturo Tamayo holds a surfboard designed by artist Gymni Thonson as his son Roka, 2, sits atop his shoulders.
Donation jars were passed around, collecting more than $1,500 for Black Humboldt, Eureka NAACP and the Northern California Indian Development Council. Organizer Melissa Meiris brought the ceremonial surfboard to the water and paddled it into deeper into the sea, where attendants (and several excited dogs) circled her in non-motorized watercraft. A few minutes of silence were observed for the departed. Then everyone tossed lilies, tulips and irises into the air and started splashing.

The people later paddled back to the beach. Earlier in the day, one of the speakers played an audio recording of a solemn poem by Karuk poet and artist Brian Tripp about the 1860 massacre of Wiyot people by white settlers on Tuluwat, and the words still seemed to hang in the air:

"Out on the island, in the middle of the bay, the sun set twice on the people that day.
The world they were making, someone else was taking, saying, Eureka, I found it."