When news broke that Gov. Gavin Newsom was providing seven trailers to the city of Arcata as part of a statewide program to shelter vulnerable populations during the COVID-19 pandemic, it was a win for the city. Most of the project's 1,309 trailers were headed for larger municipalities, but Arcata had presented a strong case for its population's need, and certainly every resource helps.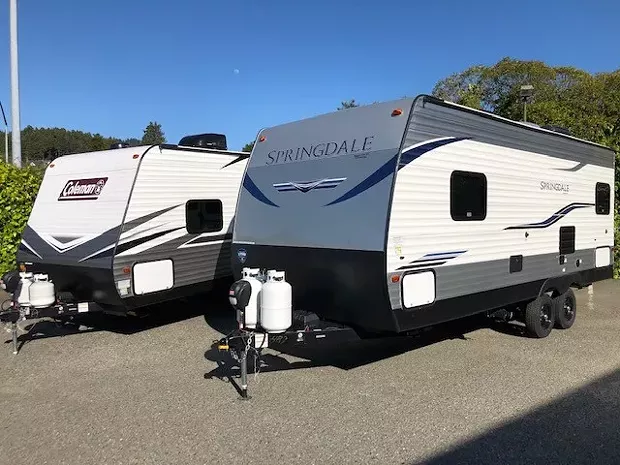 HumCo Covid Facebook page
Seven of the 1,309 trailers procured by the state as part of its COVID-19 emergency response were dropped off in Arcata. None have been used.
The state had purchased the trailers from the Federal Emergency Management Agency (FEMA) and delivered them to Arcata in early May. According to news reports, the city expected to move the trailers to more permanent locations within a few weeks, and was working with the Humboldt County Department of Health and Human Services and Arcata House Partnership to select occupants.


But today — more than seven weeks after the trailers arrived — they remain empty in a municipal lot, according to City Manager Karen Diemer.

Part of the hold-up, Diemer said, is that the city has not found a suitable site for the trailers. Rather than rushing to fill them as the state intended, the city has instead taken its time to identify sites with long-term potential.

"We are still working to find them a home to get more use out of them," Diemer said. "I hope that we get them into operation for at least five years. We're thinking long game."


Why the city couldn't have secured temporary sites first and later made more permanent plans for the trailers isn't entirely clear. But perhaps it's because, like some other cities in California, Arcata has learned that readying emergency trailers comes with a unique set of challenges.


"We need to finalize a placement site – preferably with water and sewer hook ups," Diemer wrote in an email. "We are working on one site right now that would not require rent but would require sewer infrastructure and two other sites that would require rent but have water and sewer hook ups."


Rent is a factor, Diemer explained, because it requires additional funds, which the city is currently working to procure. (The Arcata City Council, meanwhile, just passed a budget that includes more than $1 million in cuts due to the pandemic's impact on tax revenues.) Diemer noted that if the trailers are to be occupied long-term, then there must be a plan for when pandemic sheltering resources run out. There's also the issue of support services.


Once sites for the trailers are nailed down, they will need to be "folded into the program that has just been developed to support, cook meals, supply showers, laundry, safety measures, access to health screening and testing utilizing COVID-19 operational practices," Diemer wrote.

She also emphasized that for the city, the trailers are part of a larger sheltering program. "We are working on many fronts, as quickly as possible, to put into place every piece we can here in Arcata," she wrote. "We always want to do more — but I think the sheltering services that have been provided here … have been pretty remarkable under the pandemic."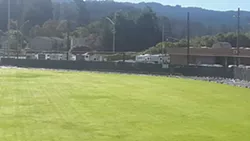 Facebook user Andy Dandy
A traveling artist with homeless friends in Humboldt County took this photo of the city's emergency response trailers sitting empty in a parking lot.
In conjunction with Arcata House Partnership, the city has provided 32 tent sites and 20 hotels rooms to 73 individuals, according to Diemer. The tent sites are divided into two emergency tent encampments in city-owned parking lots behind the Arcata Transit Center and on the corner of Seventh and G streets. To comply with physical distancing guidelines, tents in both locations are set up 6 feet apart, with room for up to 15 people behind the transit center and up to 19 people in the G Street lot. Occupants have access to portable bathrooms, hand-washing stations and the aforementioned support services.


That adds up to a total of more than 3,219 "bed nights," according to Darlene Spoor, executive director of Arcata House Partnership. Spoor emphasized that what has been done in Arcata has gone "beyond what any other city or town in the county has to offer."


"As things change the hope is that we — the city, the county and Arcata House Partnership — will respond in the best way possible given the parameters of funding, the availability of acceptable sites, and the tremendous need that we all recognize is not going to be solved by getting seven trailers up and running quickly — although we are trying," Spoor wrote in an email.


As it turns out, Arcata isn't the only municipality that's struggled to put its trailers to use. According to the San Jose Mercury News, San Jose postponed the occupancy of its trailers because they needed extensive refurbishing. In Santa Clara, officials discovered late in the game that water and power hookups at the county fairgrounds where they planned to put 15 trailers didn't work.


Over in Sacramento, Bob Erlenbusch, executive director of the Sacramento Regional Coalition to End Homelessness, says the city's trailers are being "underutilized." Erlenbusch, who has been working with the homeless around California for more than 35 years, created a report on Sacramento's COVID-19 response concerning the city's vulnerable populations. It shows that 41 FEMA trailers used as quarantine units have sheltered 52 people, and 18 isolation units have housed 15.

When he heard that Arcata had gone seven weeks without putting anybody in a single trailer, Erlenbusch was stunned.

"That's shameful," he said. "You've got a large homeless population… What should be a good resource for the community is being wasted."
Erlenbusch was unmoved by the city's struggle to find suitable sites for the trailers. "That's homelessness 101," he said. "It doesn't take seven weeks."

On June 9, Facebook user Andy Dandy posted a photograph of the unused trailers, which led to a flurry of shares and hundreds of comments, including a heated debate on the Humboldt County on Alert page. Several commenters asked why the city hadn't provided an update on the status of the trailers, while others defended the city and still more offered criticism.

"So...Arcata asked The State for 7 trailers to house homeless families and didn't use a single one of them during the COVID outbreak," Facebook user "Andy Dandy" wrote in his post. "Deplorable."

A former resident of Humboldt County, "Andy Dandy," who declined to give his real name when contacted by the Journal, now travels around in a bus with his family of rockhounds and artists, collecting gems and rocks and making jewelry to hawk on Northern California's festival circuit. The waste of resources was frustrating, he told the NCJ, because he knows houseless individuals and families in Arcata who could really use a trailer right now.