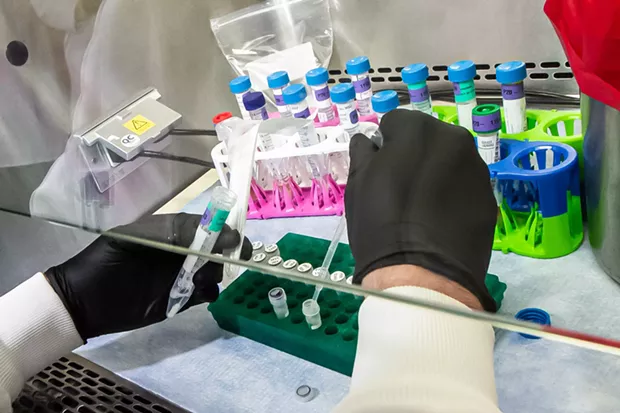 Public health
A Humboldt County Public Health Laboratory employee processes a COVID-19 test.
Humboldt County Public Health confirmed two new COVID-19 cases today, bringing the countywide total to 110.
Today's results make five new cases that have been confirmed locally this week, which follows a stretch that had seen just one new case over the past seven days.
Nationally, 2.2 million COVID-19 cases have been confirmed, with 118,365 fatalities, including 165,416 cars and 5,360 deaths in California. Humboldt County has confirmed 110 cases to date, with four fatalities, all of them residents at Alder Bay Assisted Living, which had an outbreak that saw seven staff members and seven residents test positive for the disease.
Of Humboldt County's cases, 61 are believed to have contracted the virus from a known case, 24 through travel and 23 via community transmission, meaning they are believed to have caught the virus from an unknown source in the local community. The sources of two cases remain under investigation.
To date, Humboldt County has tested roughly 6,385 people per 100,000 residents, a rate that trails the state (7,698 per 100,000) and national (7,711 per 100,000) averages. However, Humboldt has seen just 81 confirmed cases per 100,000 residents, far below the state (419 per 100,000) and national (687 per 100,000) rates.
Yesterday, California Gov. Gavin Newsom
announced
a statewide mandatory facial covering order as health officers throughout the state have increasingly come under pressure for local directives. Read more about Humboldt County Health Officer Teresa Frankovich in this week's
cover story
.
Humboldt County Public Health is urging residents who aren't experiencing symptoms to get tested free of charge at the mobile testing site at Redwood Acres Fairgrounds. (People experiencing symptoms should contact a healthcare provider, officials say.) Asymptomatic individuals can make an appointment to be tested by visiting
https://Lhi.care/covidtesting
or calling (888) 634-1123. Tests will be administered free of charge, whether or not people have health insurance.
Basics of COVID-19
The California Department of Public Health and the Centers for Disease Control, state that symptoms of novel coronavirus include cough and shortness of breath or difficulty breathing, or at least two of the following: fever, chills, repeated shaking with chills, muscle pain, headache, sore throat or a new loss of taste or smell.
Emergency warning signs needing immediate medical attention include difficulty breathing or shortness of breath, persistent pain or pressure in the chest, new confusion or inability to awaken, and bluish lips or face.
In an emergency situation:

Call ahead to the emergency room or inform the 911 operator of the possibility of a COVID-19 infection and, if possible, put on a face mask.
Symptoms or possible exposure:

In the case of a possible exposure with symptoms — fever and cough or shortness of breath — contact your doctor's office or the county Department of Health and Human Services, which has a hotline that can be reached during business hours at covidinfo@co.humboldt.ca.us or at (707) 441-5000. Residents seeking medical advice or questions about testing are asked to contact Public Health at hhsphb@co.humbldt.ca.us or at (707) 445-6200.
St. Joseph Health has also set up a virtual assessment tool as an aid to assess risk factors for contracting the illness, which can be found at
here
.
The Federal Emergency Management Agency has started a rumor-control webpage that can be found
here
.
For the
Journal
's latest COVID stories, updates and information resources, click
here
.
Read the Public Health release below:<!—————EndFragment—————>
June 19, 2020 - Two New Cases Reported Today
707-441-5000 ; covidinfo@co.humboldt.ca.us ; Monday-Friday 8am to 7pm Opens in new window
Two additional cases of COVID-19 were reported today, bringing to 110 the total number of Humboldt County residents who have tested positive for the virus. The means of transmission for these two new cases is under investigation.

The following information is based on the most recent data available for all confirmed cases:

Contact to a Known Case: 61
Travel-Acquired: 24
Community Transmission: 23
Under Investigation: 2

Positive cases by region:
Northern Humboldt: 21
Greater Humboldt Bay Area: 85
Southern Humboldt: 4June 19 2020 County Map with Regional Data
Males: 42%
Females: 58%

Mean age: 45

Age Range
0-19: 9
20-29: 15
30-39: 24
40-49: 19
50-59: 11
60-69: 22
70-79: 3
80+: 7
Estimated testing rates:
Humboldt County: 6,385 per 100,000 residents
California: 7,698 per 100,000 residents
United States: 7,711 per 100,000 residents
Estimated rate of confirmed cases:
Humboldt County: 81 per 100,000 residents
California: 419 per 100,000 residents
United States: 667 per 100,000 residents
For the most recent COVID-19 information, visit cdc.gov or cdph.ca.gov. Local information is available at humboldtgov.org or during business hours by contacting covidinfo@co.humboldt.ca.us or calling 707-441-5000.



<!————EndFragment————>