In an open letter to Dell'Arte International shared on social media titled "Collective Response to Dell'Arte International," nine current and former staff members of the theater school call out what they say is a leadership that "cannot competently lead the organization in matters related to Equity." The post says this has created "an unsafe environment for BIPOC, and has caused POC and ally staff members to face hostile work conditions, fear, retaliation, constructive terminations, and mental and physical stress every time we have voiced concerns."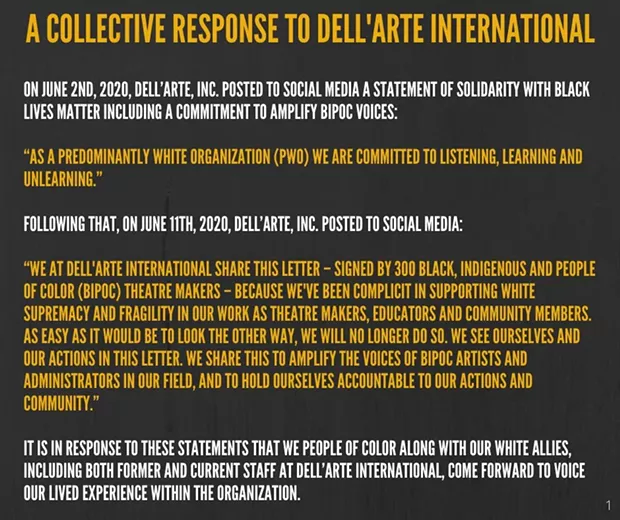 As with a number of similar public critiques nationally, the open letter was sparked by a public statement from Dell'Arte International in support of Black Lives Matter and Black and Indigenous people of color that the current and former staff members saw as less than genuine in the context of their own experiences with the organization.
Following a statement of solidarity and a handful of posts about Black Lives Matter, on June 11, Dell'Arte International shared a Change.org petition signed by theater creators who are Black, Indigenous and people of color calling for the dismantling of white supremacy in theater. With the link, Dell'Arte included a statement of support for the effort and an admission of having complicity "in supporting white supremacy and fragility in our work as theatre makers, educators and community members," though without specifics. The statement adds the organization will no longer "look the other way" and instead "amplify the voices of BIPOC artists and administrators in our field, and to hold ourselves accountable to our actions and community." It ends, "#weseeyou."
Among the concerns listed in the current and former staff members' response are issues of cultural appropriation, the treatment of people of color in and out of meetings, tokenism, lack of advancement for people of color, grant money allocation and the labeling of Black and Indigenous students as "problem" students.
"These all cause us to question your solidarity," the letter states. The signees — Dell'Arte International's current and former staff members Pratik Motwani, Sayda Trujillo, Zuzka Sabata, Laura Muñoz, Tushar Mathew, Sarah Peters, Rebecca Finney, James Peck and Alex Blouin — call for both an internal and external audit of equity issues at the theater school, an examination of how it may have benefited from land theft and a commitment to make half its leadership and board Black, Indigenous and people of color. It also includes an email address for current and former students and employees of Dell'Arte to express support for the demands.
Dell'Arte replied to an
NCJ
inquiry saying its leadership has seen the posted letter but not yet responded.
Read the full letter below:
See related PDF
Can't see the PDF in mobile view? Try desktop view.