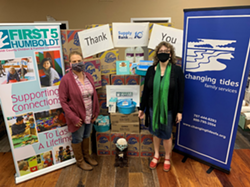 Submitted
Star Mohatt (left), program coordinator for First 5 Humboldt and Kerry Venegas (right), executive director of Changing Tides Family Services with materials for child care providers.
First 5 Humboldt and Changing Tides Family Services recently donated Personal Protective Equipment (PPE) and other essential supplies to child care facilities serving children of essential workers and vulnerable populations during the COVID-19 pandemic.
The supplies included masks, disinfectants, children's books, wipes, non-contact thermometers and diapers.
"We are committed to helping child care providers adapt and respond to this pandemic so the children of our essential workers receive safe high-quality child care. These supplies are a critical part of our response, and we greatly appreciate the partnership and support of First 5 California and First 5 Humboldt." Kerry Venegas, executive director of Changing Tides Family Services said in the release.
Read the full press release below.
First 5 Humboldt and Changing Tides Family Services Provide Emergency Supplies to Child Care Facilities Serving Children of Essential Workers Masks

Eureka, CA — First 5 Humboldt and Changing Tides Family Services recently unloaded mission-critical supplies for Humboldt County child care providers caring for the children of essential workers and vulnerable populations during the COVID-19 crisis. The deliveries included boxes of 3-ply masks, disinfectant, children's books, wipes, 100 non-contact thermometers, and 400 packs of 40-50 diapers each. These supplies will be distributed by Changing Tides Family Services to essential worker child care providers.

"We are committed to helping child care providers adapt and respond to this pandemic so the children of our essential workers receive safe high-quality child care. These supplies are a critical part of our response, and we greatly appreciate the partnership and support of First 5 California and First 5 Humboldt." said Kerry Venegas, Executive Director of Changing Tides Family Services

"Child care providers are essential workers on the front lines of this crisis. They are putting themselves at risk to care for the children of our hospital staff, law enforcement, grocery, and other essential workers. We owe them a debt of gratitude and are glad we can help with these supplies." said Mary Ann Hansen, Executive Director of First 5 Humboldt County.

Eureka's Mayor, Susan Seaman, who serves on the local Humboldt Emergency Child Care Task Force, expressed appreciation for the effort: "we are so grateful to the child care leadership in our community to recognize the needs of our providers and to be able to gather the resources needed to provide that support. When our providers are cared for, our children and families feel more secure."

The supply delivery is part of a statewide First 5 California program using $4 million in emergency funding to provide 60 days of supplies to child care providers serving essential workers. The distribution of emergency supplies to each county was determined using a formula based on birth rate. First 5 Humboldt purchased the non-contact thermometers as each provider must take temperatures daily.

"It is important that child care providers and families with children have access to critical supplies during this extraordinary time," said Camille Maben, Executive Director of First 5 California. "Working with our First 5 county partners, we hope this investment provides a measure of relief."