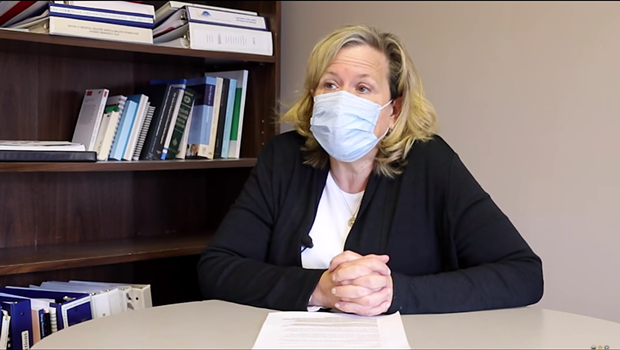 Screenshot
Humboldt County Health Officer Teresa Frankovich.
With Humboldt County Public Health having
confirmed
21 new COVID-19 cases over the past week and statewide case counts increasing by the thousands day after day, county Health Officer Teresa Frankovich began her June 30 media availability not with a reporter's question but with a warning.
"I'm guessing most people in the county have been watching what's happening across the country and certainly the state of California," she began. "There are certainly areas of the state that are experiencing really rapid growth, exponential growth of this virus, which is what we've been talking about for quite a long time now, the idea that COVID can circulate in relatively small numbers but, as we bring people out and start to mix them together, that those numbers can increase, and dramatically increase across a community.
"I think there are huge lessons to be learned here," she continued, adding that she's concerned people will blame the increase on the reopening of bars, which has caught a lot of public attention because of the governor's order to shutter them again in some counties. "Bars are certainly a place of risk. There's no question about that. But what I think is really important for people to recognize is that it is, in fact, our day-to-day behavior that is putting us at risk. It is people gathering between households. It's those networks of friends and neighbors … after a long time of shelter in place, people want to socialize and it starts to feel safe because they look like your neighbors, they're your friends and it feels safe.
"And I think we just need to accept that it is not safe. The more you mix with other households, the more the virus is going to circulate, and it's going to compromise our ability to move forward. It's going to compromise our ability to be able to operate many things we want to do. Schools are really important for us to be able to have up and running in our community — I don't want that compromised. I want us to be able to keep businesses open but, frankly, we're going to have to walk things back if it doesn't change. And another big, important piece of this is masking — it is absolutely essential going forward. It is absolutely essential going forward. It protects other people. It is not meant to protect you specifically, but if everyone is wearing them, it will protect you."
Frankovich then closed her comments by intoning that Humboldt County is at a crossroads, its collective future in each of its residents' hands.
"I just can't emphasize enough that this is our time of personal responsibility," she said. "Either we accept that this virus is a problem and has the potential to make a lot of us very sick, or we ignore it at our own peril."
Watch the full video of Frankovich's media availability below.