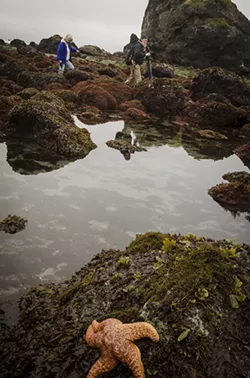 Photo by Mark A. Larson
An exceptional low tide at Luffenholtz Beach near Trinidad.
Here's some good news: Humboldt County's shores didn't make the "Bummer Beach" list in this year's Heal the Bay report card on California's coastline.
Clam Beach has been at the top of list in recent years and Luffenholtz Beach has also made an appearance or two. In fact, the Humboldt report shows above average grades with 80 percent of local beaches receiving an A or B during wet weather while that dropped to 60 percent for the region's summer grades.
"A day at the beach shouldn't make anyone sick," Shelley Luce, President and CEO of Heal the Bay, said in a release. "We are glad to see water quality improving at some beaches, but there are no guarantees."
Find the full report
here
.
Read the Humboldt County section from the report below:
HUMBOLDT COUNTY Summer Dry Grades were poor but still above average this year with just 60% of the beaches receiving A and B grades.

Wet Weather Grades were good and far above average this year with 80% of the beaches receiving A and B grades.

Humboldt County does not monitor its beaches in the winter months so there were no Winter Dry Grades and no beaches were eligible for the Honor Roll.

Humboldt County received 36 inches of rain, which is 11% lower than the historical average of 41 inches. Most of the rain fell during the winter months when the beaches are not monitored, so we do not know the full impact of the reduced rainfall.

There was one reported sewage spill that sent 5,300 gallons into the Eel River, which flows into the ocean south of Eureka. No beaches were closed as a result of the spill.
Can't see the PDF in mobile view? Try desktop view.