The Humboldt County Joint Information Center has released a handy information sheet for the cannabis industry during the COVID-19 Crisis. In it, they suggest employers encourage staff to participate in free COVID testing.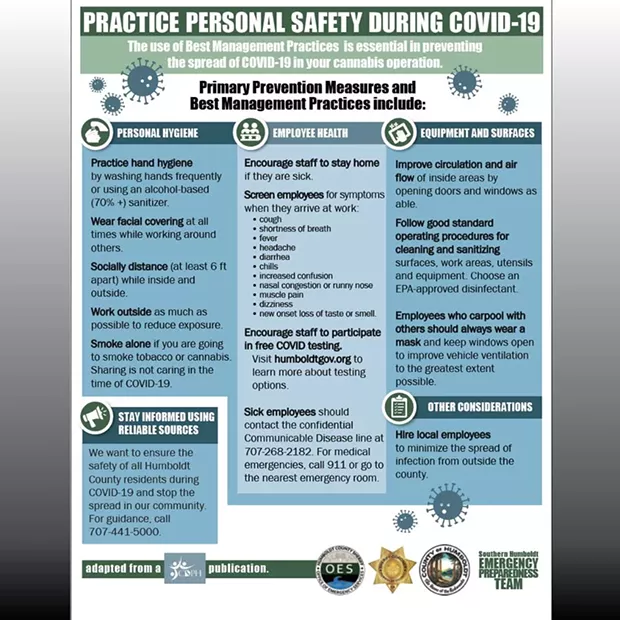 Humboldt County Joint Information Center
Updated information on how to practice personal safety in preventing the spread of COVID for cannabis operations.
The center also notes that employees who carpool with others should "always wear a mask and keep windows open to improve vehicle ventilation to the greatest extent possible."
Last week, anonymous sources provided us with the information that nine workers at one Southern Humboldt cannabis farm had tested positive for COVID-19.

Though Dr. Teresa Frankovich, the Humboldt County Public Health Officer, declined to confirm this, speaking generally about cannabis farms, she did offer some information to those in the industry.
She said, "We want to make sure that whether they are legal or not legal operations, that they understand we'd like to work with them. Basically if they have someone sick, we'd like to be able to help work with them to get people tested and to really just make sure everyone around them is safe."
At this point there are only the three places listed above available regularly but try calling the COVID hotline at (707) 441-5000 and ask if there are any additional testing places coming to your area.
For more information on how cannabis employers can protect against the spread of COVID-19, see here.