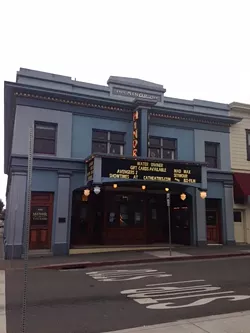 FILE
The Minor's not opening yet.
You could get away from the heat and incessant boom of amateur fireworks this weekend and sit in the air-conditioned cool of Broadway Cinema, escaping from the endless cycle of bad news for the big screen spectacle about a looming, mostly-unseen threat that picks off the unwary and reckless.
Jaws
will be playing, along with
E.T.
,
Ghostbusters
,
Cloudy with a Chance of Meatballs
and
50 First Dates
. Coming Attractions Theaters, whose management had
previously walked back its plans to reopen
on June 12 after clarification from the county's Public Health Officer Teresa Frankovich, has been given official sanction to start showing films again. Four local theaters —Broadway Cinema, Mill Creek Cinema, the Minor Theater and the Arcata Theater Lounge — have been certified by the Emergency Operations Center for reopening. But only two, those owned by Coming Attractions, are taking the leap.
"Our number one priority is the wellbeing of our staff and the community at large," said Minor Theatre co-owner Merrick McKinlay in an email. Although the Minor has been approved for re-opening, McKinlay said staff needed to meet and further discuss how the venue could keep its team safe once it opened to the public.
"We are so excited about being able to resume providing Humboldt with a stress-free, normalizing, fun experience- we've all been missing the little normal things like going to the movies," McKinlay added.
The Fortuna Theater, owned by CinemaWest, remains closed and without a target date for reopening. Demian Vonder Kuhlen, corporate film scheduler for CinemaWest, attributed this major releases being pushed back. As with every sector, the film industry is enduring a weird year, with major summer blockbusters on ice or heading directly to streaming services, production of future features disrupted and the 2021 Oscars moved to April.
Traditional theaters that were already staring down the existential threat of streaming and video-on-demand have implemented creative measures to adapt to the challenges of the coronavirus pandemic. Coming Attractions theaters in Humboldt sold curbside popcorn and concession drinks. The Minor, in partnership with other independent theaters, has been offering rental streaming of indie films through its website.
A call to Al Lane, COO for Coming Attractions, was not returned by press time, but according to the company's Facebook page theaters that reopen will meet state safety requirements by requiring guests wear masks entering and leaving the theaters, when buying concessions and all other circumstances where social distancing can't be adhered to. According to the company's website, it will also implement "enhanced sanitation protocol."
But as California continues to see a surge in COVID-19 cases, it remains to be seen if county officials will press forward with allowing the opening of large entertainment venues such as theaters (bowling alleys, skate parks and mini golf courses have also been cleared to apply for reopening) or if it will be a case of one step forward, two steps back. At least one local venue recently approved for reopening is sending mixed messages.
"Due to public health and safety and to follow recommendations by the [Center for Disease Control], we will remain closed for the coming weeks," reads a statement on the Arcata Theater Lounge's website. "Being the biggest venue in Arcata, we understand that our reach is widespread, and believe this is the right thing to do."
The ATL's Facebook page, however, recently announced it will re-open, fittingly, for Sci-Fi Night on Wednesday, July 1, with limited seating. A call to the theater to confirm whether or not the event would actually take place was not returned as of press time. At least one movie fan felt it was not worth the risk, however, commenting in response to the announcement, "Are you crazy?"