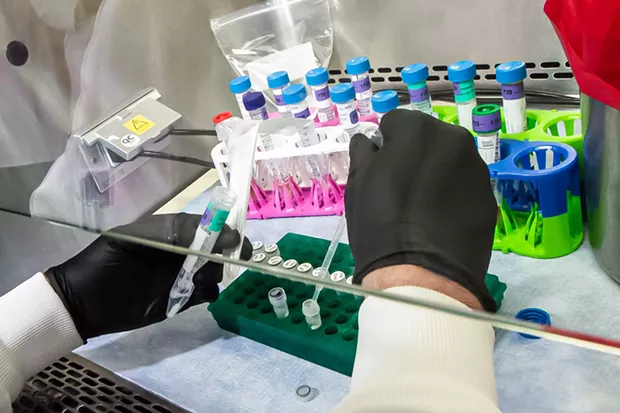 Public health
A Humboldt County Public Health Laboratory employee processes a COVID-19 test.
Humboldt County Public Health confirmed three new COVID-19 cases today.
The news continues a recent spike that has seen 28 cases confirmed locally over the past two weeks, bringing the countywide tally to 136.
According to a news release, 84 cases were contracted through a known case, 28 via travel and 23 were from community transmission, meaning the person who tested positive had no known contacts to another case and had not traveled outside the local area. The cause of one of today's new cases remains under investigation. To date, 15 local residents have been hospitalized with COVID-19 at some point in their care, including four people who died of the disease, all residents of Alder bay Assisted Living.
Areas across the nation and in California are seeing rapid increases in not only the number of cases but hospitalizations and many are stepping back on reopenings, with the governor having ordered bars, beaches and dine-in restaurants closed in swaths of the state.
Nationally, 43,644 new COVID-19 cases were confirmed today, while another 560 deaths were recording, making 2.6 million people who have been affected in the U.S. with the disease and 127,299 deaths. In California, 6,367 new cases were confirmed yesterday, bringing the statewide tally to 222,917, with 5,980 fatalities.
In a
press release
and in
her media availability
yesterday, Humboldt County Health Officer Teresa Frankovich indicated she believes the local community is at a crossroads. While much media attention has been focused on businesses closing or reopening, she stressed that social gatherings — of friends, family and neighbors — pose a huge risk with the potential to quickly spread the disease and urged people not to mingle or socialize outside their households.
"We can embrace the use of all the preventive measures we have, such as use of facial coverings and social distancing; we can choose not to gather with people outside our household, even extended family members; our business owners can follow the safety plans they have developed for the benefit of their employees and their customers, or we can choose to pretend that this pandemic is not real and increase risk for our friends and neighbors," she said. "It is really that simple."
Humboldt County Public Health is urging residents who aren't experiencing symptoms to get tested free of charge at the mobile testing site at Redwood Acres Fairgrounds. (People experiencing symptoms should contact a healthcare provider, officials say.) Asymptomatic individuals can make an appointment to be tested by visiting https://Lhi.care/covidtesting or calling (888) 634-1123. Tests will be administered free of charge, whether or not people have health insurance.
<!———————————————StartFragment———————————————>

Basics of COVID-19
The California Department of Public Health and the Centers for Disease Control, state that symptoms of novel coronavirus include cough and shortness of breath or difficulty breathing, or at least two of the following: fever, chills, repeated shaking with chills, muscle pain, headache, sore throat or a new loss of taste or smell.
Emergency warning signs needing immediate medical attention include difficulty breathing or shortness of breath, persistent pain or pressure in the chest, new confusion or inability to awaken, and bluish lips or face.
In an emergency situation:

Call ahead to the emergency room or inform the 911 operator of the possibility of a COVID-19 infection and, if possible, put on a face mask.
Symptoms or possible exposure:

In the case of a possible exposure with symptoms — fever and cough or shortness of breath — contact your doctor's office or the county Department of Health and Human Services, which has a hotline that can be reached during business hours at covidinfo@co.humboldt.ca.us or at (707) 441-5000. Residents seeking medical advice or questions about testing are asked to contact Public Health at hhsphb@co.humbldt.ca.us or at (707) 445-6200.
St. Joseph Health has also set up a virtual assessment tool as an aid to assess risk factors for contracting the illness, which can be found at
here
.
The Federal Emergency Management Agency has started a rumor-control webpage that can be found
here
.
For the
Journal
's latest COVID stories, updates and information resources, click
here
.
Read the county's release below and view it's case dashboard
here
:
July 1, 2020 - Three New Cases Reported Today
707-441-5000 ; covidinfo@co.humboldt.ca.us ; Monday-Friday 8am to 7pm Opens in new window
Three additional cases of COVID-19 were reported today, bringing to 136 the total number of Humboldt County residents who have tested positive for the virus.

Two of these new cases were acquired through contact with a known case. The means of transmission for the remaining case is under investigation.

For the most recent COVID-19 information, visit cdc.gov or cdph.ca.gov. Local information is available at humboldtgov.org or during business hours by contacting covidinfo@co.humboldt.ca.us or calling 707-441-5000.