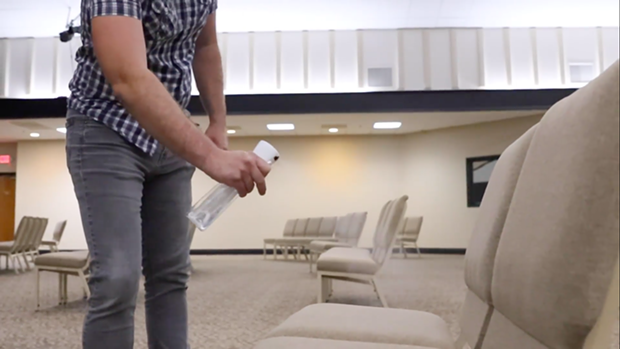 Screenshot
Lemen disinfecting seats at Faith Center Foursquare Church.
The Humboldt County Joint Information Center recently released safety guidelines for places of worship that wish to resume services. Churches are among the latest venues approved for reopening by the county, and they are encouraged but "not required" to submit reopening plans to the Emergency Operations Center. Local congregations have had diverse responses to the news, and some have embraced creative approaches to demonstrating faith during the pandemic.
Some places of worship, including the Humboldt Universal Unitarian Church and the Temple Beth El synagogue, remain closed to the public, choosing instead to broadcast services online through Zoom or Facebook Live. Others, such as the First Presbyterian Church of Eureka, plan to reopen later in the month after months of online-only services. (The announcement was made via the church's Facebook page, which bears the logo of a facemask with a quote from Philippians 2:3, "But in humility consider others as more important than yourselves.") In Arcata, St. Mary's Catholic Church held its first outdoor mass June 7.
Faith services, which often involve activities considered to be high risk for disease transmission such as large indoor gatherings, group singing, and touching or kissing mutual objects (collection plates, communion cups) have been linked to rapid spread of the coronavirus. According to a
case study
by the Centers for the Disease Control and Prevention, in March 38 percent of attendees of a rural church in Arkansas developed COVID-19 and three people died. Congregants went on to spread the disease to 26 other people in the community, contributing to the death of one additional person. Closer to home,
six cases in Mendocino County
were linked to a Mother's Day service at the Assembly of God Church in Redwood Valley.
The county of Humboldt's website encourages religious leaders to follow state guidelines for reducing virus transmission, including limiting attendance to 25 percent of capacity or 100 people, whichever is lower. Churches are also encouraged to shorten services and hold them outside whenever possible, as well as follow social distancing protocol and "consider limiting touching for religious and/or cultural purposes, such as holding hands, to members of the same household."
On June 29 Executive Pastor Matt Lemen of Faith Center Foursquare Church appeared in an informational video along with Samantha Karges, a spokesperson for the Humboldt County Sheriff's Office, to discuss his flock's adaptation to the times. Among the changes he demonstrated were grouping the congregants' chairs together in "pods" that allowed families to sit together, 6 feet apart. The church has trained staff and volunteers to help identify symptoms, screen for fever using forehead thermometers and disinfect the sanctuary between services and is distributing self-serve communion cups that look like coffee pods.
Screenshot
A single-serving communion cup.
In the video Karges outlines other steps faith centers can take to be COVID-safe, including marking designated places where people might touch their foreheads to the floor in worship and modifying chants or songs.
Pastor Matt Messner also appears in the video to talk about the church's decision to return to semi-traditional services saying, "We believe meeting in person meets a need that is important at this time."
Roger Williams, pastor of Eureka Seventh Day Adventist Church, said his church's leadership has decided to hold off on indoor services, continuing instead "drive in" worship at the church's parking lot, during which there are announcements and a 45-minute service.
"We're pretty strict on the time because restroom facilities are not available," he says. "We don't want people running stoplights on the way home."
Williams adds that the Adventist leadership has given guidance for all the churches under its umbrella while asking pastors to follow local guidelines. The church does not plan to open the sanctuary to the congregation at this time, only allowing those directly involved in planning the service to come inside and access equipment. He said the outdoor service has been a "smooth adaptation," but it's also a far cry from the feeling of a normal Saturday morning ceremony.
"The idea of worship and coming together in any dynamic worship service is curtailed by social distancing and masks," says Williams. "There's something dynamic about fellowship. We come together, worship together. We're social beings. Social distancing flies in the face of that."
But Williams says the safety recommendations have allowed church members to be more creative in worship and in some ways stronger in faith.
"I've always been of the belief that that church never closes," he says. "The body of the people make up the church. We've been able to reexamine who we are as the church as opposed to where we are in the church. Social distancing flies in the face of Christian fellowship. However, in a responsible understanding of the gospel we would not want to compromise anyone health-wise. I'm in no hurry to return to indoor worship."
Instead, he said he's encouraging congregants to continue to attend and stay in their cars.
"They didn't teach me this one in seminary," he says.