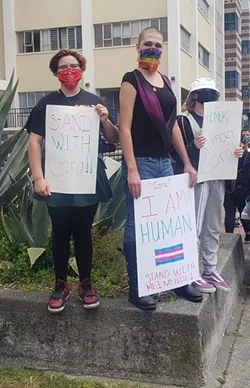 Submitted
Cora Woodard and their supporters stand up against hate outside the Humboldt County courthouse.
Around noon Monday, a group of roughly 30 people showed up at the Humboldt County courthouse wielding signs in support of Fortuna transgender teen Cora Woodard,
the Times-Standard reported
.
Woodard, a 16-year-old who is transitioning from male to female and who uses theu/them pronouns,
told the T-S they were attacked by a neighbor
on June 30. Woodard said they were playing Frisbee in the front yard with younger siblings when the neighbor approached and punched them in the arm, reportedly saying: "You disgust me. You were born a man, not a woman."
Woodard reported the incident as a hate crime to the Humboldt County Sheriff's Office and said they intend to press charges, the
Times-Standard
reported. Meanwhile, supporters created a Facebook group called "Stand with Cora against hate!" It quickly grew to more than 700 members.
Word of Monday's protest spread over social media, and Woodard told the
NCJ
they were pleased with event. "I felt good!" they said in a Facebook message. "Supported by my community and more confident about who I am."