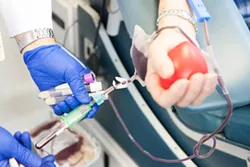 Mark McKenna
The blood bank is asking healthy donors to make time to donate blood.
Facing "unprecedented" impacts from the COVID-19 pandemic, the Northern California Community Blood Bank is asking all healthy individuals to make time to donate blood.
In a press release, the blood bank explained that it normally depends on large blood drives at schools, businesses and events to keep its supply up but with school closures, limited business operations and canceled events, collections are down 23 percent from normal.
"Blood donations are down significantly, just as local hospitals are beginning to ramp up surgeries," said CEO Kate Witthaus in a press release.
And Witthaus continued, that's especially problematic now as COVID-19 has created shortages elsewhere and supply chain issues for importing blood into Humboldt County.
"Few blood centers have excess supply to share. And given our remote location behind the Redwood Curtain, relying on help from outside the area is always our last resort," she said. "This poses an even greater risk of not having the lifesaving blood that local patients need. ... A reliable blood supply is essential to our community's health, resilience and self-reliance."
See the full press release from the blood bank, including information about Blood Mobile schedules and how to donate, copied below:
The Northern California Community Blood Bank has issued a statement encouraging all healthy individuals to make time to donate blood.

"Activities related to the COVID-19 outbreak have impacted our blood supply in a way that is absolutely unprecedented." said Kate Witthaus, CEO of Humboldt and Del Norte Counties' only blood bank. The Northern California Community Blood Bank supplies blood, platelets, and plasma to all local hospitals in the two counties.

Under normal circumstances, the Blood Bank would have held a number of large blood drives at schools, businesses and events over the past few months. With schools closed and so many events cancelled, last month's blood collections were down 23% from normal. "Blood donations are down significantly, just as local hospitals are beginning to ramp up surgeries." Notably, the local Blood Bank has had to take the unusual step of bringing in blood from outside the area to maintain an adequate supply. With COVID-19 causing blood shortages across the nation, relying on other Blood Centers is both difficult and risky, said Witthaus. "Few blood centers have excess supply to share. And given our remote location behind the Redwood Curtain, relying on help from outside the area is always our last resort." With reduced flights into the local airport, getting blood products here is difficult. "This poses an even greater risk of not having the lifesaving blood that local patients need." Ms. Witthaus urges community members to step up and help close the blood shortage. "A reliable blood supply is essential to our community's health, resilience, and self-reliance."

Bloodmobiles are available throughout the community and the Blood Center at 2524 Harrison Avenue in Eureka is open 6 days a week. Wait times may be slightly longer in order to limit the number of individuals on the bloodmobile and in the donation center in order to maintain safe distancing.

Facts about donating and bloodmobile schedules can be found on the blood bank's web site at www.nccbb.org. Appointments are now available for whole blood donations at the Harrison Avenue Blood Center