Mark Anthony Nelson Jr. — a 39-year-old gas station clerk from Eureka — has had quite a week.


A man came to rob the gas station where he worked.


He shot and killed that man, prompting his arrest on suspicion of murder, possessing stolen property and being a convicted felon in possession of a firearm. He was booked into Humboldt County Correctional facility without bail, and quarantined there for five days.
Then yesterday, in a stunning reversal, the Humboldt County District Attorney's decided no charges would be filed in the case. Nelson walked free, and joined his partner Cynthia Shelton and their 14-year-old daughter for a quiet night at home.


"We are just chilling," Shelton wrote on Facebook.


Although Nelson won't be granting interviews, local defense attorney Russell Clanton spoke on his behalf today.


"We would like to extend our appreciation to both law enforcement and the Humboldt County District Attorney's office for their swift and comprehensive investigation of the events that took place on July 2, 2020," Clanton said. "In a time where the judicial system and policing in our communities are the subjects of intense social debate it is particularly satisfying to witness both functioning in such a way that justice was delivered without delay."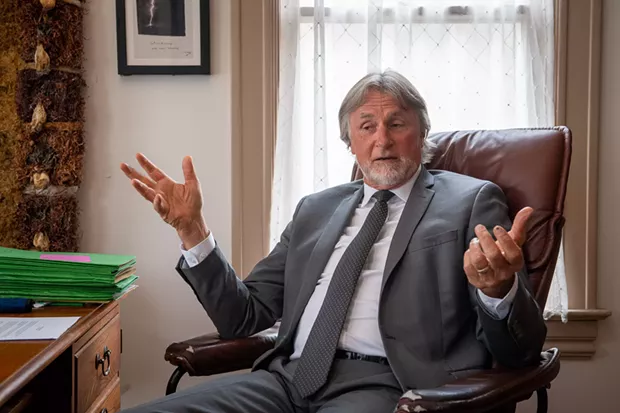 Mark McKenna
Local attorney Russell Clanton discusses Mark Anthony Nelson Jr.'s case.

Clanton went on to say that after a "fair and transparent review of the facts," Nelson was absolved of all potential charges and released.

"His situation demonstrates that when the efforts of all parties in its administration are optimized, our community, and society at large, are well served," Clanton concluded.


In a call with the NCJ, Clanton said that he was compelled to take Nelson's case after Blue Lake residents approached him. The gas station clerk is known in the town for his pleasant demeanor and positivity, and after Nelson's arrest, the town mobilized on his behalf, flooding social media with positive comments about him, creating GoFundMe pages to raise money for his defense and seeking out representation.


Clanton was astonished by a level support from the community "that generally speaking, I never see," he said. He decided to take the case pro bono.

"He's an individual of limited resources and he's done what he can with the skills that he has and the opportunities that are available to him, and he's obviously done that in a way that engendered a lot of community sentiment, and that's a real credit to him that shouldn't be overlooked," Clanton said.


Clanton's team engaged with the district attorney and with law enforcement, giving them information in a way that was "credible and certainly gave them confidence that there were no crimes committed," Clanton said.


The case was seemingly complicated by initial statements from Nelson that misled sheriff's deputies, but in the end, law enforcement, the DA and Nelson were all telling the same story — that Nelson acted in self-defense.

Mark McKenna
Attorney Russell Clanton (right) discusses his client Mark Anthony Nelson Jr.'s release from Humboldt County jail after prosecutors declined to file charges, feeling Nelson had acted in self defense during a fatal shooting.
Sheriff's deputies were dispatched to the Patriot gas station on July 2 at 9:45 p.m. after a report of an armed robbery with shots fired. Outside the station, they found the alleged robber, Jeffrey Allen Kirwan, 53, on the ground with a gunshot wound to the chest. Despite lifesaving efforts, Kirwan died from his injuries on the scene.


Officials believe that before the shooting, Kirwan had approached Nelson and a patron outside of the business. Kirwan allegedly brandished what appeared to be a firearm, causing Nelson and the patron to flee. Kirwan then entered the store to proceed with the robbery, and was shot as he exited the gas station.


Investigators interviewed witnesses and located a stolen firearm, which had been concealed inside the business, according to officials. They also reviewed surveillance footage from inside of the station, but not the outside, as the gas station did not have functioning surveillance cameras outside where the shooting occurred.


According to the Sheriff's Office, Nelson initially denied shooting the robbery suspect, providing information inconsistent with the evidence at the scene. He also reportedly denied that he'd been in possession of a stolen firearm but further investigation reportedly revealed that Nelson made efforts to conceal the weapon prior to the arrival of police to the scene. Sheriff's deputies also reported finding a bullet in Nelson's pocket.


Through their investigation, the deputies determined that Nelson — who is legally prohibited from possessing weapons — had been in possession of the stolen firearm and had used it to shoot Kirwan. Considering all this, police arrested him.

But over the next few days, the Sheriff's Office continued its investigation and re-interviewed witnesses. On July 7, Nelson agreed to again speak with investigators, according to the Sheriff's Office, and reportedly admitted to shooting the robbery suspect but claimed the shooting was in self-defense.

His statement was consistent with the investigation and evidence, according to police, and led to the a determination by both the Sherrif's Office and the District Attorney's Office that Nelson acted in self-defense.


Kirwan was later named as a possible suspect in a recent robbery at a Trinidad business. The investigation into that case is ongoing.

"There's trauma associated with that," he said. "Not only that, but then suddenly the system wants to take your life and put you in a cage for the rest of your days. Reconciling both of those things, the fact that somebody actually died and the threat that was put on him … it's not an easy emotional equation, and he's sorting that out."
Nelson sat mostly silent as Clanton read a prepared statement at his office, but interjected when the attorney praised his character, saying his release is a testament to who he is and the community support that engendered.
"The people made me who I am," Nelson said. "Shout out to everyone. I love everyone. I really do love people."

Nelson has remained silent about his time in custody and this thoughts on being arrested for murder, but his partner Shelton did have one thing to say about it: "A white man wouldn't have gone to jail," she wrote in a message on Facebook.
Clanton, however, believes that recent protests over police brutality and systemic racism may have paved the way for a greater sensitivity.

"That may be part of what we're getting out of these times," he said. "This is one of those rare moments where justice kind looms out of nowhere, and the room fills with a honeyed light and a choir wells up. … Justice can sneak up on you when you are least expecting it."