Humboldt County Sheriff's Office
Humboldt County Sheriff's deputy wearing safety gear to examine the package.
Update: HCSO Public Information Officer Samantha Karges describes the incident in a video. She says that earlier today, HCSO responded to a call about two suspicious packages, and after checking with residents near where the packages were found and confirming that they didn't belong to them, the HCSO EOD team was called.
The EOD robot was under maintenance, so a deputy wore a bomb suit to examine that package that was determined to be vinyl records.
Read the full Humboldt County Sheriff's Office press release below.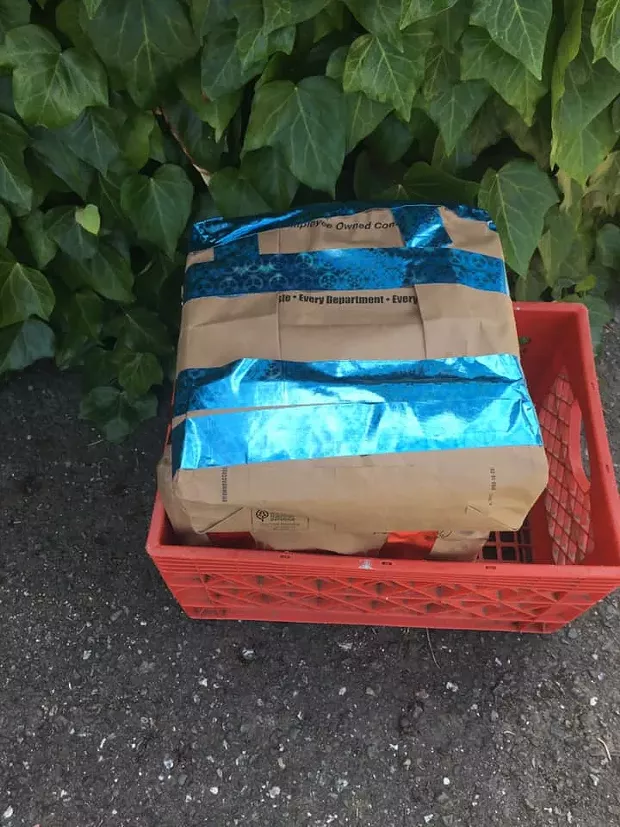 Photo provided by a person connected to the incident
Suspicious packages found on Humboldt Hill.
Watch the full video below.
Previous: After the HCSO's EOD examined the suspicious packages, they were revealed to be vinyl records.
Previous: According to
NCJ
photographer Mark McKenna, HCSO is using an X-ray to examine the suspicious packages that were found on Humboldt Hill Road earlier today.
Previous: The Humboldt County Sheriff's Office Explosive Ordinance Device Team is responding to a call of a suspicious package on Humboldt Hill. Residents within half a mile in the area are asked to stay inside and avoid the area. Humboldt Hill Road closed to traffic.
Videos by Mark McKenna


Suspicious package investigation on Humboldt Hill

On July 9, 2020, at about 10:30 a.m., a community member contacted the Humboldt County Sheriff's Emergency Communications Center to report three suspicious packages discovered outside a residence on the 5600 block of Humboldt Hill Road in the county's jurisdiction of Eureka.

Sheriff's deputies were unable to locate anyone associated with the packages nor was there any identifying information on the packages indicating the owner. Due to these suspicious circumstances, the Humboldt County Sheriff's Office Explosive Ordnance Disposal (EOD) Team was dispatched to investigate.

Humboldt Hill Road was briefly closed while deputies conducted their investigation. As part of their investigation, EOD deputies x-rayed the package and determined the contents to be vinyl records. There is no perceived threat to the public at this time. Humboldt Hill Road has been reopened to traffic.

The Humboldt County Sheriff's Office would like to remind the public that if you see something suspicious or out of place in your neighborhood, do not touch or move it, but contact your local law enforcement.