Dave Feral
The NEOWISE comet captured above Trinidad Head.
It's not every day that a 3-mile wide ball of ice and dust hurling through space comes so close to the Earth that humans can behold it and even snap photos. But NASA scientists say that on clear nights in the Northern Hemisphere, the NEOWISE comet will likely be ready for its "close-up" about an hour after sunset for the next couple of weeks.
The NCJ has collected an array of pictures from local photographers, along with some advice about where and how to take your own. But first things first, let's talk about what makes NEOWISE awesome.
"The fact that we can see it is really what makes it unique," said Emily Kramer, co-investigator on NASA's NEOWISE science team, during a Facebook Live presentation. "It's quite rare for a comet to be bright enough that we can see it with the naked eye or just binoculars."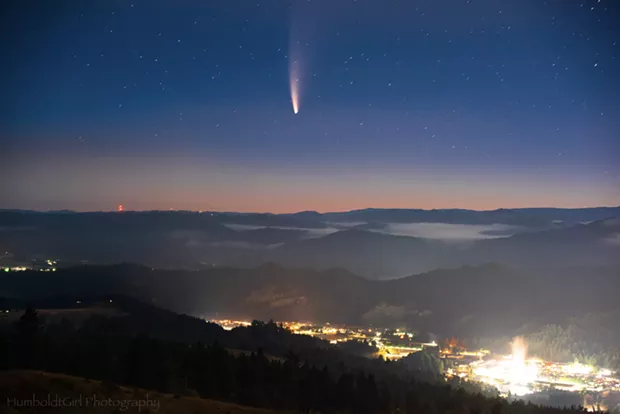 Rene Yampolsky
An early morning shot of NEOWISE from the top of Monument Hill in Rio Dell.
In fact, NEOWISE is the first "naked-eye" comet of the century and last visited the area around 6,800 years ago. It was first detected in late March by a space telescope known as Near-Earth Object Wide-field Infrared Survey Explorer, and the acronym of that mouthful is how the comet got its name, according to NEOWISE Deputy Principal Investigator Joe Masiero.
"Right after we discovered it, we saw it was going to have a close pass with the sun around July 3, and there was a chance it could become very bright," Masiero said. "We got really lucky that it turned out to be such a spectacular sight."


Humboldt State University
HSU's Department of Physics and Astronomy lecturer Tyler Mitchell says that the surface of comets are fluffier than new-fallen snow.
Comets are pretty to almost everyone but particularly interesting to astronomers because they're covered in soot left over from the formation of the solar system some 4.6 billion years ago. They cruise around on highly elliptical, sometimes irregular paths, spending the majority of their time far from the sun in what scientists sometimes refer to as "cold storage."
"They're like little time capsules," says Tyler Mitchell, a lecturer with Humboldt State University's Department of Physics and Astronomy. Comets hold a special place in Mitchell's heart, as he did his master's thesis on research related to the Deep Impact, the space probe created to collide with comet Tempel 1 in an attempt to understand its composition.
When looking out at NEOWISE, Mitchell suggests considering that its surface is "fluffier than new-fallen snow." It's incredibly soft, he says, yet darker than coal.
"Comets are some of the darkest things in the solar system — black, poofy, very small, super hard to see," he said.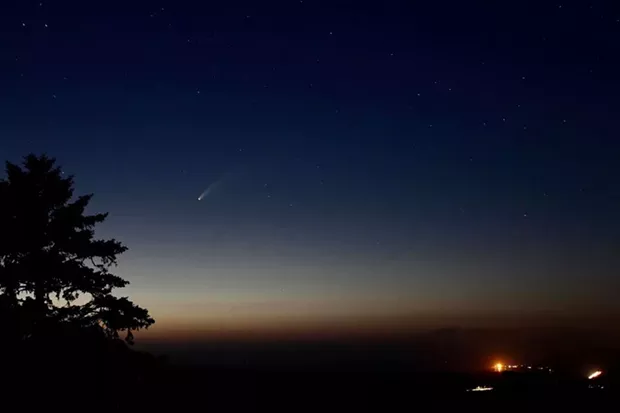 Rowdy Kelley
A shot of the NEOWISE comet over Humboldt Bay, taken from Tomkins Hill.
Well, normally they're hard to see. But as has been the case with NEOWISE, as a comet's orbit comes closer to the sun, it heats up and a giant tail of dust and ionized gas stretches across the sky. That tail is actually one of the largest things in the solar system, Mitchell says. So that's what he loves about comets — the tiny dark core versus the lengthy, magnificent tail.
To see NEOWISE in all its glory, Mitchell recommends finding a high place with an unobstructed view of the northwestern sky. The airport in his hometown, Kneeland, is a good spot, he says. Or near the cellphone towers.
Other local photographers have had luck on clear nights — and previously, early mornings — in Rio Dell, Tompkins Hill and Trinidad.
Initially, the comet was easiest to see and photograph in the hours before sunrise. On July 12, photographer Rene Yampolsky captured some stunning images at around 4 a.m. from the top of Monument Hill in Rio Dell.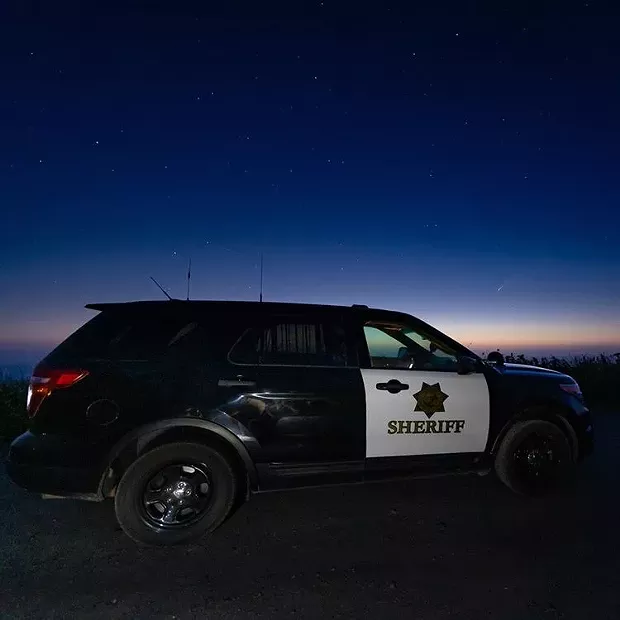 Scott Aponte
A Humboldt county sheriff's deputy captured the NEOWISE comet with his patrol car from Patrick's Point Dr in Trinidad.
"I had to battle the wind, and the biggest challenge was the bouts of fog that the wind was blowing past me," Yampolsky wrote in an email. "Couldn't get a clear shot of the comet from time to time because of it. But it worked out. And of course I love the fact that we live in such a remote place where I was the only photographer at that location!"
By July 14, it had become easier to view the comet after sunset, above the horizon and beneath the big dipper in the northwestern sky.
Fortuna resident Rowdy Kelley — who works as a location manager for feature films, music videos and commercials — positioned himself at Tompkins Hill, about 400 feet above sea level. He did a 30-second exposure, he said, with an 800 ISO (a measure of the camera's sensitivity to light) to capture an awe-inspiring photo of the comet suspended above Humboldt Bay.
Ashley Harrell
People gathered just after sunset in Berry Summit's Vista Point parking lot to see the NEOWISE comet.
The following night, Humboldt farmer and photographer Dave Feral was planning to shoot the comet in Kneeland but changed his mind when he learned there was no fog on the coast. Instead he made for Trinidad Head, where he knew the dramatic rocky islands and trees would make for a remarkable silhouette.
"I waited and watched the sky for an hour and a half," Feral said. "Almost gave up, thought I made a miscalculation on the location of the comet. But I was rewarded when it became visible around 9 p.m."
Sheriff's deputy Scott Aponte was also in Trinidad that night, and photographed the comet with his vehicle from Patrick's Point Drive.
Ashley Harrell
Don't feel bad if your comet photo sucks. Mine does.
This reporter checked out the comet from Berry Summit's Vista Point last night. A couple dozen people had gathered to see it and, as the sky began to darken and stars started to appear, a palpable excitement seemed to crackle through the parking lot.
"There it is! I see it!" one man finally yelled at around 9:45 p.m. Some people had binoculars, which were very helpful, but by 10 p.m. the long, fuzzy-looking tail of the comet was plainly visible in the sky. (My iPhone 11 turned out to be fairly inadequate, but the experience of seeing a comet is something I won't soon forget.)
Others in the parking lot seemed to agree. "That's the slowest shooting star I've ever seen," one woman said.
For more information about the NEOWISE comet, visit NASA's website. And if you take a better photo of NEOWISE than I did, send it to editor@northcoastjournal.com.