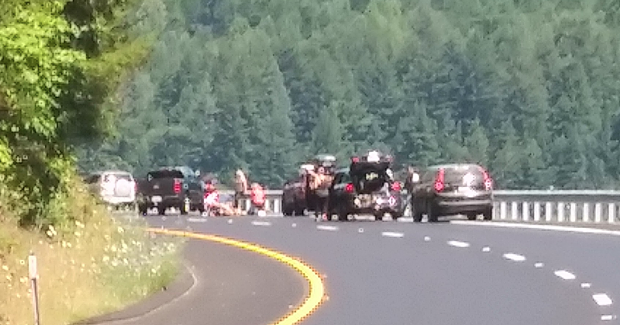 People tend to the injured motorcyclist. [Photo provided by Mark Nelson V]
A motorcycle crashed 2 miles north of Pepperwood at 11:38 a.m. An air ambulance has been requested, according to the dispatcher speaking to emergency responders over the scanner.
The motorcyclist is in the roadway.
According to the CHP Traffic Incident Information Page, multiple motorcyclists are now stopped along the roadside in the area.
Please remember that information gathered from initial reports is subject to revision as more facts become available.
UPDATE 12:25 p.m.: The patient was taken to St. Joseph's Hospital in Eureka by ambulance. The 60-year-old male has a fractured leg and arm and may have an injured pelvis.
UPDATE 12:49 p.m.: The air ambulance was diverted earlier from this crash to the
one near Big Lagoon
.
UPDATE: The CHP is now reporting this is a fatal accident.
UPDATE: The CHP has identified the deceased motorcyclist as Michael Anthony Tulley, 70, of Eureka. He was riding a 1990 Harley Davidson, and "alcohol and/or drugs are not considered to have been a factor in this collision," CHP reported.
The CHP Humboldt Area Office is continuing to investigate the collision and asks anyone with information to call 707-822-5981 or send an email to humboldt_area.humboldt_area@chp.ca.gov.