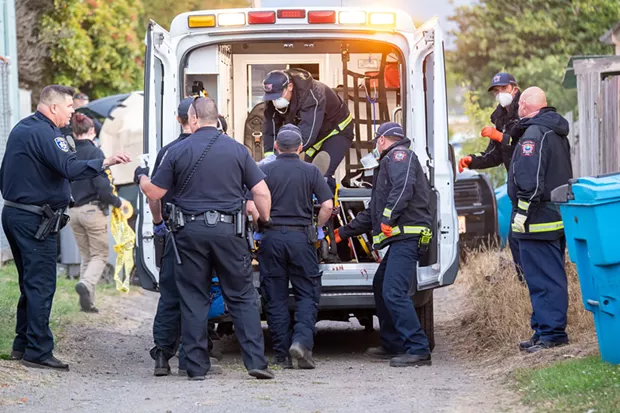 The Eureka Police Department identified the man killed in an
officer-involved shooting Thursday night
as John Karl Sieger. He was 51.
According to a news release, the names of the officers involved will be publicly released by Aug. 3 and the Humboldt County Multi-Agency Critical Incident Response Team is investigating the shooting at EPD's request.
"This tragic outcome was not what we expected or wanted to happen," Chief Steve Watson said in a statement. "My heart goes out to all who have been impacted by Mr. Sieger's death, including his family and loved ones and the involved officers, dispatchers and their families who are deeply saddened and hurting too."
The release states the EPD will also conduct a parallel internal administrative shooting review, the results of which will be released to the public. The department is also preparing "an informational critical incident community briefing video that may include audio from 911 calls, officer/dispatch radio transmissions, video from officers' body-worn cameras as well as additional information."
That video is expected to be released "within the next week or two."
Anyone with information related to the shooting is asked to contact Detective Corrie Watson at 707-441-4032.
Read the full EPD release below:
Following of kin notification, the Eureka Police Department (EPD) has identified the deceased individual from yesterday's officer-involved shooting incident as John Karl Sieger (age 51) of Eureka.

The names of the involved officers will be released to the public within the next 10 days (on or before August 3rd, 2020). The multi-agency Critical Incident Response Team has completed its investigation at the scene of the shooting on the 2800 block of Lowell Street, Eureka. The residence has been released back to the family.

This is an ongoing, active investigation and additional information will be released responsibly as it becomes available.

If anyone has further information related to this incident, they are asked to contact Detective Corrie Watson at 707-441-4032.

Statement from Chief of Police Steve Watson: "This tragic outcome was not what we expected or wanted to happen. My heart goes out to all who have been impacted by Mr. Sieger's death, including his family and loved ones and the involved officers, dispatchers and their families who are deeply saddened and hurting too.

At EPD's request, the Humboldt County Multi-Agency Critical Incident Response Team (CIRT) was mobilized to investigate this incident. CIRT is comprised of representatives from various Humboldt County law enforcement agencies who receive specialized training in the handling of critical incident investigations such as officer-involved shootings.

The Humboldt County District Attorney's Office is participating as a co-lead investigating agency in the CIRT investigation with the primary and assisting law enforcement agencies. The completed CIRT investigation will be submitted to the District Attorney for review and to ultimately determine if any criminal liability exists.

The Eureka Police Department will also conduct a parallel internal administrative shooting review. We are committed to transparency and accountability to our community and each other. This internal review will be thorough, comprehensive, and objective.

When the investigation is complete, these records will be fully disclosed in to the public pursuant to the authorization of SB 1421 and AB 748 (including the report, investigation, findings, audio and video recordings).

As part of our commitment to transparency and the community's trust, we are also preparing an informational critical incident community briefing video that may include audio from 911 calls, officer/dispatch radio transmissions, video from officers' body-worn cameras as well as additional information. This critical incident community briefing video is intended to expeditiously share important, relevant information with the public about this officer-involved shooting.

However, it does not represent a conclusion to this investigation or a final report evaluating officers' actions. We anticipate the briefing video will be completed and ready for release within the next week or two. Further details will be forthcoming soon."