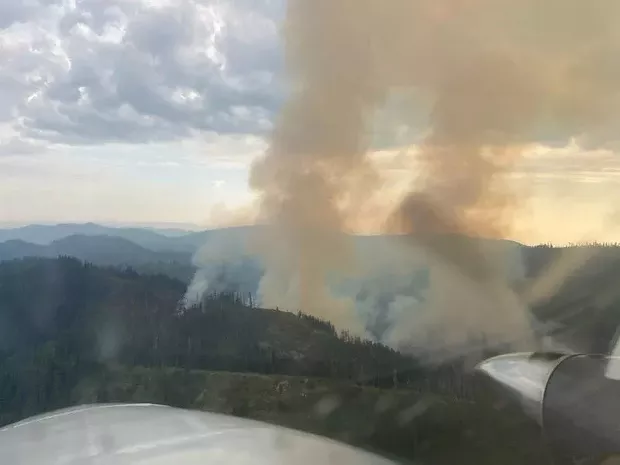 Shasta Trinity National Forest Service
The Salmon Fire east of Weitchpec burning late Monday evening.
Directly east of Weitchpec, where the tip of Trinity County nudges between the southwestern edge of Siskiyou County and the northeastern edge of Humboldt County, a 220-acre fire blew up yesterday. The Salmon Fire was first reported about 11 a.m. in Trinity County, according to Carol Underhill, spokesperson for the Shasta Trinity National Forest. She confirmed that the fire has since spread into Siskiyou County and nudged into Humboldt County also. [Note: InciWeb reports as of 11 a.m. that the Salmon Fire is now 550 acres]
InciWeb describes the fire as located "at the top of Eight Mile Creek in the New River Basin in the far northwest portion of the Trinity Alps Wilderness."
The Red Fire, another new and much smaller fire than the Salmon, is burning entirely in Humboldt County to the northwest of the Salmon Fire. If an Incident Management Team is brought in for the large fire, they will likely take on the Red Fire also.
Kym Kemp
Using CalTopo and adding text, we created this map. The orange circles show heat spots that showed on satellite imagery. Note the red area entirely within Humboldt County is the Red Fire. The much larger Salmon Fire is at the intersection of the three counties.
The Salmon Fire is burning in the scar of the 2009 Backbone Fire, according to the Northern California Geographic Coordination Center. "Steep and rugged terrain poses a challenge to firefighting resources," the Center points out.
Yesterday, according to InciWeb, a number of resources were assigned to the Salmon Fire: "2 crews, 4 smokejumpers, 7 helitack firefighters, with aviation support including air tankers that have made several retardant drops and a helicopter. More resources are on order.
UPDATE 11:10 a.m.: InciWeb reports as of 11 a.m. that the Salmon Fire is now 550 acres.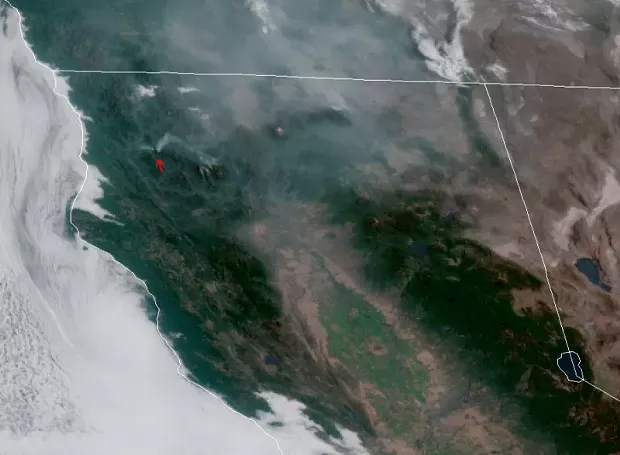 Imagery from the GOES West Satellite on July 28
Smoke from the Red Fire and the Salmon Fire are indicated by a red arrow.