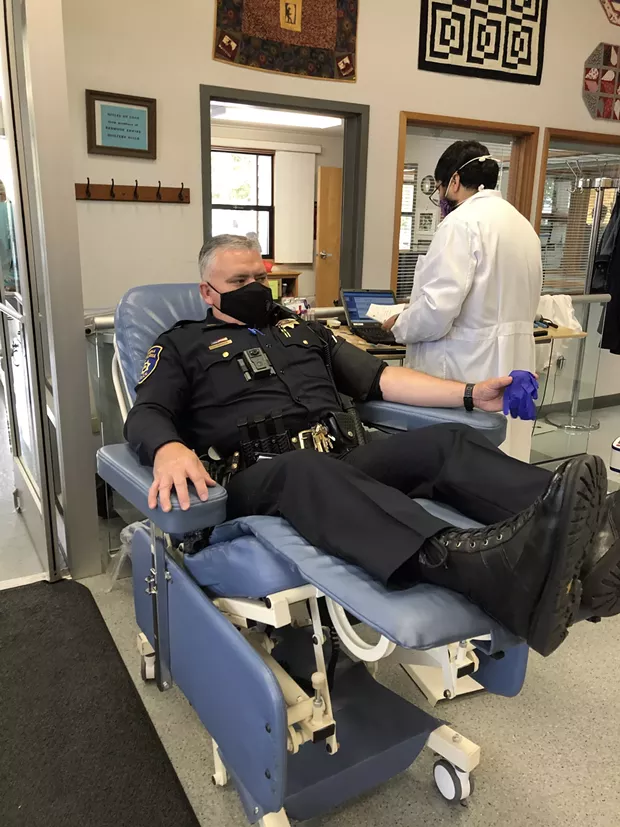 EPD
EPD Capt. Brian Stephens donates during the blood drive.
With 62 donors, the Eureka Police Department bested 17 other local agencies to take the trophy for the third annual Battle of the Badges Blood Drive.
During the drive, a total of 184 people — some employees of participating agency and others community members donating to the Northern California Community Blood Bank on their behalf — stepped up to lie back and give between July 20 to July 24.
"I would like to thank everyone who came out and donated on behalf of our agency," EPD Capt. Brian Stephens said in a news release. "I would also like to thank everyone who donated throughout the event and supported the various Public Safety agencies. I was there off and on throughout the event and the support was overwhelming."
He also noted the donations have the potential to save the lives of more than 550 people.
Read the full EPD release below:
July 20 – 24, 2020, the Northern California Community Blood Bank (NCCBB) held the 3rd Annual Battle of the Badges Blood Drive.

We had 18 different agencies represented either as donors or by having a community member donate on their behalf. A total of 184 donors were seen over the week. This was only four less donors compared to last year's record breaking one day blood drive.

These donations will push the blood bank through the entire summer.

The Eureka Police Department took the trophy for the second year in a row with 62 donors. The results are listed below:


Eureka PD 62
Fortuna Fire 4
HCSO 44
Rio Dell PD 3
Arcata PD 16
Probation 2
Blue Lake Rancheria 13
Police Academy 2
Fortuna PD 7
Welfare Fraud 2
District Attorney 7
EMS 2
CHP 6
Hydesville Fire 2
Humboldt Bay Fire 6
Arcata Fire 1
Cal Fire 4
DHHS 1

From Captain Stephens, "On behalf of the men and women of the Eureka Police Department we are honored and humbled to win the 2020 Battle of the Badges. I would like to thank everyone who came out and donated on behalf of our agency. I would also like to thank everyone who donated throughout the event and supported the various Public Safety agencies. I was there off and on throughout the event and the support was overwhelming. The 184 donations this year is only 4 off our total from last year and given the changes to our lives caused by the pandemic, I couldn't be prouder of our community and our Public Safety agencies for stepping up, stepping out and donating the gift of life. These donations could potentially be used to save the lives of 552 people in need of this vital life source. I would like to thank and recognize Dee Valle, Donor Recruiter, for helping coordinate all our events as well as donor recruitments throughout our county and beyond. I would also like to give a huge shout out to the absolutely amazing staff at the Northern California Community Blood Bank for your hard work, incredible hospitality and amazing attitudes. I truly enjoy our time together at events or when donating on my own. Your work saves lives every day! We look forward to seeing you all again, as well as all our supportive donors and maybe some new donors, at our 2021 Battle of the Badges Round 4."