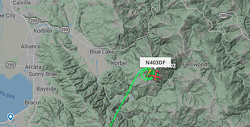 Screenshot from Flightradar shows the aircraft circling the fire.
Flames are spreading from a Dodge Ram pickup to the wildland off of Bald Mountain Road just east of Maple Creek Road, after the truck caught on fire about 1:50 p.m., according to a report made by the pickup's owner to 911.
CalFire sent multiple engines, Copter 102, an air attack, and other resources to the scene.
The pilot in the air attack told dispatch, "Got a potential for about 15 acres." He also said there were no structures threatened but there were power lines in the area.
Please remember that information gathered from initial reports is subject to revision as more facts become available.