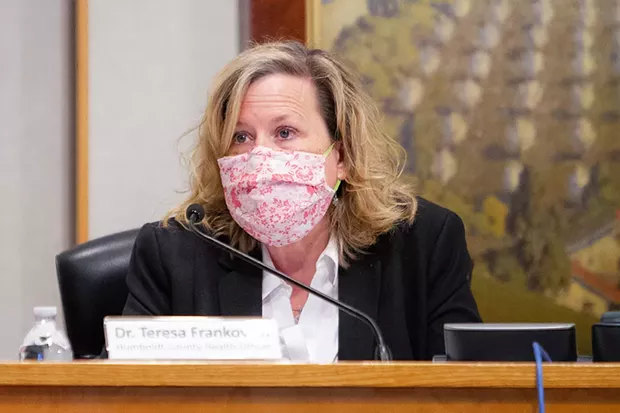 Submitted
Humboldt County Health Officer Teresa Frankovich.
Humboldt County Health Officer Teresa Frankovich is worried about our older community members, and not just because they are more vulnerable to critical outcomes from COVID-19 — they're also more likely to be socially isolated during the pandemic.
"It's up to all of us to reach out and check in with our older friends, family and neighbors" she said in a press release. "Calling is a simple thing to do and it as important to the safety and well-being of our community members as all of the prevention efforts we use every day."
The Public Health press release, which is copied below, lists of a host of services available for local seniors, from meal program and friendship lines to online courses and Tai Chi.
Aug. 28, 2020 - Now is the Time to Check in with Older Friends and Family
707-441-5000 ; covidinfo@co.humboldt.ca.us ; Monday-Friday 8am to 5pm Opens in new window
Local health officials are reminding residents to check on their older friends and family members, and promoting resources for those in the senior population to stay healthy and engaged during the pandemic.

Humboldt County Health Officer Dr. Teresa Frankovich said not only are our older community members more vulnerable to severe symptoms and outcomes if they contract the COVID-19 virus, they can also be more socially isolated given the lifestyle changes we've all made, which can affect mental health.

"It's up to all of us to reach out and check in with our older friends, family and neighbors" she said. "Calling is a simple thing to do and it as important to the safety and well-being of our community members as all of the prevention efforts we use every day."

Resources for seniors and caregivers that are available online and in-person with physical distancing measures include:

The Humboldt Senior Resource Center — While operating at a reduced capacity, the center continues to provide home-delivered meals, take-out meals available via drive-by, home service, dial-a-ride and more. Reach the center at 707-443-9747 or visit www.humsenior.org/

Food for People's Senior Brown Bag Program — For income-eligible seniors 60 and older, monthly bags of groceries are available for pickup at sites throughout the county. For more information, call Food for People at 707-445-3166, ext. 303 or visit www.foodforpeople.org/programs/senior-brown-bag-program

Osher Lifelong Learning Institute at Humboldt State University — No-charge Brown Bag Lunch Presentations have moved online and are open to the community. For more information visit www.extended.humboldt.edu/olli

Tai Chi — Presented by the Humboldt County Department of Health & Human Services, this instructional video teaches eight forms to improve balance with Health Education Specialist Sandy Earl. To view the video visit www.archive.org/details/tai_chi_for_balance

Silver Sneakers — This health and fitness program, available online, provides fitness classes for older adults and is covered by some Medicare plans. To learn more visit www.tools.silversneakers.com/Learn/Live

Senior Planet 'Learn All You Can: Free Online Courses' — From string theory to the social history of New York City, free resources are available online for anyone wanting to expand their knowledge. For more information visit www.seniorplanet.org/learn-all-you-can-free-online-courses/

The California Department of Aging Activity Guide — This guide contains tips and ideas for keeping one's mind and body active and healthy and is focused on experiences and learning, family and friends, health and wellness, purpose and community. To view the guide visit www.aging.ca.gov/download.ashx?lE0rcNUV0zYlqz5kxLW8bA%3d%3d

Institute on Aging Friendship Line — This is a toll-free 24-crisis intervention hotline and warmline for non-emergency emotional support for seniors 60 and older and adults living with disabilities. Call 800-971-0016 or visit www.ioaging.org/services/all-inclusive-health-care/friendship-line

For the most recent COVID-19 information, visit cdc.gov or cdph.ca.gov. Local information is available at humboldtgov.org or during business hours by contacting covidinfo@co.humboldt.ca.us or calling 707-441-5000.

Humboldt County COVID-19 Data Dashboard: humboldtgov.org/dashboard,
Follow us on Facebook: @HumCoCOVID19,
Instagram: @HumCoCOVID19,
Twitter: @HumCoCOVID19, and
Humboldt Health Alert: humboldtgov.org/HumboldtHealthAlert

###