Humboldt County entertainment organizations, including local theaters, will turn on the red light tonight in support of the live events sector, which has taken a heavy hit due to COVID-19. The idea is to draw attention to a vital industry that has been shuttered since early March, 2020, and most likely will not reopen until well into 2021.
Olivia McGahan, Regional Coordinator with We Make Events-North America, a collective of volunteers from the entertainment industry, has organized the local event taking place tonight from 9 p.m. to midnight in correspondence with events across the United States that will be happening at the same time.
A press release for the event states, "On September 1, 2020, #WeMakeEvents, a coalition of trade bodies, businesses, unions, and live events workers, will light as many as 1,500 venues, and iconic structures in red in over 50 cities across North America to raise public and media awareness in support of the live events sector."
Local participating theaters include Arcata Playhouse, Dell'Arte International, Humboldt Light Opera Company S.P.A.C.E., North Coast Repertory Theater, Redwood Curtain Theatre and Ferndale Repertory Theater.
The release states, "Community members are encouraged to show their support by checking the social media sites of their closest theater where a map of all participating locations will be posted and visiting the aforementioned locations where they can take photos to post on social media using hashtags:
#WeMakeEvents #RedAlertRESTART #ExtendPUA."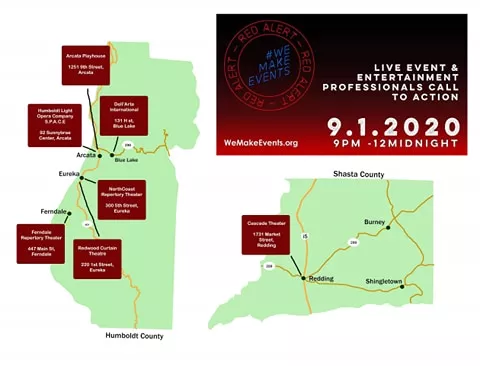 A map of participating local theaters
For more information on tonight's event, see the press release below:
See related PDF