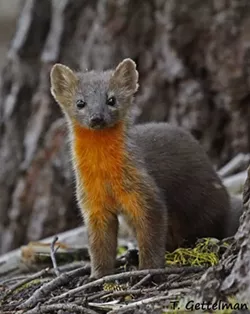 FILE
Humboldt marten
The Humboldt martens, a small, cat-like woodland creature once thought to be extinct, will now receive protection as a threatened species under the Endangered Species Act.
According to Environment Protection Information Center (EPIC), the decision comes 10 years after EPIC and the Center for Biological Diversity petitioned for the animals to have protected species under the Endangered Species Act and after they
sued the
Trump administration for its long delay in finalizing protections for this rare species.
"It's about time Humboldt martens got the protections they so desperately need," said Quinn Read, Oregon policy director of the Center for Biological Diversity. "We are perilously close to losing this incredible species forever. These protections provide a pathway to recovery, and we'll do everything we can to hold the Trump administration accountable to its responsibilities under the Endangered Species Act."
Humboldt martens are common in coastal forests in northern California and southern Oregon. The animal population was wiped out by unchecked trapping and logging of its habitat but today, "fewer than 400 of these fascinating carnivores remain in four highly isolated fragments of the species' historic habitat," the EPIC blog post reads.
Read the full press release below.
See related PDF