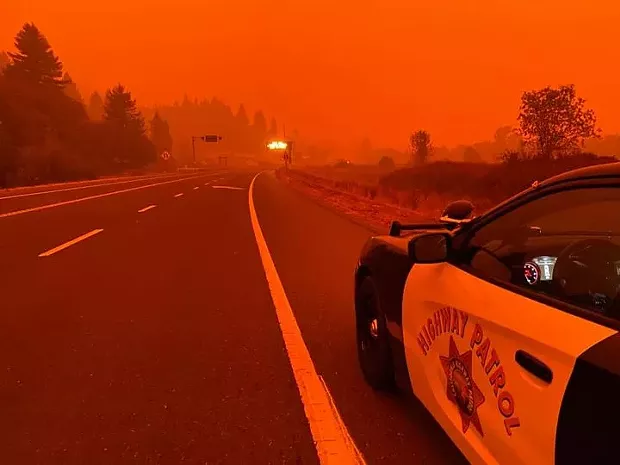 Garberville CHP
The smoky scene near the Oak Fire.
SECOND UPDATE:
U.S. Highway 101 remains closed Wednesday morning due to the Oak Fire, which CalFire reported in an update remains at 863 acres and 10 percent containment. Two structures have been lost. The cause remains under investigation.
UPDATE:

U.S. Highway 101 remains closed in the Willits area due to the Oak Fire, which started yesterday.

According to a CalFire 8 p.m. update, the fire is 836 acres and 10 percent contained.

"The fire is burning in a mix of grass, brush, oak and conifer trees," the update states. "Crews continue to complete and strengthen containment lines and prepare for forecasted winds out of the north this afternoon and evening. Indirect contingency lines are also being constructed outside the fire perimeter utilizing existing fuelbreaks."

Read the full CalFire update at the end of the story.

PREVIOUS:
Mendocino County's Oak Fire's rapid growth slowed overnight as expected winds didn't materialize but more are predicted later today.
The fire, which started yesterday around noon, is 863 acres and five percent contained, according to CalFire.
Caltrans reports that U.S. Highway 101 is still closed this morning with no estimated time fore reopening.
At 7:05 a.m., they updated their Facebook page: "U.S. Highway 101 remains closed just north of Willits in Mendocino County," the statement said. "The closure extends from the North Willits on-ramp to Highway 101's intersection with State Route 162 at Longvale. No estimated time for reopening. We will provide updates as they become available."
According to Senator Mike McGuire at 6:56 a.m., "[We had a] Pretty good night for the #OakFire. Big help: The worst case wind scenario didn't materialize. Firefighters held the blaze from moving significantly south towards Willits/Brooktrails. A ton of work ahead, situation remains dangerous. Winds expected to pick up later today."
USEFUL INFO:
Click
here for the evacuation map
Evacuation centers at both the Willits High School and Baechtel Grove Middle School located at 1150 Magnolia Street in Willits.
Animal assistance for evacuees behind the Willits High School or call Sarah at 272-2299 if you need help finding a place for your animals.
<!——[if gte mso 9]—>
<!—[endif]——> <!——[if gte mso 9]—>
Normal
0
false
false
false
EN-US
X-NONE
X-NONE
<!—[endif]——><!——[if gte mso 9]—>
<!—[endif]——> <!——[if gte mso 10]—> <!—[endif]——> <!——StartFragment——>
Read the CalFire 8 p.m. update below:
Firefighters are working in extreme conditions; steep and rugged terrain challenged by high heat, and low humidity. The fire is burning in a mix of grass, brush, oak and conifer trees. Crews continue to complete and strengthen containment lines and prepare for forecasted winds out of the North this afternoon and evening. Indirect contingency lines are also being constructed outside the fire perimeter utilizing existing fuelbreaks.

Evacuation Orders: 3rd Gate (all), Brooktrails (all), Spring Creek (all), Schow Rd/Ryan Creek Rd, and Sleepy Hollow.

Evacuation Warnings: Irmulco Rd, Sherwood Rancheria, Shimmins Ridge Rd, Hearst Willits Rd, String Creek, Willits Valley- north of highway 20.

Visit: https://www.google.com/maps/d/viewer?mid=1KQkvi2FctsneyaSfzK5X3c9IG39Mbahy&ll=39.21331813973062%2C-123.19066150954191&z=12

Evacuation Center(s): Willits High School, 299 N. Main Street, Willits, CA Baechtel Grove Middle School, 1150 Magnolia St, Willits, CA

Road Closures: Hwy 101 in both directions—North of Willits, from Quail Bridge overpass to Shimmins Ridge Road. Multiple road closures in the Brooktrails and Willits area. Avoid the area to allow emergency resource access and residents a clear evacuation route.

Animal Evacuation: Willits High School, 299 N. Main Street, Willits, CA
<!——EndFragment——>