Courtesy of Joe Marney
VanMeter construction hauling equipment for fire prevention to Benbow and Sawmill Road yesterday afternoon.
The Hopkins Fire that is burning south of Ruth and causing evacuations in southwestern Trinity, southeastern Humboldt and northern Mendocino slowed its westward rush yesterday. According to maps from imagery taken right before 7 p.m. yesterday, the fire has not yet moved into Humboldt County.
However, the fire threatens the communities of Ruth, Zenia, and Kettenpom.
With multiple fires burning across the state, there has been some juggling of which fire is being fought by which team. The Hopkins Fire which was earlier considered part of the August Complex is now considered part of the Elkhorn Fire along with several other smaller incidents which have merged.
The agencies fighting the fire which is burning on the Mendocino, Shasta-Trinity and Six Rivers National Forests will now refer to it as the Elkhorn Fire. "The reported increase in acreage and the reduction in percent contained are the result of the consolidation of all fires merging into one," InciWeb reports.
The Elkhorn Fire is now considered to be 255,309 acres and 27 percent contained.
We will update here throughout the day.
The Plan:
UPDATE 9:11 a.m.:
We spoke to Cal Fire's Jeremy Ward, Fire Captain Specialist, who is working out of Alderpoint. He told us that the plan today is for firefighters to work on structure protection in the Kettenpom area while holding the fire south of Peak Road and east of the Main Stem of the Eel River.
Ward noted that last night the fire was still continuing to move at a moderate rate of spread. "There was short range spotting," he told us, "And they did have some areas of multiple tree torches… ."
He particularly wanted to thank the volunteer fire departments from across the county and Humboldt Bay Fire who are providing a lot of the manpower on the ground in southeastern Humboldt and southwestern Trinity County.
The Weather:

Temperatures will only go to the high seventies for most of the area. Humidity will rise generally but still drop into the teens in the afternoon which can push the fire to grow. There are light winds predicted. But generally conditions are good.
The Smoke:

Today winds will lighten the smoke and push it southwards, but expect unhealthy levels.
Click
here
for the most current air quality levels.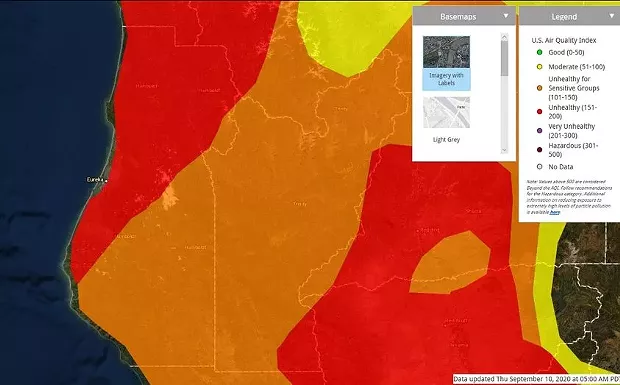 The Roads:

Here is the latest information:
Information on Highways Closed Due to Fires
The Closures:

All California national forests closed. For more click
here
.
The Maps:
(The maps are based on imagery taken at 7 p.m. on Wednesday, September 9.)

Evacuation information:

Trinity County:
The following areas: Zenia, Kettenpom, Hettenshaw Valley, and all areas south of Ruth.
Mendocino County:
Evacuation Updates for Covelo Area [
MAP
]
Humboldt County
: Evacuation Warning Area Expanded for SoHum [
MAP
]
USEFUL Information:
Evacuations for animals Humboldt:
"If you have a need to evacuate animals please contact the Humboldt County Fairgrounds to arrange for drop off. HCF is also arranging for trailers if needed to transport animals. Please call 707-496-8841.
Evacuations for animals Mendocino:
The Laytonville rodeo grounds are open for livestock. They are located at Harwood Road Laytonville, call ahead at 707-984-8100
Covelo Rodeo Grounds for small/large animals/livestock (77286 Covelo Road)
Evacuation place for Trinity residents:
The temporary evacuation point remains at Southern Trinity High School located at 600 Van Duzen Road.
Evacuation place for Humboldt residents:

The Mateel Community Center located at 59 Rusk Lane will be open as an evacuation shelter this Wednesday afternoon and as needed. "Small pets are welcome with leashes outside the hall, no pets are allowed inside the hall due to potential allergy reactions for some individuals. For more information about the ongoing fire evacuation center located at the Mateel visit
www.mateel.org
. "
As of noon Wednesday, the Humboldt County Fairgrounds has been designated as an Office of Emergency Services County-wide Evacuation Center for both human and livestock fire evacuees. Because of COVID, human evacuees need to have trailers and RV's and/or tent campers.
Redwood Acres is preparing to take in fire evacuees, both livestock and those who have an RV or are willing to camp. There is a chance that the Red Cross may want to set up a station.
Evacuation place for Mendocino Residents:
Covelo High School for people (76280 High School Street)
The Laytonville rodeo grounds are open for livestock. They are located at Harwood Road Laytonville, call ahead at 707-984-8100 Harwood Hall is also open for residents feeling the Hopkins fire. They are located 44400 Willis Ave, Laytonville
You can listen to Trinity County Scanner by clicking
here
.
You can listen to Southern Humboldt County Scanner by clicking
here
.
You can listen to Mendocino County Scanner by clicking
here
.
Good fire and smoke info
here
. (Please remember the info here isn't always up to date. If you are given an evacuation order, leave–no matter what this says.)
Good Social Media Site –
FIRE EVACUEE INFO – Humboldt/Northern Mendo/Trinity Fires
.
Water Station Open for Fire Evacuees at Rio Dell City Hall